Visiting Cape Town for the weekend and not sure which attractions to include in your travel itinerary? This insider's guide allows you to experience this beautiful multicultural city from a unique perspective and takes you to some of Cape Town's finest attractions.
Day 1
Table Mountain
In the morning, visit the iconic Table Mountain. Situated within a national park, Table Mountain is one of the most popular tourist attractions in South Africa and for a reason. There are two ways to reach its summit: hike up to the top or hop on the famous cable car. Hiking to the summit indeed requires a decent level of fitness, but the views along the way are breathtaking and worth the effort. Once you reach the top of Table Mountain, spectacular 360-degree views await you.
V&A Waterfront
Later in the day, pay a visit to the famous V&A Waterfront. This waterfront district offers all sorts of entertainment including everything from top-notch restaurants and bars and a world-class shopping mall to numerous tourist attractions. Sports fans should definitely check out the Springbok Experience Rugby Museum, while families with children can explore the Two Oceans Aquarium which houses over 300 species of fish. V&A Waterfront is also home to theatres, cinemas, hotels, and music venues.
Zeitz MOCAA
Your next stop is the amazing Zeitz MOCAA (Museum of Contemporary Art Africa), the world's largest museum of contemporary African art. Spread across nine floors, the museum is home to a variety of collections including a private collection of Jochen Zeitz, series of photographs by Cyrus Kabiru, woven wall installation made by El Anatsui from Ghana, and much more. Expect to spend at least 3 hours here, as the museum has more than 100 galleries.
---
---
Day 2
Kirstenbosch Botanical Garden
Get up early in the morning and pay a visit to the Kirstenbosch Botanical Garden in Cape Town. Expect to come across hundreds of colorful plants, as well as numerous leisure spots ideal for picnics. Make sure to check out the Sculpture Garden and the Botanical Society Conservatory. During the summer season, the gardens host many live music performances.
Harbour Market in Hout Bay
The next destination is the Harbour Market in Hout Bay. This is by far the best food market in the city offering tasty delicious meals like curry, burgers, sweet treats and much more. It's also a place where you can score some cool handmade jewelry, artwork, and vintage clothing. During the weekends, the market hosts live music shows and a favorite gathering spot for many locals.
Cape Winelands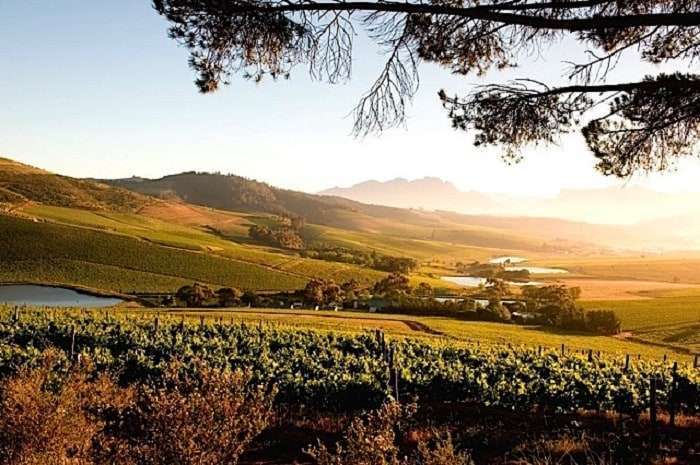 Everyone will tell you that you haven't really been to South Africa's Cape Town of you haven't visited the Cape Winelands. There are several towns to visit here, as well as numerous wine estates like Groot Constantia, Blaauwklippen, Hamilton Russel, Beyerskloof, and Darling Cellars, and many others. Besides wine tasting, most of these wine farms offer delicious food pairings. If you are not traveling with a car but still wish to visit many wine estates, there is also the option of hopping on a wine tram in Franschhoek.
---
---
Day 3
Chapman's Peak
Believe it or not, Chapman's Peak is considered as one of the world's most beautiful roads. Located about 20km from the city center, the popular Chappies stretches for about nine kilometers between Hout Bay and Noordhoek and offers some seriously spectacular views. On one side, you have the giant mountain, while the Atlantic Ocean is on the other side. It comes as no surprise that Chapman's Peak was used as a location for many popular South African TV commercials.
Bo Kaap
In the afternoon, visit the colorful Bo Kaap neighborhood. The first thing you will notice here is that the houses are painted in vibrant colors like purple, orange, and pink. Once known as the Malay Quarter, the district is the oldest neighborhood in the city and a multicultural area worth exploring. Whether you wish to take a Malay cooking class, visit the Bo Kaap Museum, or snap some cool photos of the colorful houses for your Intsa account, you'll definitely not short on things to do in this charming neighborhood.
Long Street
After all the sightseeing, it's time to unwind and visit the popular Long Street in the City Bowl. Dotted with beautiful Victorian-period buildings, this vibrant street is home to many antique stores, street-food stands, and bookshops. However, the biggest draw is the bar crawling scene on Long Street. Dress to the nines and grab a cold beer at the Dubliner or the Beerhouse and try tasty cocktails at the Waiting Room or the Long Street Café.
---
Looking for more things to do in Cape Town for the weekend? You can check out a range of tours packages you can enjoy. Be sure to follow us on Facebook or check out our blog, which has a huge range of ideas on what to see and do, where to stay and how to put every moment of your weekend to good use. If you're planning a longer stay, be sure to get in touch. We will help you find the perfect place to stay in Cape Town this weekend or any other weekend you plan to visit.