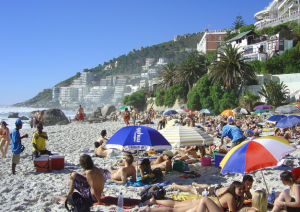 Traditionally, Cape Town welcomes guests from UK, Germany, France, Holland and other parts of Africa.
Recently however, we have been welcoming visitors from newer markets, in particular Australia, as well as Canada and USA.
With the close bond that SA shares with Australia (provided no mention of rugby is brought up!), we wanted to get some insight into what our Ozzie visitors have to say about Cape Town.
Here is what they have had to say…
Travel Q&A With Ozzies in Cape Town
Names and city… Claire & Glen, from Melbourne.
Our travel adventure in Cape Town took place on… January 2013 – for 3 weeks
We came here… To visit family and friends, we come every year.
The highlight of our trip was… The local hiking trails, the beaches, and all of the outdoor activities. Much better than Melbourne! Nice to have the city and the nature so close together…
Our favourite place to grab a bite to eat was…. Anywhere at the Waterfront, all of the food here is great.
The best spot to enjoy a few drinks was… We enjoy going down to the Camps Bay strip for sundowners, it's magic!
We stayed at… A nice self-catering apartment in the City Centre, very convenient, and well priced.
Table Mountain was a good place to… Hike, hike, hike
Our experience of locals (better known as Capetonians in these parts) was… Friendly and welcoming, similar to Ozzies!
In general we found service levels to be… The service at restaurants was great, but the retail shops leave something to be desired.
The weirdest thing we saw or did was… We think we saw a "drug bust" happening in the road one night…
Cape Town beaches are… Beautiful, the best we have seen! Better than Thailand! The water is too cold though.
Our best shopping options were… Cavendish Square was great, Green Market square is nice for curios and gifts.
Shark cage diving in the Cape is… Something we haven't tried… yet.
If we came back for a visit, we would… Abseil from Table Mountain.
Cape Town summed up in our own words… The most beautiful city we have ever been to!
Have you recently enjoyed a holiday on this side of the world? Whether you are from Oz, Paris, New York or Manchester (or anywhere else for that matter), we love hearing from our visitors. Share your thoughts below, check out our Facebook page or drop us a line at info@cometocapetown.com.