Looking for the best New Year's Eve parties in Cape Town this year? Well, look no further… we have selected some of the top picks for a NYE in Cape Town that is all that and a bag of chips.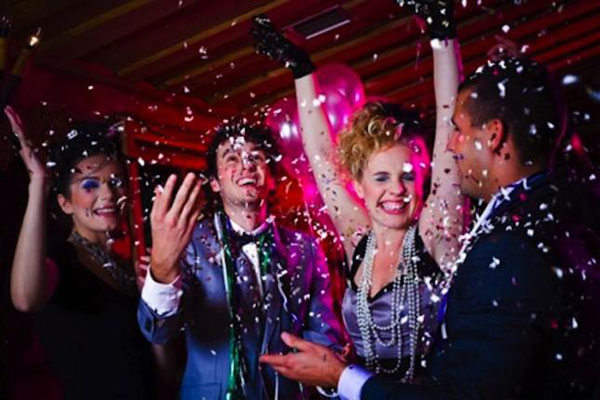 Whether you're in the mood for a chilled picnic and open-air concert, or something more lively like a street party or even an evening filled with beer, food and fun, you are sure to find at least some inspiration on how to spend your New Year's in Cape Town this year.
Top Picks for New Year's Eve in Cape Town
Ready to see what's happening this NYE in and around Cape Town? Here are some of our picks for 2014-2015 NYE…
* New Year's Eve at Spier Wine Farm –  R310, Lynedoch Road, Stellenbosch. Kicking off at 20h00, NYE at Spier promises to deliver all of the excellence that this world-class wine estate is famous for giving its guests and visitors. Tickets cost R750 per adult for a 3-course meal (includes  welcome drink, snack, Spier wines, water and soft drinks), with special kid's meals offered at R150 per child. Call +27 (0)21 809 1946 or email [email protected] to book.
* Nu World Eve at Vauderville – 11 Mechau Street, City Centre. Brought to you by the geniuses behind Balkanology and Flamjangled, this party promises to take you into a whole new era as you count down the start to 2015. Tickets can be purchased before the event via Webtickets.co.za and Pick 'n Pay outlets for R250 per person. Depending on availability, you may also be able to pick up tickets at the door on the night for R300 per person. Visit www.nuworldeve.co.za to find out more about this event.
* New Year's Eve at Jou Ma Se Comedy Club – The Pumphouse, Waterfront. Enjoy an evening full of laughs at Cape Town's legendary comedy hotspot, where local funny folk will take to the stage to wind off the year on a truly hilarious note. Tickets cost R300 per person (dinner not included) and can be purchased via Computicket. Call +27 (0)79 495 3989 or email [email protected] for more info.
* 5FM New Year's Eve Party – The Bungalow, Victoria Road, Clifton. Join Poppy, Roger Goode and various acts such as DJ Milkshake at this massive 5FM bash that is sure to end your year on a rocking note. Tickets are available online at NewYearsEveSA.co.za, and range in price from R550 per person to R12500 for group entry packages. For more information call +27 (0)82 786 6744 or visit www.newyearsevesa.co.za/capetown.
* New Year's Eve at HQ Restaurant – Heritage Square, 100 Shortmarket Street, City Bowl. Good food, good tunes and good times can all be had at HQ this NYE, with dinner, dancing, cocktails and merriment in the heart of the city. Tickets cost R600 per person, and include a 3-course meal, signature cocktail, canape and entertainment. For bookings email [email protected] or call +27 (0)21 424 6373. Payment is required in advance, so make sure you book as early as you can.
Fire & Ice Street Party – Protea Fire & Ice Hotel, New Church Street, Gardens. A street party of note, this year's theme is a tropical beach party. Expect a huge range of entertainment, drinks and various other fun-filled shenanigans, as you party the remaining hours of 2014 away. Tickets cost R200 for the outside area, R400 for hotel foyer and bar access and R1500 for VIP (includes bottle of champagne and access to the pool area). Call +27 (0)21 488 2555 or email [email protected] for more info. Tickets can also be purchased at the door.
* New Year's Eve City Street Festival – Harrington Street, Gardens. Taking the street party theme one step further, this festival takes place in the heart of the city. Drum 'n bass legends Pendulum (DJ Set +Verse) will be spinning their beats alongside a host of other artists, promising plenty of good times for all. Tickets range between R350 and R650 per person and can be purchased via Computicket. Get the full lowdown over on the festival's Facebook event page.
* New Year's Eve Concert at Kirstenbosch – Kirstenbosch Botanical Gardens, Rhodes Drive, Newlands. Enjoy the final concert of 2014 under the stars as you count down to the new year. This bash is sure to be one to remember, with local acts Arno Carstens and Mango Groove taking to the unique open-air stage. Tickets are R310 per person and can be purchased via Webtickets or at the ticket office. Call +27 (0)21 762 2866 or visit www.sanbi.org for more information.
* Open Tap New Year's Eve at Beerhouse – Long Street, City Centre. Make this a 'beery' good NYE with a bash that celebrates all the good stuff in life. With 99 difference bottled beers on offer and 22 beers on tap, along with entertainment and plenty more besides, this bash is going to be all sorts of awesome. Entry is R20 for general access and R250 for an Open Tap pass that allows you to to pour and drink as much beer as your heart's desires. Tickets are available via Webtickets.co.za – you can also call +27 (0)21 424 3370.
–
Of course, this is just the tip of the iceberg… with so much happening on New Year's Eve, the choices will certainly be ripe for the picking. We hope that you find some ideas amongst these picks, and even more importantly, we hope that your Cape Town NYE party is fun, rewarding and safe. From all of us here at ComeToCapeTown.com, we wish you a very (very) happy New Year!