If you're looking for things to do on New Year's Day in Cape Town, you are sure to be inspired by our top picks for restaurants, beaches and other ideas on how to spend the very first day of 2015.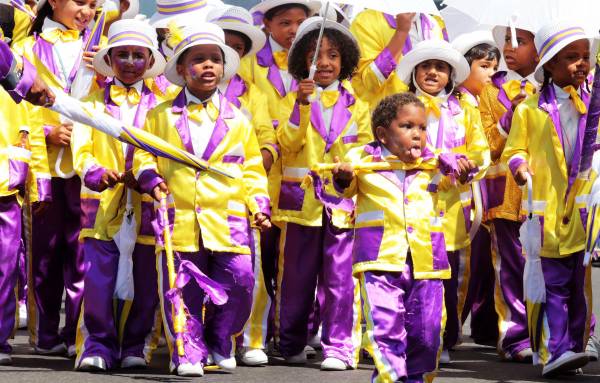 After all the festivities of New Year's Eve. the first of January may put you at a bit of a loss when thinking of things to do. Whether you are visiting for the holidays, looking for ways to entertain guests (or kids) or you simply feel like doing something that doesn't involve sleeping the day away, we're sure you will find just the right way to spend the day.
New Year's Day in Cape Town 2015
Without further ado, here are some of our top picks on how to spend New Year's Day in Cape Town 2015:
* Tweede Nuwe Jaar Carnival – City Centre. Starting in the Bo Kaap and parading across much of the city's vibrant centre, this one-of-a-kind minstrel carnival brings the famous Kaapse Klopse and their blend of music, costume and style to the city streets. This event was traditionally held on 2 January each year, which was the only day that slaves were allowed to celebrate their new year. Today, the parade has become a beloved event that hails the start of the year. It is free to watch – keep in mind that parking can be hard to find, and crowds are to be expected.
* Beaches –  Clifton, Camps Bay and various areas. The Cape's beaches are known for their beauty, with the Atlantic Ocean beaches as well as warmer Indian Ocean beaches providing plenty of choice. Be aware that beaches across the city can be very busy on New Year's Day. Things can get somewhat hectic – especially if alcohol is being consumed. Stay safe when swimming and always remember to pick up your litter after you leave.
* Rick's Café Américain – Gardens. On Park Road, the much-loved restaurant of Rick's Cafe offers a laid-back place to enjoy lunch or afternoon cocktails on NYD. Sit up on the roof-top terrace or relax in the soothing Moroccan themed restaurant. It's open from 11h00 until late – booking is essential however so call +27 (0)21 424 1100 to reserve a spot.
* Eight Restaurant at Spier Wine Farm – Stellenbosch. On the R310 road, Spier's trendy restaurant offers a nice place to enjoy the tranquil Winelands atmosphere and scenery. There are facilities and menus for kids, while grownups can enjoy delicious meals, fine wines and other goodies. Contact +27 (0)21 809 1100 for booking information.
* Blues Restaurant – Camps Bay. On Victoria Road in Camps Bay, Blues is a long-standing establishment that boasts beautiful views, beautiful people and beautiful food. It's open from 16h00 and no bookings are needed. As it's 'first come, first served' though, it's best to try get there early if you want to get a table. Blues is situated in The Promenade on Victoria Road.
* Hudson's Burger Joint – Green Point, Kloof Street and Claremont. Our favourite burger joint will be open on New Year's Day, with branches found in various parts of the city. Enjoy their excellent selection of burgers (including veggie burgers), along with sides, drinks and laid-back vibes. It's best to try get there by lunchtime as it may get busy.
* New Year's Day at The Galileo Open Air Cinema – V&A Waterfront. Enjoy a NYD show at this unique open air cinema, where movies are enjoyed on the grass in front of a giant screen. Take a picnic, bring a blanket and invite some friends – tickets range between R70 and R110 per person and can be bought online at www.TheGalileo.co.za.
–
Of course, there are lots of other ideas you could think of too… take a drive out to the West Coast, explore the Winelands, visit one of the beautiful forests or nature reserves found across the peninsular. Check out all of our ideas and activities over on our Why Cape Town page for even more inspiration!
How will you be spending New Year's Day in Cape Town this year? Share your ideas below and let us know!