Whether you are visiting the city or living here as a local, the MyCiti bus is a great way to get around Cape Town. This popular bus began around the time of the FIFA Soccer World Cup in 2010, and since then, many more routes and buses have been added to provide plenty of ways to get from A to B.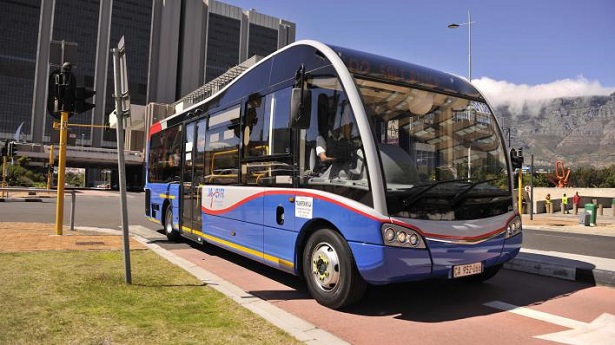 If you are looking for info on costs, routes and stations for this rapid bus system, you've come to the right place. Let's find out how you can get around Cape Town with the help of the MyCiti Cape Town buses.
MyCiti Bus Fares and Tickets
Unlike most hop on, hop off buses, MyCiti travelers need to purchase a myconnect card that is pre-loaded with funds. Kids under four and under a metre tall travel free however. Cards can be purchased online, at station kiosks or various retailers across the city for the starting price of R25. Check out this interactive map to see where you can buy cards around the city. You can also get a special MyCiti Movers package through station kiosks, which gives you up to 20% discount on fare.
Once you have your card, you can then use it every time you ride the bus. To get an idea of typical fare costs during peak and off-peak times, have a look at this fare calculator below: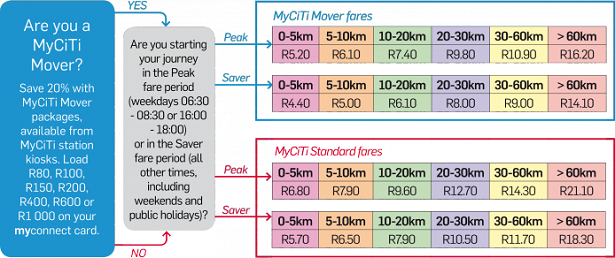 MyCiti Bus Routes in Cape Town
Routes for this bus system run across the peninsula. Popular routes such as the Airport to City Centre route are used by many people, while within there are also routes that connect to various other parts of the city too. With many new routes added, this ensures that people from all over can find a station in close distance – wherever they happen to be.
To give you some idea of the general routes that the buses follow, key areas include the following:
Atlantis Area
Central City Area (includes Woodstock and Salt River)
Camps Bay, Hout Bay and Central City Area
Table View Area
Melkbosstrand and Table View Area
Century City Area
Airport Area
Within each of those area routes, there are stations positioned at dedicated bus stops (view list of stations here). For example, the Central City station is situated at the Civic Centre – buses from here run to the airport on some routes, or other parts of the city on other routes. If this is all seeming a little confusing, don't worry – the route maps are easy to figure out once you know where you want to go.
—
Buses run throughout the day across their routes, with scheduled stops at the various stations over the course of the day. View the route stop timetables to find out when buses will be running in your chosen route.
Have you taken the MyCiti bus before? Share your thoughts on your experience below – we'd love to hear from you!