Fans of the sultry singer will soon be able to see Mariah Carey in Cape Town this April 2016, as she kicks off an SA tour that also includes shows in Johannesburg and Durban. The Sweet Sweet Fantasy tour will be held in Cape Town on 26 April 2016 at Cape Town Stadium, where entertainment in the form of hits such as as Hero, Fantasy, Heartbreaker and others will be enjoyed by fans all over the city.
For the sake of full disclosure, I should probably state at this point that I am something of a closet Mariah fan. I think it goes back to my youth, when I first heard Always Be My Baby. That, and the Bangle's song Eternal Flame were my top karaoke jams for 1995. At the age of 15, songs like that hit you hard, but with Mariah's big voice, they hit even harder. And as for slow songs… well, let's just say that she had plenty of big hitters in that department too, which I will always remember squealing about at school dances.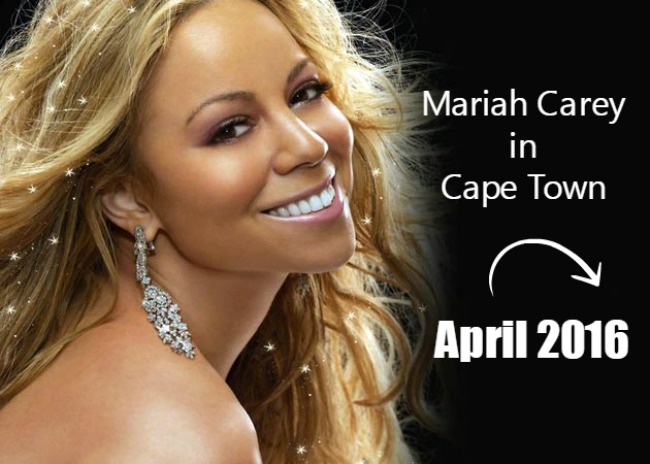 Fast forward to today, in 2015, and I still get goosebumps when I listen to Heartbreaker. I know, I know… deep down I am still a squealy teenage girl with a romantic streak. But good memories or not, you can't help admitting that there is something about Mariah that has made her a true star. From her early stuff to her later work, she has continued to dazzle with her powerful voice.
With this in mind, I am pretty excited (and possibly a bit warm and fuzzy inside) about the thought of Mariah Carey in Cape Town in 2016. It makes me think of young love and slow dances and sweet songs and good times. Whatever she means to you, here are the deets for her upcoming show.
Mariah Carey in Cape Town 2016
Tickets for all Mariah Carey concerts in South Africa go on sale at 09h00 on Thursday 17 December, and are available from Big Concerts and Computicket. Event details for the Cape Town Mariah Carey concert are as follows:
Date: Tuesday 26 April 2016
Venue: Cape Town Stadium, Green Point
Ticket: R340 – R1020
We will keep you posted on event details closer to the time, but for now, please watch the very awesome Heartbreaker music video. Featuring Jay-Z, Jerry O'Connell and a not too shabby plotline, this video is one of the most expensive music videos ever made, with a budget of over $2.5 million. Watch, then leave me your best songs (and the memories they trigger) and tell me whether or not you're planning on going to the Mariah Carey concert in Cape Town next year.
Heartbreaker you've got the best of me
But I just keep on comin' back incessantly
Oh why did you have to run your game on me
I should have known right from the start
You'd go and break my heart
…
On that note, I think I'm going to go watch some more videos. Let me know what you think about seeing Mariah in Cape Town next year in the comments below!