Intimate, luxurious accommodation simply doesn't get much better than 52 De Wet Private Hotel – a supremely stylish boutique hotel that overlooks the Bantry Bay coastline. From its understated decor to its mesmerising views, this is a place that will make you forget about the world and relish the sense of pure indulgence.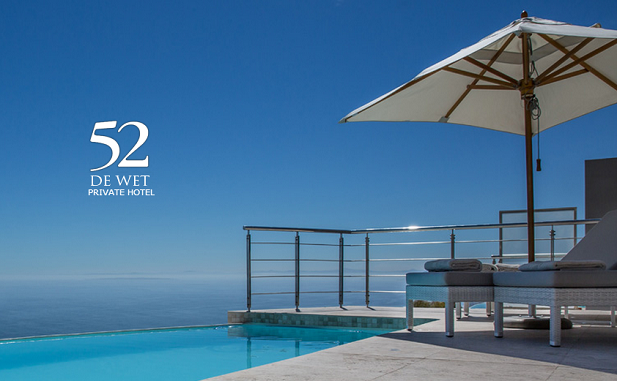 The hotel is situated on high on the slopes of Lion's Head, ensuring some of the best views imaginable. Whales and dolphins can often be seen in the water (especially from August to November during Whale Season), while the rest of the year, stunning sunsets are par for the course. Views aside, the blend of contemporary style, personalised service and excellent facilities make this establishment even more sought-after among guests.
Why We Love 52 De Wet Private Hotel
Bantry Bay is a sheltered, exclusive suburb within the renowned Atlantic Seaboard in Cape Town, near Camps Bay, the Waterfront and other popular areas such as Sea Point and Green Point. This location puts you right in the midst of the city's top attractions, while still feeling away from the rush of the City Centre.
If ocean breezes, sea views and serenity are your thing, you are certain to find this hotel as enticing as we do. Here are a few things that we love about it the most:
1. Its incredible ocean-facing infinity pool. Go on – just imagine being in that pool, with a drink in hand, looking out into the blue waters of the Atlantic… pretty amazing, hey? Infinity pools are always a plus, but with views like that, and a deck like that, even being near the pool will soothe any worries away.
2. Its personalised, caring approach to service. The owners refer to it as 'hand holding', and we love this take on personalised service. Every whim is met, every need is catered to – you are treated like royalty, and cared for throughout your stay. From assistance with tour arrangements to car rentals, dining, restaurant booking and whatever else you may feel in the mood for, this hotel really looks after you.
3. Its location. In the Atlantic Seaboard alone, there are many fine restaurants, cocktail bars, theatres, nightclubs, beach bars, landmarks, beaches and attractions to enjoy. Hire a car or take a cab, or take a stroll to take in the sights. Also close by is the Table Mountain Cableway, Waterfront and all of its attractions, City Centre and plenty more besides.
Find out more about the divine 52 De Wet Private Hotel and see more of their alluring images by heading over to www.52DeWet.co.za.