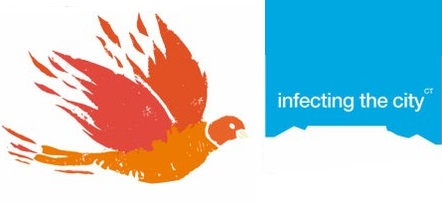 With much to look forward to in the way of March events in Cape Town, visitors and locals will be enjoying a vibrant month as we begin the progression into autumn.
One of the most note-worthy events taking place this month is the much-anticipated Infecting the City art festival that kicks off on Monday 11 March.
This unique, 100% free public festival takes art to a whole new level, taking place across the city over a five day celebration of amazing sights, sounds and experiences.
The festival is presented by the Africa Centre, and this year no less than 54 incredible talents will be taking to the streets. Five routes, various programmes morning, afternoon and night, a great atmosphere and mind-blowing art are just some of the things you can expect over the course of the festival.
Infecting the City 2013 Festival Info
Date: 11 – 16 March 2013
Venue: Cape Town Station Forecourt, corner of Adderley and Strand Streets, City Centre
Cost: FREE
Days: Monday to Saturday
Times: Specialised morning programmes (various times), afternoon programmes (12h30/13h00 to 17h00) and evening programmes (17h30/18h00 to 22h00)
Genres: Music, dance, flash mobs, performance art and more
Festival Centre:  6 Spin Street (restaurant and festival hub)
More Info: www.infectingthecity.com | @infectingthecit
What Else is Happening in Cape Town This March?
So what other March events are worth adding to your social calendar? Here is a snap-shot of cool events taking place from here on out until month-end…
–          Cirque du Soleil: Dralion, Grand West Arena – 5 – 17 March
–          Cape Argus Cycle Tour, various areas – 10 March
–          The Summer Life Crank Party, Zula Bar, CBD – 15 March
–          The Cape Getaway Show 2013, Lourensford Wine Estate in Somerset West – 15 – 17 March
–          Flamjangled Tea Party, Durbanville – 15 – 18 March
–          Cape Town Carnival, Green Point Fan Walk – 16 March
–          SpiritFest 2013,  Lievland Estate – 22 – 24 March
–          Franshhoek Oesfees, Franschhoek – 23 March
–          4 Nations Invitational Polo Classic, Paarl – 24 March
–          Tyger Valley Outdoor Sport and Adventure Expo, Bellville – 28 March
–          Old Mutual Two Oceans Marathon 2013, various areas – 29 March
As schools in South Africa go on holiday for the Easter break, there will be lots of things for families to enjoy towards the end of the month too. We will be sharing some ideas on Easter activities over the course of the month, so keep an eye out to find out what else you can expect!
Until then, keep these dates jotted down somewhere and be sure to venture into the city from Monday next week for your dose of Mother City arts and culture.
What March events are you looking forward to? Share your thoughts below – we want to hear from you!