There is no doubt that the Mother City is the ultimate mecca for foodies and taste aficionados alike. Easily known as South Africa's culinary capital, Cape Town food is unique, daring, sensational, comforting, authentic, inventive and downright delicious! The Mother City certainly likes to push the boundaries when it comes to its culinary pursuits and we all get to go along for the ride! We're about to take you on a whole-day culinary adventure through the Mother City, buckle up, this is going to get pretty DELICIOUS!
Eat Your Way Around Cape Town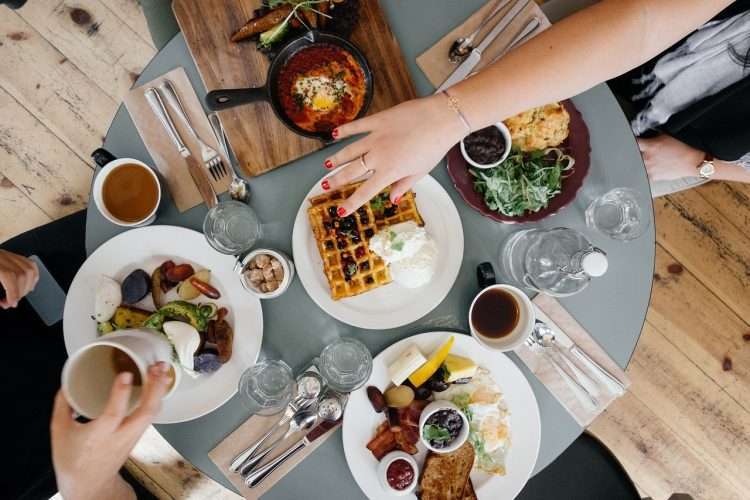 TRUTH Coffee Roasting
View this post on Instagram
Of course we have to kick off this Cape Town food trip with a great cup of morning coffee. Found in the bustling streets of Cape Town's inner city, TRUTH Coffee Roasting was named both "The World's Best" and "The World's Coolest" coffee shop, two pretty impressive accolades indeed! But besides their sensational and truly unique coffee, this steampunk-inspired café also boasts tasty patisseries and a brasseries menu that will kick start your day just the right way! Cup of coffee, cup of joe, cup of brew, whatever you like to call it, TRUTH certainly has it all.
Breakfast on De Waterkant: Hemelhuijs
View this post on Instagram

Breakfast time in the Mother City is a glorious time indeed, and this is no different at the Hemelhuijs. The ever-changing, thoroughly modern and whimsical decor of this breakfast oasis in the CBD boasts a creative seasonal menu bursting with options, you might just be tempted to order a few. But one thing is for certain, this Cape Town inner-city breakfast hotspot will give you all the morning goodness you need for a beautiful day out exploring the Mother City.
Chardonnay Deli
View this post on Instagram
Next up is a mid-morning pit-stop at the renowned Chardonnay Deli, a farmstall, bakery and delightful deli in the beautiful Constantia valley. This is healthy homemade heaven at its very best! From delicious farm style breakfasts and lunches to a large selection of homemade rustic cakes, veggies and fresh fruit for sale, Chardonnay Deli has anything your culinary heart desires. And it's all served in a stylish, relaxed venue full of history and authentic heritage, and not to mention the spectacular surrounding Constantia valley scenery, truly something to admire!
Harbour House
View this post on Instagram
Lunch has never tasted quite this good! With branches in Kalk Bay, Constantia Nek and the V&A Waterfront, Harbour house is known for its simple, yet incredibly delicious approach to seafood. And let's be honest, there's nothing better than sensational seafood when in Cape Town. Imagine the freshest seafood, delicately prepared to maintain its integrity, each bite flavoured and seasoned to the highest of standards, served in a chic, yet unique space, with the most magnificent backdrop, this is exactly what you'll get. With views to match their flavours, you'll certainly be in Mother City food heaven at Harbour House.
---
---
Bay Harbour Market
View this post on Instagram
Known as Cape Town's most vibrant market, it's filled with authentic local traders, a wonderland of exquisite art, craft jewellery and fashion, and not to mention the food oh glorious FOOD! The focus is fresh, local, natural ingredients at its best. Freshly baked breads, spicy seafood, citrus fruits and delicious aromas of food to tempt ALL the senses! And it's all enjoyed to the sound of a groovy sax and township guitarist while the spectacular beauty of the famous Chapman's Peak looms overhead. Is there anything better than that? This is definitely the perfect afternoon stop on your Mother City culinary adventure.
Café Caprice
View this post on Instagram
Cape Town knows how to do cocktails, and a sunset cocktail at this notorious, trendy, beach-front Camps Bay hotspot is truly something spectacular! Café Caprice provides the perfect combination of artisan cocktails, café-style menu, relaxing lounges and sidewalk seating that enables you to experience the epitome of Cape Town's cosmopolitan social scene. Situated on the renowned sunset strip, it promises a spectacular Mother City sunset you'll never forget! One Caprice Classic coming right up!
---
---
The Test kitchen
View this post on Instagram
Foodies, taste enthusiasts and lovers of sensational food, you are in for the mother of all treats! Found in the trendy streets of Woodstock, the Old Biscuit Mill to be exact, The Test Kitchen is bold, contemporary and experimental. The world renowned Chef Luke Dale Roberts promises to take you on an inventive and truly life changing culinary journey you'll never forget! You'll start your adventure in the Dark Room, boasting an array of inventive globally inspired tapas, only to finish it in the Light Room where beautifully plated mains are served. Ranked 22nd in The World's Best Restaurant Awards in 2016, as well as Best Restaurant in Africa at The World's Best Restaurant Awards, The Test Kitchen definitely won't disappoint!
Honest Chocolate
View this post on Instagram
Is there any time more delicious than dessert time? We're about to end this Cape Town culinary adventure with a big dose of chocolate goodness! This artisanal chocolate cafe is certainly the best place to go when the craving for chocolate kicks in. Situated between the buzzing streets of Bree and Loop, Honest Chocolate is all about keeping things REAL, real chocolate delights, made the real way with only the most organically produced ingredients. Cakes, tarts, truffles and more, this is an indulgent chocolate escape you cannot miss out on! And an extra special evening treat is the Secret Gin Bar that opens in the courtyard. Here you'll be able to sip on sensational G&Ts and freely indulge in one of Cape Town's hidden gems, but don't tell anyone, it's a secret!
Besides all the incredible restaurants, sensational cooking secrets and culinary Mother City magic, eating your way around Cape Town will always be an incredible adventure! And with new hotspots, hidden gems and culinary masterpieces being sculpted every other day, it will continue to surprise you with bold flavours and inventive approaches. And therefore Cape Town will always continue to be South Africa's culinary capital, and maybe someday the world's too!
---
View our destination guides to find out more about popular areas in the Mother City. You can also contact us if you would like to learn more about accommodation on offer in the city. We are always here to help our guests, whether it is booking at the best place to eat in Cape Town or arranging tours.