On 1 and 2 July 2015, basketball fans of all ages will have the chance to see the Harlem Globetrotters in Cape Town when this world-famous team arrive in South Africa to work some magic. Shows will also be taking place in Durban and Johannesburg this winter.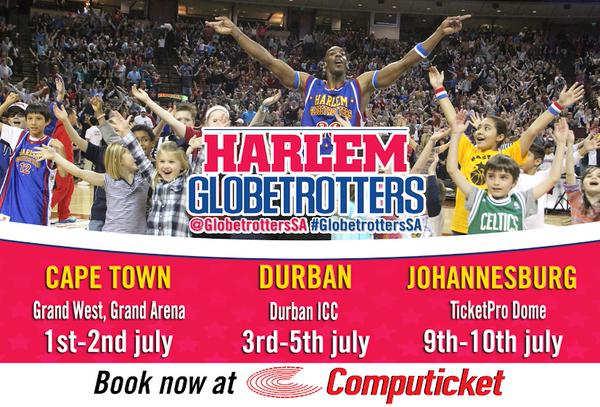 The last time that the Globetrotters performed in South Africa was in 1996, shortly after the country gained its independence. In 1997, they returned to celebrate Nelson Mandela's 79th birthday. Both of those visits left the team with plenty of good memories, with Globetrotters veteran Wun 'The Shot' Versher saying of the experience, "Wherever we went, whether it was a clinic, a school or a hospital, I didn't want to leave. I just wanted to reach out, touch and talk to as many people as I could. I believe that the Globetrotter players actually took more from the experience than the South African people. It was awesome."
Blending a unique combination of basketball skill, entertainment, comedy and athletics, the Globetrotters are quite unlike any other sports act. The team comprises both male and female athletes, and in each and every show that they perform, they deliver an unforgettable of entertainment for fans of all ages. Since their humble beginnings in 1926, the team has grown to become one of the most famous sporting teams in the world, performing all over the world.
We are certainly excited about seeing the Globetrotters in Cape Town… check out the details below so that you can start getting excited, too!
Globetrotters in SA – Cape Town Shows
Dates & Times: Wednesday 1 July 2015 (19h00) and Thursday 2 July 2015 (14h00)
Venue: Grand Arena, Grand West Casino, Goodwood
Tickets: R150 – R650 (various seating options offered) – tickets available via Computicket
What can you expect during a typical Globetrotters show? For starters, plenty of incredible basketball tricks and mind-boggling moves such as their famous upside down shots, 'downtown' three pointers shot from opposite sides of the court, trick passes, slam dunks and plenty of other action-packed excitement.
This is a great outing for the whole family – whether or not you are familiar with this team' b-ball magic. Local fans will be able to see their favourite players on the court, watch the action unfold and get a taste of that Globetrotter flare that has made this team legendary all over the world. With winter in fully swing, this is also a great indoor activity that is sure to keep the chills away!
"We are excited to be part of bringing the Harlem Globetrotters to Cape Town this winter, and to give local audiences a chance to experience their awe-inspiring skills and showmanship first hand," says Elouise Matthys of GrandWest.
Now it's your turn. Will you be watching the Harlem Globetrotters in South Africa this winter? Share your thoughts below and let us know!