Named the best food city in the world in 2016 by Conde Nast Traveller in its Readers' Choice Awards survey, it's no secret that Cape Town is one of the top food capitals in the world and any avid foodie's dream destination.
Despite the Mother City being at the very top of her culinary game, home to countless globally renowned restaurants and eateries along with a thriving and thrilling culinary scene, when visiting Cape Town, local and authentic is what it's REALLY all about! Because in Cape Town, there's NO experience quite like the local food experience – and we're about to prove it to you too!
To make it super easy for you to experience the very best of what Cape Town's local food culture has to offer, we've rounded up some of our favourite local foods absolutely everyone should taste and try in Cape Town.
The 'Great' Gatsby Sandwich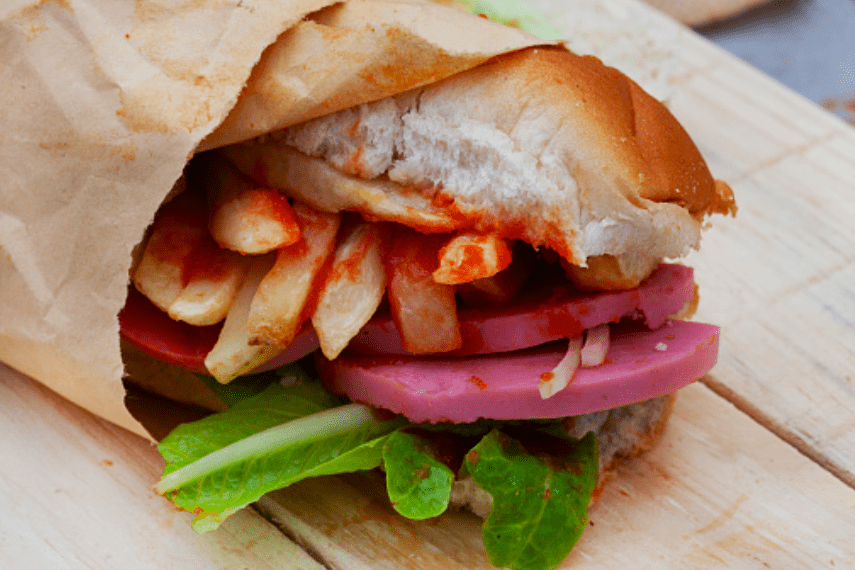 One of the most iconic local dishes / foods in Cape Town, this authentic Mother City super sandwich is an absolute MUST-TRY for anyone visiting / traveling to Cape Town. Traditionally filled with loads of saucy chips and meat, as well as a few other delicious surprises tucked in there, trying a traditional Cape Town Gatsby Sandwich is undoubtedly an experience you'll never forget.
However, don't you dare underestimate this local Cape Town sandwich delight – Not even for a second! The Gatsby Sandwich is not dubbed the SUPER sandwich of the Cape for nothing. It's BIG, it's bold, it's jam-packed, and it's sure to not only banish your hunger, but a couple of your friends and family members too.
You absolutely cannot come to Cape Town and not have eating a local Gatsby sandwich at the top of your 'Foods to try in Cape Town' list.
**Tip: Make sure you're prepared and really, REALLY hungry when taking on the great Cape Town Gatsby.
Bobotie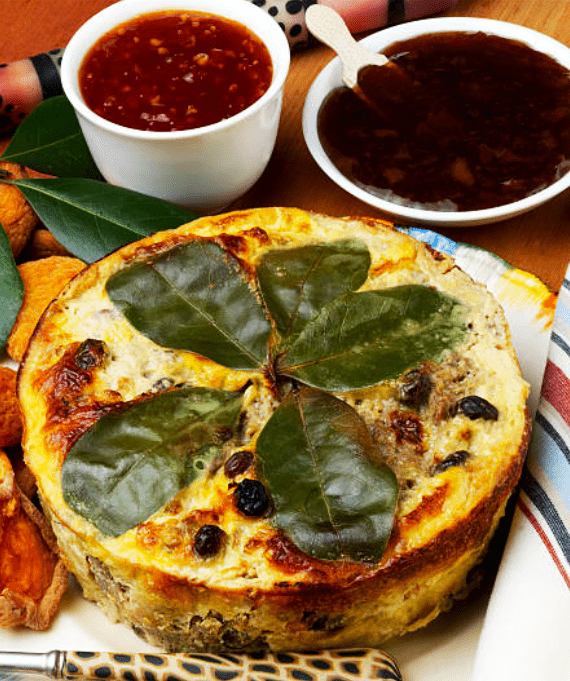 Regarded by many as the flagship dish of South Africa, Bobotie is a fast fan-favourite among locals, travellers, and tourists from around the world. Essentially a mild curried mince dish, topped with a thin layer of baked savoury custard or an egg-based topping, traditionally served with yellow curry rice and Chutney, Bobotie is without a doubt one of the top foods to try in Cape Town.
**Interesting historical & cultural insight about Bobotie: Bobotie was first imported to South Africa from Indonesia in the seventeenth century. It was then adopted by the Cape Malay community who were brought to South Africa as slaves for the European settlers in the 17th, 18th, and 19th centuries.
Since then, the intricate, diverse, complex, and colourful culture and history of the original Cape Malay community have had a profound impact on both the city and its cuisine. Ultimately giving us this down-right delicious, absolutely-must-try local Cape Town dish – AKA BOBOTIE – along with several other beloved and authentic food in Cape Town.
There is absolutely no denying that Bobotie has earned a very special place in every Cape Town local's food-loving heart, and we have no doubt it will steal yours too!
Cape Malay Cuisine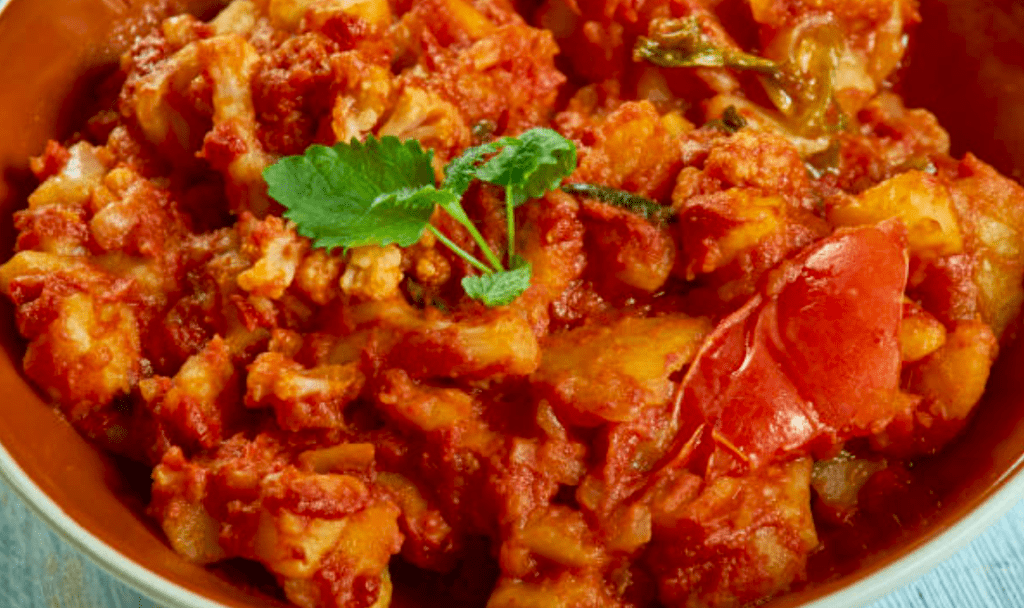 Food is an incredibly important part of Cape Malay culture. There are many foods that make up Cape Malay cuisine, including bredies (stews), curries, pickles (atchars and sambals), savoury snacks and sweet treats such as boeber, koesisters and a variety of "porrings" (the Cape Malay take on warm puddings). Each one of these authentic Cape Malay dishes are as delicious and incredible as the next.
Tasting and eating as many of these amazing, authentic, and traditional Cape Malay dishes as possible during your Cape Town stay should undoubtedly be on your ultimate Mother City culinary bucket list. Trust us, you won't regret a single bite!
Plus, it's a great opportunity to immerse yourself in Cape Town's intricate history and heritage, along with its vibrant cultural diversity.
Bunny Chow

The famous Bunny Chow is deemed South Africa's very own street food. A Bunny Chow essentially consists of a quarter loaf of bread filled with delicious Durban curry.
Here's the snag – To ensure you fully immerse yourself in the local Bunny Chow experience and authentic Cape Town food culture, you absolutely MUST eat it like a REAL Cape Town local – With your hands ONLY of course! Yes, it will be messy. Yes, it will pretty much go all over the place – but that's all part of the fun right? Plus, its down-right delicious, lick-your-fingers-clean, knock-your-socks-off taste makes the messiness all the more worth it!
One of the best places to enjoy a local Bunny Chow in Cape Town is the iconic Eastern Food Bazaar.
Located in the bustling city centre, the Eastern Food Bazaar is street food at its very best. This is where both locals and tourists go to not only enjoy a good ol' Bunny Chow, but taste, savour, and enjoy a vast array of amazing Indian food in Cape Town with flavours and foreign spices from as far as Istanbul to Bombay.
You can expect to enjoy the very best regional Indian, Chinese, and Turkish street food from a string of bustling stalls while surrounded by a vibrant and welcoming atmosphere.
Eastern Food Bazaar Location: 96 Longmarket Street, Cape Town City Centre, Cape Town
Fish & Chips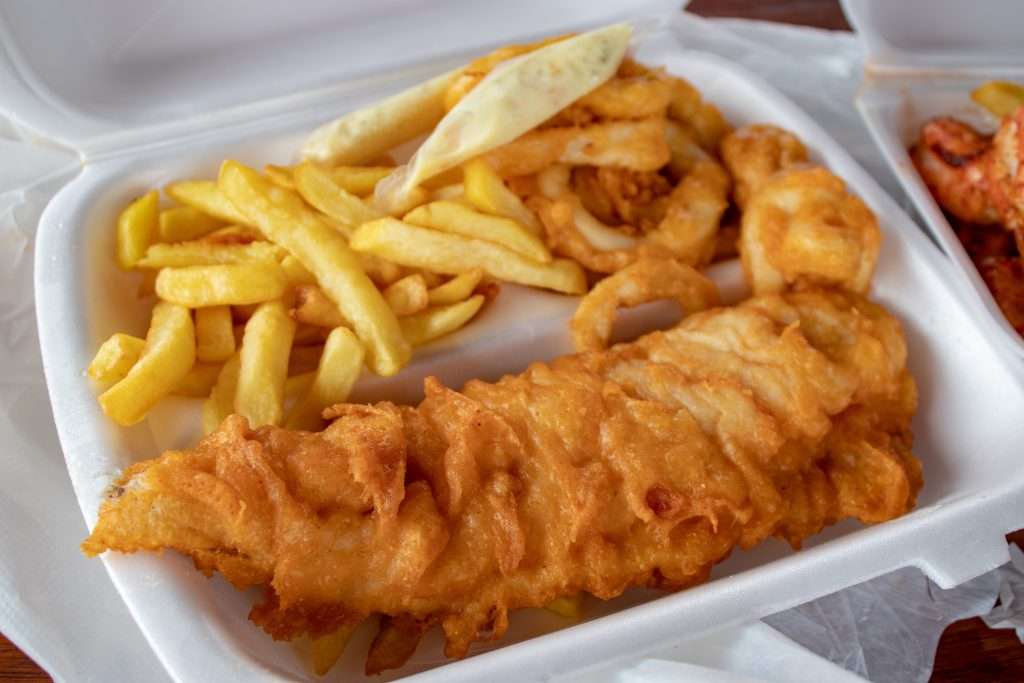 While this one may or may not come as a surprise to some, fish & chips are actually considered somewhat of a staple food of sorts in the Mother City – So you better add it to your 'Foods to try in Cape Town' bucket list.
In Cape Town there are few things that come close to sitting amongst the seagulls, right at the ocean's edge, at a local favourite fish & chips spot, sipping on a cool and refreshing Coke, and savouring every single bite of your freshly caught and delightfully fried hake and/or snoek and lick-your-fingers-clean delicious chips smothered in traditional salt and vinegar for an extra tasty kick. It truly is a moment of pure bliss! So much so that the fact that you can experience so much happiness and derive so much joy from such a simple pleasure almost seems unimaginable.
However, when eating fish & chips in Cape Town, the local way is the ONLY way – AKA: LOCAL OR NOTHING!
Local Cape Town fish & chips is king, and we dare you to tell us otherwise!
Here are a few of our local fan-favorite fish & chips spots:
Kalky's Fish & Chips | Kalk Bay Harbour
Fish on the Rocks | Hout Bay Harbour (they've been there for over 26 years, so they absolutely know a thing or two about preparing fish)
Lucky Fish & Chips | Muizenberg & Kalk Bay
Fish Hoek Fisheries | Fish Hoek
The Salty Sea Dog | Simon's Town Harbour
Snoekies | Hout Bay & various branches in and around Cape Town
Lusitania Fisheries | Cape Town CBD
Ooskus Fisheries | Gordon's Bay
Gateway Fisheries | Langebaan
'Koesister' or 'Koeksister'

Did you know there are actually two versions of this sweet local delicacy? The Afrikaner version 'koeksister' and the Cape Malay version 'koesister'?
A koeksister – well known to most, if not all Capetonians and South Africans – is a delicious, sweet treat with a firm texture, soaked in the most delightful syrup, and braided like the prettiest maiden's hair. It's pretty hard to mistake it for anything else! Simply put, the Afrikaans original, koeksister, is a golden, twisted plait, crisp on the outside with a sweet syrupy centre.
Koesisters on the other hand are authentic to Cape Town's Cape Malayan influence. Koesisters consists of oval dough balls with a doughnut-like texture, flavoured with spices and naartjie peels. They are also much darker in colour compared to koeksisters
**Insider tip: The best place in town to find this delicious fluffy doughnut with a secret Cape Town twist is none other than Mariam's Kitchen. While you're there, be sure to keep an eye out for another sweet local delicacy – Milk Tart! Trust us, it's a winner!
Mariam's Kitchen Location: 31 Heerengracht Street, Foreshore, Cape Town
Boerewors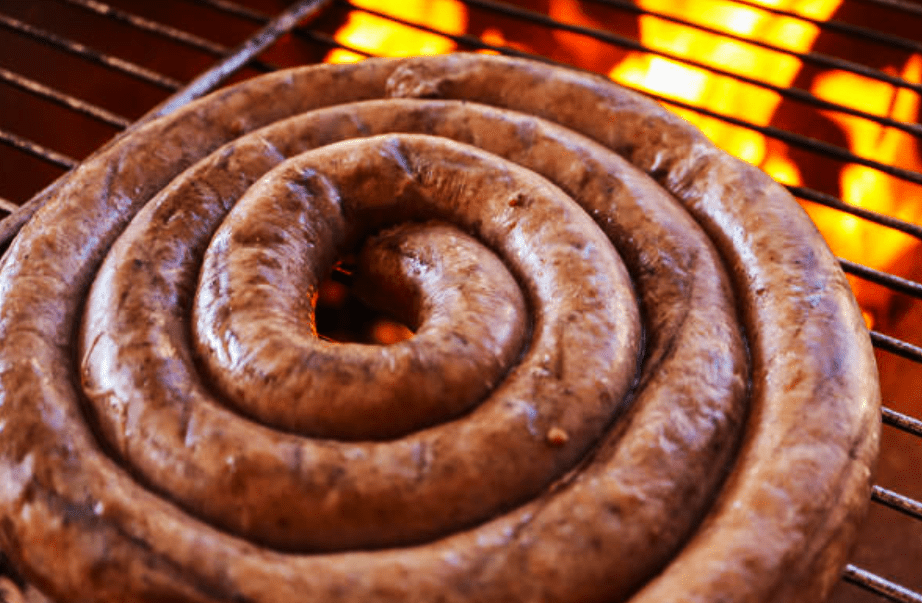 Affectionately known as 'Boerie' among locals, Boerewors is considered staple fare in South Africa.
There are few things better than enjoying a 'lekker braai' (barbeque) and a delicious boerewors roll (braaied boerewors inside a fresh long bread roll) on a Saturday afternoon with friends and family – The ultimate South African social gathering!
Essentially Boerewors (translated as 'farmer's sausage') is a traditional sausage indigenous to South Africa. The origins of Boerewors are believed to trace back to the Voortrekker's 'Groot Trek' (Great Trek) which took place between 1835 – 1846.
The Great Trek was a movement of Dutch-speaking colonists up into the interior of southern Africa in search of land where they could establish their own homeland, independent of British rule.
Boerewors has since become an integral part of our local food culture and an absolute must-try for anyone visiting Cape Town.
Biltong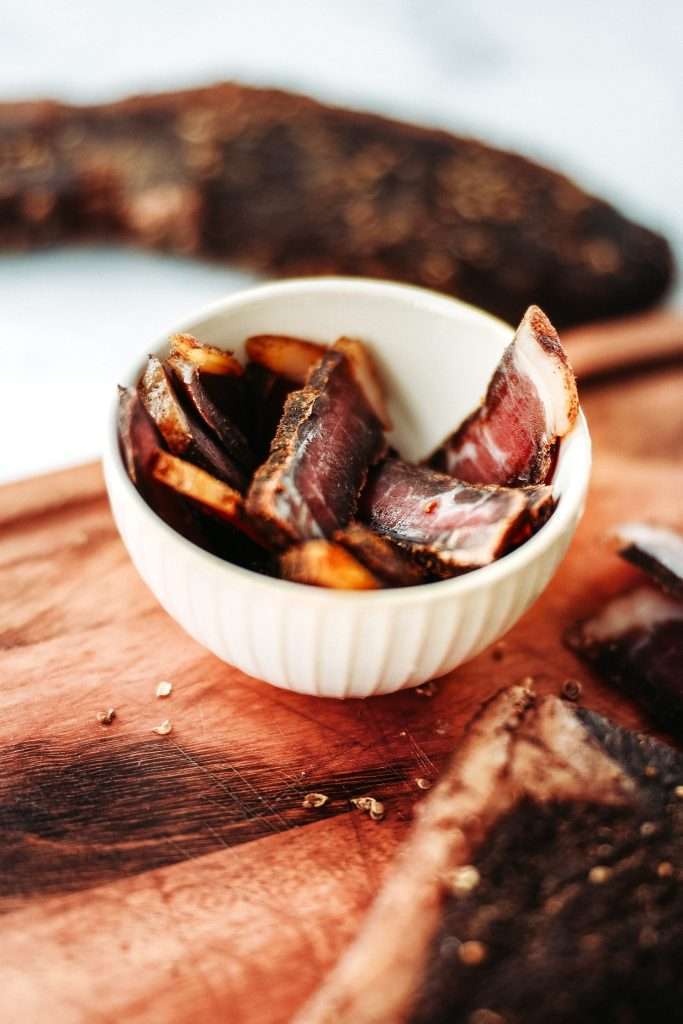 Biltong is undoubtedly one of the top snacks / foods in Cape Town and South Africa locals won't be able to live without – YES, ITS THAT GOOD! Best thing is, Biltong is uniquely South African, and we love it!
Basically, biltong is meat that has been cured, spiced, and dried. Various types of meat can be used to produce/make biltong, ranging from beef and game meats to fillets of ostrich.
While it may not sound all that tasty and appealing right now, trust us, you'll be hooked after your very first bite! That's a promise!
Malva Pudding
Another must-try local South African sweet delicacy is Malva Pudding! However, prepare yourself for sweetness overload – this one is jam-packed with ALL the sweet goodness your sweet-treat loving heart desires.
Known as the puddings of all puddings in South Africa, Malva Pudding has a very special place in every local's heart. A sweet pudding of Dutch origin, Malva Pudding is usually served hot with custard or ice-cream.
Made with apricot jam, this traditional South African dessert has a spongy, caramelised texture that will undoubtedly have you going back for more again and again.
**Local insider secret: For the BEST possible Malva Pudding tasting experience, the Malva Pudding MUST be freshly baked!