Decorex Cape Town 2016 arrives in the Mother City this weekend, with a show taking place from Friday 29 April to Monday 2 May 2016. As South Africa's leading decor, design and lifestyle exhibition that is hosted in Durban, Johannesburg and Cape Town, the show has become a highly respected fixture on the events calendar since its inception in 1994.  Today, it is one of the largest trade shows of its kind, drawing huge crowds in search of cutting-edge home design trends and inspiration.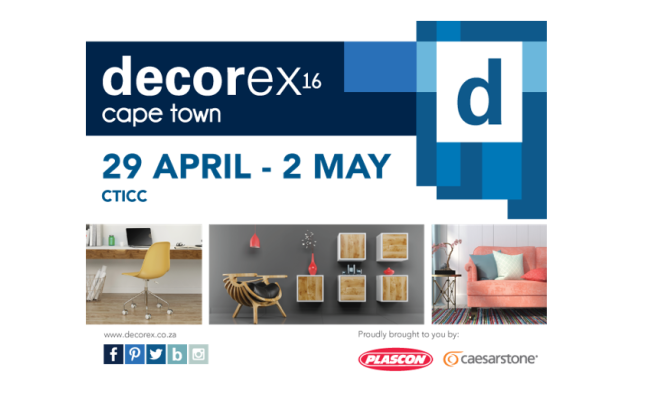 The vibrant, creative city of Cape Town has a thriving design community, with an abundance of talent in art, textiles, home decor and other design. Needless to say, this event is a fantastic way to showcase this talent.
"Cape Town has a remarkable pool of design talent and we are privileged to showcase some of the province's leading lights at Decorex 2016. In keeping with its new theme, 'Take it Home, Make it Home', Decorex Cape Town promises to bring design-hungry visitors more inspired ideas than ever," says Sian Gutstadt, portfolio director of Decorex SA.
Living up to the 2016 theme, "Take It Home, Make It Home", this year's event proves that modern homes are evolving all the time. Interiors of today don't just rely on their furnishings and environment but also the way in which interiors are created. The concept of "Take It Home, Make It Home" allows visitors from all sectors (from consumers to industry professionals) to find a variety of take-home products, while also finding inspiration and ideas.
Simply put, Decorex offers everything you could ever need or want to renovate, build, decorate or restore. This event takes you from room to room, with everything from DIY decorating to kitchens, bathrooms, building materials, fabrics, furniture, crockery and must-have trend pieces that are currently heating up on local and global markets.
What can we expect to find at this year's event? Let's take a look…
What Can We Expect at Decorex Cape Town This Year?
First, some quick details on the 2016 Decorex Cape Town event:
Date: Friday 29 April – Monday 2 May 2016
Times: Friday – Sunday: 10h00 to 19h00; Monday: 10h00 to 18h00
Venue: CTICC (Cape Town International Convention Centre), Foreshore
Tickets: Adults: R85, pensioners & students (with ID): R75, kids under 12: R20
More Info: Visit www.thebereed.co.za/decorex/ for full details
Some of the features and installations that will be showcased over the course of the event include the following:
Décor & DIY Theatre. In this feature, event goers will have the chance to listen to talks, interactive panels and discussions by speakers from top brands such as Plascon Spaces Showroom, Bespoke Bamboo, Crafting Connection and Beads & Wire Connection.
#DecorexHotSeats. 10 ambassadors will choose their favourite chairs to display in this interactive feature. Take a selfie with your favourite chair, and post to Facebook, Instagram or Twitter using the #DecorexHotSeats for a chance to win great prizes!
Considered Home. In association with Goodwood Co, this feature is all about decorating using the simple rules of quality over quantity. Easy to achieve looks will be created, using products available at Decorex.
Maker's Corner. Hosted By SA Maker Collective, this new feature is interactive and fun! Event goers will be able to get involved with creative projects, while learning more about current trends and innovations in DIY home decor.
Top Man. Vote for your favourite Top Man by entering at the event and donating towards your favourite's charity. Entrants stand a chance to win Natural Stone Warehouse tiles to the value of R30 000.
African-Inspired Trend Pods. Local and lovely trends and decor elements are showcased here in this feature, with styling from interior designers Lion and Tyers and Dorothy van't Riet.
___________________________
I have no doubt that the Decorex Cape Town 2016 event is going to be nothing less than spectacular. Will we be seeing you at this interior design conference?