Its holiday season in Cape Town and what a glorious time of year it is indeed! Holiday season in the Mother City is full blown summer time bliss, and while every season in Cape Town offers something unique, there's nothing quite like a Cape Town summer in full force! Whether it's the vibrant energy, sun-shining days or excited atmosphere, Cape Town truly comes alive during the holiday season and we invite you to come soak up every single second of it! Here are 25 cool things to do this holiday season in Cape Town that's sure to add some extra sugar, spice and something nice to your summer holiday spent in Cape Town:
Cool Things To Do This Holiday Season in Cape Town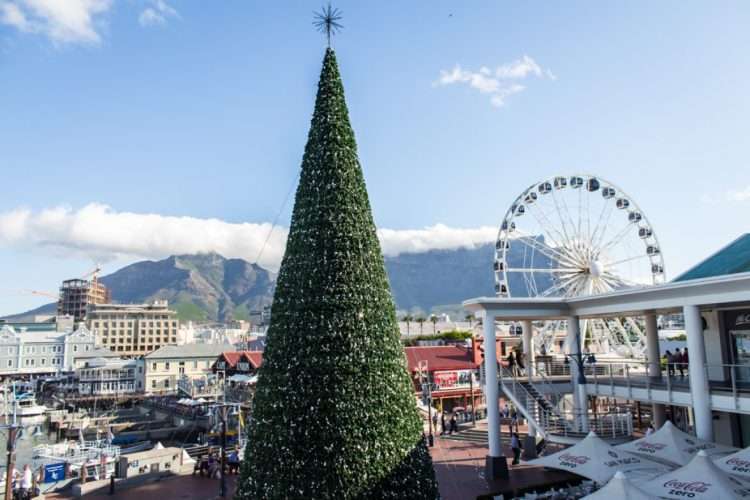 1) Attend a Kirstenbosch Summer Sunset Concert
View this post on Instagram
Summer season in the Mother City means Kirstenbosch Gardens comes alive with local and international musical acts looking to add an extra vibrant touch to your Sunday. Every Sunday between November and April you get to pick a spot on the rolling hills of the stunning Kirstenbosch Botanical Gardens, take along a picnic basket with some snacks and drinks and listen to the glorious sounds of some of your favourite bands in the shadow of the iconic Table Mountain. Sounds like a daydream right? Well, now it's a dream come true!
2) Go on an ice-cream binge
View this post on Instagram

It doesn't quite matter how old you get, there's nothing quite as satisfying as having an ice-cream during holiday season. And it's certainly no different when in Cape Town, in fact the Mother City is at the top of her ice-cream game and you get to enjoy every delicious bite of it! From handmade sorbet and dairy-free delights to the traditional and always delicious soft serve and tasty Gelato – there is something for every ice cream sweet tooth! Here are a couple of ice cream top picks: Gelato Mania, The Ice Café (Kalk Bay),The Creamery, Unframed Ice Cream, Sorbetiere, Moro Gelato and Frozenyo, to mention just a few.
3) Explore Cape Town's tidal pools
View this post on Instagram

Holiday season in Cape Town means warm sunny summer days, and besides the Atlantic, a tidal pool is a great way to cool down and freshen up. And with so many unique, stunning and thrilling tidal pools on offer, the only difficult decision will be which one to choose. But why not all of them? A Cape Town tidal pool adventure of discovery is the perfect Holiday activity for the whole family! Some of the top tidal pools to explore are Dalebrook, St James, Maiden's Cove, Wooley's, Glencairn, Millers Point and Camps Bay tidal pools – Enjoy!
4) Sunset cocktail on Camps Bay sunset strip
View this post on Instagram

Summer time, sunset, scenery and a sensational cocktail in hand, all enjoyed on Camps Bay's famous sunset strip. Lined with trendy hangouts and stunning sunset spots, a cocktail at one of these stunning beach side gems is just what you need to kick your holiday season off on the right note!
5) Swim at Silvermine
View this post on Instagram
Located in the middle of Table Mountain National Park, Silvermine Nature Reserve offers a great escape from the hustle and bustle of the city. Exciting hiking trails, incredible views, cave adventures, a stunning waterfall and the refreshing Silvermine Reservoir invites the whole family for a beautiful day out exploring Cape Town.
---
---
6) Lounge on the beach, because the Mother City is pure beach BLISS!
View this post on Instagram
What would a Cape Town holiday season be without a glorious day spent on the beach? Camps Bay, Clifton, Boulders Beach, Bloubergstrand, Big Bay or Muizenberg, whatever your beach of choice you'll be sure to enjoy every second of being sun-kissed ad salty haired in Cape Town!
7) Embark on a mission to discover Cape Town's best fish & chips
View this post on Instagram
No one quite does fish and chips as deliciously as Cape Town! Every Cape Town local has their favourite spot, and they'll defend it till their dying breath, but why don't you test it out for yourself? Kalky's (Kalk Bay), Salty Sea Dog (Simonstown), Fish Hoek Fisheries (Fish Hoek), Fish on the Rocks (Hout Bay), Lucky Fish & Chips (Sea Point) are only a few of the fan favourites, time to pick yours!
8) Lions Head sunrise hike
View this post on Instagram
Known as one of the best sunrise spots in Cape Town, hiking to the top of Lions Head to watch the Mother City sunrise is a pretty sensational experience. This moment might just make you fall in love with Cape Town all over again!
9) Go on a street art tour of Woodstock
View this post on Instagram

Woodstock is hip, happening and taking the world of street art by storm, and taking a tour of its trendy streets certainly is quite a treat. Let your inner artist run free in this diverse and ever-changing neighbourhood and immerse yourself fully in the street art culture of Cape Town.
---
---
10) Snorkelling with Cape Fur Seals
View this post on Instagram
Discovering the underwater world of Cape Town is pretty incredible, but doing it while swimming alongside some of the Mother City's most playful ocean mammals is a truly thrilling experience! Seal snorkelling in Cape Town allows you to get up close and personal with these delightful ocean beings right in their natural habitat. They are also known to be quite inquisitive and engaging with divers and love showing off their tricks, so prepare to be dazzled! And the best is, no prior diving experience is needed, how cool is that!
11) Have a beach braai at Oudekraal Beach
View this post on Instagram
Braai, beach, beauty and pure holiday bliss, this is what Oudekraal Beach is all about! Found between Camps Bay and Llandudno, Oudekraal beach adds an extra South African touch to a traditional beach day as it welcomes you to bring your meat, drinks and any other delicious treats for a good old traditional SA BRAAI! A fun day for the whole family!
12) Beer tasting at Darling Brewery
View this post on Instagram

Darling, oh sweet Darling, you are in for quite a beer tasting treat! Situated along the Cape's west coast in the charming town of Darling, Darling Brew is one of South Africa's first well established and award-winning microbreweries. Each beer has unique characteristics and is dedicated in honour of an endangered species, how incredible is that? The Darling Brew Tasteroom is exactly where you should be this holiday season! Cheers!
13) Explore the Mother City's exciting market scene
View this post on Instagram
Cape Town is all about living that 'market life', and wow does it know how to do it with an extra dash of vibrant energy and Mother City spice! The Neighbourgoods Market, Hout Bay Market, Oranjezicht City Farmer's Market, Noordhoek Community Market and the MOJO Market are only a few to visit.
14) Secret sunrise!
View this post on Instagram

A gathering of sun saluters, expressionists, dancers, 9 to 5'ers, youngsters, oldies and people who just want to dance and celebrate the sunrise, Secret Sunrise is a global movement that has taken the world by storm and certainly Cape Town too! Here you'll be grooving and celebrating the sun rise with wireless headphones on in a secret beach location. They have a few events coming up this December, so be sure to check it out, but ssshhh, don't tell anyone, it's a secret 😉
15) Gin-tasting or wine-tasting? Or why not both!
View this post on Instagram
Gin-tasting or wine-tasting, that is the question! Nothing is more authentic to Cape Town culture than drinking wine, but gin is certainly making its emerging Mother City status known that's for sure! The only way to settle the debate is to do both, it is holiday season after all! Explore the Cape Winelands in true Western Cape style and then hop over to the inner city for a journey of gin discovery at one of their many little gin bars and distilleries.
---
RELATED:
---
16) Table Mountain 3 ways: Hike, skydive and aerial cable way!
View this post on Instagram
Not only is the glorious Table Mountain one of the 7 Natural Wonders of the World, it's also great for exploring and holiday activities. There are so many different ways to get up and down Table Mountain, why not try a few? Hiking it, skydiving off of it and taking the aerial cableway both ways is the ultimate triple force combination, and truly offers the best of everything!
17) Learn to surf!
View this post on Instagram
Learning to surf in Cape Town is a pretty cool experience for the whole family, plus it really makes you feel part of the local Cape Town surfing culture. Muizenberg Surfer's Corner is a great pick to get you surf on!
18) Eat your way around the Mother City
View this post on Instagram
Food oh glorious Cape Town food! Widely known as the culinary capital of South Africa, the Mother City is known for her bold flavours, daring combinations, world-renowned standard and delicious local food, there truly is nothing quite like it! From trendy coffee cafés, road-side bakeries, 5-star restaurants, trendy rooftop bars, harbour side fisheries, beach front eateries and so much more! Eating your way around Cape Town is one incredible food adventure you should definitely embark on this holiday season!
19) Have sundowners on one of the Bakoven Boulders
View this post on Instagram
The Mother City has no shortage of sensational sunset spots, but watching a sunset from one of the big boulders at Bakoven Beach is a pretty glorious sight, and one that's certainly hard to beat! You might just claim that granite boulder spot as your own and never want to leave again!
20) Go sailing, yachting or cruising through the Cape Town waters
View this post on Instagram
What better way to explore the beautiful Mother City than on the water? There is a variety of sailing, yachting and cruise boat trips that depart from the V&A Waterfront every day. A scenic ocean tour full of iconic Cape Town landmarks or a thrilling adventure boat trip? You decide!
21) Discover some of Cape Town's secret beaches
There is nothing more incredible than discovering one of the Mother Cities' hidden gems, local hideaways or secret beaches. Why not turn it into a road-trip adventure? Many of the Mother City's secret beaches are relatively untouched and unspoiled and therefore absolutely magnificent, it will truly make you fall in love with her all over again!
22) Visit Langa quarter & immerse yourself in local Cape Town culture!
View this post on Instagram
Langa Quarter truly is one of Cape Town's coolest hubs. With a variety of local jazz venues, art galleries and restaurants, this vibrant hotspot is the perfect place for locals and tourists alike to immerse themselves in everything this lively local community has to offer!
23) Kayak with the Penguins in Simonstown
View this post on Instagram
There is no denying that the adorable, playful and equally magnificent African Penguins are some of Cape Town's favourite ocean inhabitants. Seeing these ocean cuties is quite a treat, but getting to kayak with them is truly thrilling and something that's tough to beat!
24) Visit the V&A Waterfront & enjoy the glorious local sounds of the Mother City
View this post on Instagram
The V&A Waterfront truly comes alive during the holiday season, and there's good reason for it! The ultimate mecca of restaurants, hangouts, shops, art galleries and many more exciting services, but even more than that it's the vibrant energy, local musical performances and artistic expressions that keep people coming back for more. Grab a seat next to the Waterfront or at one of the eateries and enjoy the beautiful sounds as one musical act after the other takes the floor.
25) Beach party, pool party or make your own party
View this post on Instagram
Holiday season in Cape Town is any party lover's paradise, the city comes alive and you can't help but want to enjoy every second of the electric vibe and vibrant atmosphere, it truly is contagious! This also means that the Mother City is the ultimate summer party destination and you're invited to join in on ALL the fun!
Whatever you choose to do this holiday season in Cape Town, the Mother City promises to make it a summer you won't soon forget. And as the year draws to an end, it's the perfect place the let loose, be free, enjoy yourself and make some new memories, that's what holidays are all about right? Enjoy!
---
Planning on spending this holiday season in Cape Town? Learn more about the Mother City, how to get around, things to do in Cape Town, and more from our blog. We can help you find the perfect place to stay. Get in touch if you'd like help finding accommodation or Cape Town tours to indulge in when you are around.