Cape Town Water Crisis Update: NO DAY ZERO  in 2018 and 2019.
Towards the end of 2015, I wrote about water restrictions in Cape Town and how they might be imposed in the near future. On 1 January 2016, these restrictions were indeed imposed, and the City of Cape Town has set forth a number of rules that will now apply to all suburbs and areas within the city. These rules are important to all residents as well as visitors to the city, as they will ensure that water is wasted as little as possible.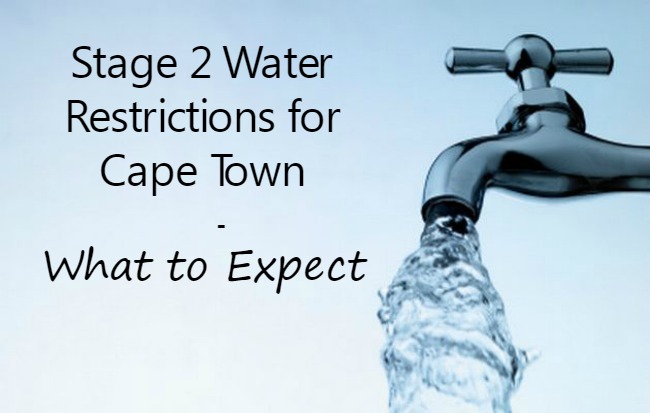 With dams being at their lowest levels in many years, the Western Cape is facing a very dry summer. And it's not just the Cape, either. Gauteng, Mpumalanga and KwaZulu-Natal have also implemented water restrictions. Unlike those three provinces however, the Cape gets its rain during the winter months. With winter still a good few months away, we need to preserve every drop of water that we can to ensure that our dams have enough water to last us through the rest of summer.
Keep reading to find out what is expected during the stage 2 water restrictions for Cape Town in 2016.
Cape Town Water Restrictions – Rules & Guidelines
According to the City of Cape Town's dedicated website page on the water restrictions, the following restriction apply:
Watering of gardens, flower beds, sports fields, parks, lawns and other open spaces (with hose, buckets or sprinklers) is allowed only on Tuesdays, Thursdays and Saturdays for a maximum of one hour either before 09h00 or after 16h00.
No watering is permitted within 24 hours of rainfall that provides adequate saturation – even for premises using boreholes or other sources.
Watering with alternative water resources (boreholes, wellpoints, grey water, treated effluent water, spring water and rain water harvesting) should be done before 09h00 or after 16h00 on Tuesdays, Thursdays and Saturdays.
If alternative water sources are utilised by businesses, appropriate signs must be displayed clearly from a public thoroughfare.
Special users (like golf courses, farms or schools) and residents can apply to for exemption from restrictions by emailing a completed Special Exemption Application form to Water.Restrictions@capetown.gov.za.
No automatic top-up systems are allowed for swimming pools – use pool covers to avoid evaporation when not in use.
Ornamental water fountains and water features are allowed as long as water is recycled.
Washing of vehicles is only allowed with hoses fitted with automatic self-closing devices, or waterless products.
No washing of hard-surfaced or paved areas with drinking water from a tap is allowed.
Residents are encouraged to replace all taps, showers and other plumbing components with water efficient parts wherever possible.
…
Additional things for locals and visitors to note during the water restriction period is that water pressure, appearance and taste may be affected to some degree in the northern and central parts of the city. This is due to the low level of Voëlvlei Dam, which supplies drinking water to these regions. Water will still be 100% safe to drink, but clarity and taste might be affected.
For more information on updated water tariffs, regulations and water savings tips, please head on over to the official City of Cape Town page on stage 2 water curbs in Cape Town. If you are visiting Cape Town from outside of South Africa, please also try and do your best to remain patient during this time. Don't leave taps running when not in use, avoid wasting water wherever you can and adhere to any specific guidelines set forth by your accommodation provider.
Do you have any top tips for saving water? Share them below and let us know how you do your bit to save water during the South Africa drought!