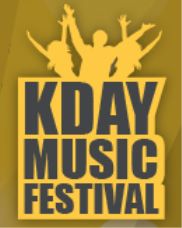 Brought to you by KFM 94.5 and MTN, the annual KDay Music Festival has become a highlight on the social calender for fans across the country.
This Cape Town music festival offers a full day of music, outdoor entertainment, celebrity appearances and fun for the whole family!
Held in March each year, KDay brings together music lovers of all ages, with a line-up that includes Prime Circle, the Parlotones, Danny K and many others. KFM fans will have the chance to meet their favourite DJs, while there will also be food and drink stalls and loads of other entertainment.
Take a look at our guide to KDay Music Festival to see what's on the cards for this year's event and find out where you can stay overnight after the festival!
KDay 2014 – Event Details
Date: Saturday 29 March 2014
Time: 09h00  – 23h00
Venue:  Sandringham Farm, Stellenbosch
Tickets: Pre-sold tickets are already sold out – follow @MTN on Twitter or visit the official KDay site to win free tickets!
KDay Festival 2014 Line-Up
Look out for South Africa's top performers, who will be hitting the stage to ensure that the party stays going throughout the festival. On the line-up this year are the following:
Parlotones
Prime Circle
MiCasa
Elvis Blue
Die Heuwels Fantasties
Dr. Victor and The Rasta Rebels
LCNVL
Blackbyrd
Jimmy Nevis
Danny K
Lloyd Cele
Goodluck
Dj Kent
Watershed
Beatenberg
Daniel Baron
MacStanley
Festival Accommodation Tips
If you plan to be partying until close to midnight, be safe and consider finding accommodation nearby rather than driving home after a few drinks. CometoCapeTown.com has some great deals on guest houses, apartments, villas and other type of places to stay in Stellenbosch – click here to find places to stay in the Winelands!
You can also give us a call on +27 (0)21 3000 777 or send us an email if you would like some help finding accommodation in the Stellenbosch area on the night of the festival.
Are you going to KDay Music Festival this year? Let us know in the comments below!