The legendary Cape Town Carnival is almost here, and from the looks of things, it is set to be bigger and better than ever before. Taking place on 12 March 2016, the theme for this year's carnival is Street Life. This theme will celebrate the diversity of cultures, communities, languages, traditions and influences found across the city.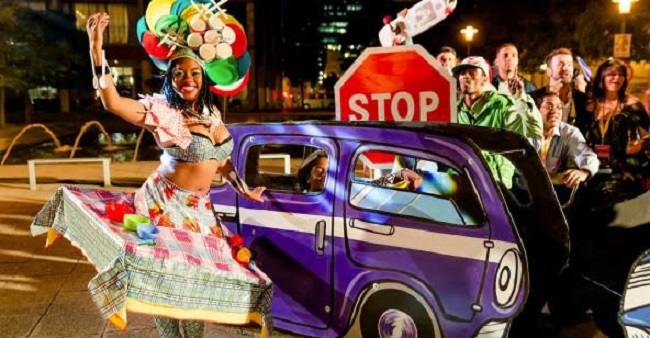 Highlights of the carnival will include street food, fashion, floats, celebrities, dance acts, comedy, entertainment and much, much more. According to Cape Town Carnival creative director, Brad Baard, "Street Life is about the people and dynamics at play in a public space. Towns and cities are built of people and relationships, not bricks and concrete. We all have different styles and cultures but are connected by the vibrancy of the streets. 'Street Life' aims to make these invisible connections visible."
What can we expect from this year's Cape Carnival? Let's take a look…
Everything You Need to Know About the 2016 Cape Town Carnival
First things first, here are the details for the event…
Date: Saturday 12 March 2016
Venue: Green Point Fan Walk (starts from City Centre and continues to Cape Town Stadium in Green Point)
Times: The Fan Walk will be open from 15h00, after which streets close at 18h00 and the festivities begin at 19h00
Costs: FREE for general access (VIP tickets are also offered via Quicket)
Details: Visit capetowncarnival.com for more info!
Now that we know when, what and where, what sort of entertainment will be on the cards? Much like the crazy, colourful, beautiful people of the Mother City, this festival is all about diversity, culture and celebration. You can expect to see massive floats going through the city streets, weird and wonderful puppets, special entertainment acts from local celebrities and performers and plenty more besides.
Restaurants and bars throughout the Fan Walk area open up to receive festival goers, while the Fan Walk itself comes to life with sights, sounds and experiences. Comedian Siv Ngesi will be performing, along with local personalities such as Liezel van der Westhuizen, Zoe Brown and Danny Ross.
Talking about why this carnival is a must-visit, Siv says, "I love the 'Street Life' theme; it's so fresh. I will party with my Mother City as long as I am alive and kicking, but it isn't just about Cape Town. I have friends from all over the country who fly down to experience the Cape Town Carnival. Brazil Carnival better watch out!"
With over 2000 costumed performers taking to the Fan Walk, not to mention parades, dance routines and other wonders, the Cape Town Carnival is one of the highlights of the social calendar… and best of all, it's totally free!
…
Having been to one or two of these carnivals, I can say with absolute certainty that they are truly amazing. So, be sure to make 12 March 2016 in your diary so that you don't miss out on all the action!
Have you been to the Cape Town Carnival? We'd love to hear how much you enjoyed it – share your thoughts below and let us know!