Cape Town Carnival 2015 will be taking place on Saturday 14 March 2015, and unless you really want to miss out on something truly ahmahzing, you really should try and be there!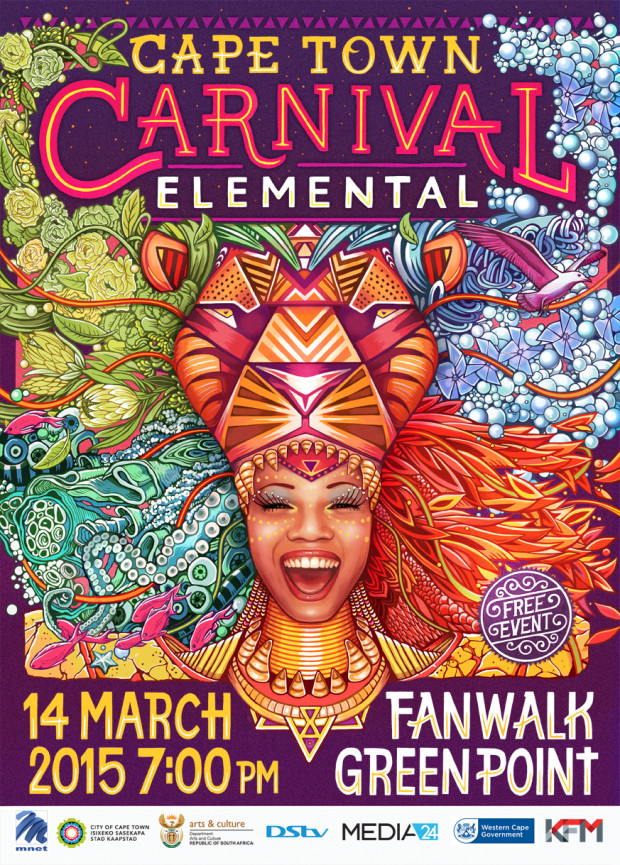 Now in its sixth year, this event can only be described as a uniquely African take on Mardi Gras, with a great cause. The carnival brings together a diversity of people, cultures and influences, to unit the people through art, performance, music, colour and entertainment. The highlight of the event is the annual procession, which is themed each year. This year, the theme is Elemental: Celebrating Fire, Water, Air and Earth.
Cape Town Carnival Theme, Tickets & Line-Up
The Elemental theme can be interpreted literally, figuratively or however you see fit. From experience with past carnivals, I can only imagine that this theme will be taken to a whole new level, and with a great line-up of artistic groups who are joining the procession, I am looking forward to seeing what creativity will be unleashed on the streets of Cape Town.
First though, some quick info for the Cape Town Carnival:
Date: Saturday 14 March 2015
Date: Saturday 14 March 2015
Time: Starts at 16h00 at the Gallows Hill Traffic Department off Somerset Road; procession begins at 19h00 on Fan Walk
Venue: Fan Walk (start of Somerset Road to Main Road Green Point)
Costs: FREE
Facilities: There will be food and drink stalls along the route, while restaurants and bars will also be open
Phone: +27 (0) 21 406 2947
Website: www.capetowncarnival.com
What can you expect from the 2015 Carnival? Here is a taste of things to come…
The main attraction of this event is if course the procession of floats, puppets and various acts. This will begin at 19h00, and continue along the Fan Walk until reaching Green Point. There will be a massive fireworks explosion to signal the start of the parade. Revelers can stop off and pop into bars and restaurants at any point along the route as the party gets underway. Over 2000 performers and artists are expected this year, making this one of the biggest and brightest events to date.
The streets will open for pedestrians from 16h00 – roads will be closed to cars from 14h00 however, so it is best to prepare early. Parking will be hard near the Fan Walk but there are Uber cabs, buses and trains to consider for transportation, and central drop-off points to get you close to the action. At the end of the Fan Walk, once the parade comes to the final point, there will be a huge after-party that will continue into the early hours, with top DJs and artists taking to the stage.
Some of the various groups and artists taking to the streets this year include Aphrodite Belly Dance Studio, Athlone Dance Studio, BioRithm, Hip Fusion Belly Dance Studio, Khwela Community Based Organization, Likhwezi Arts Project, Phatizwelethu Arts Project, Soms-Delta and Amatshitshi.
…
We would love to hear your thoughts on the upcoming Cape Town Carvival… share your input in the comments below and let us know if you will be attending this year's event!