With the holidays just around the corner, South Africa's Mother City seems to be packed with many fabulous events this weekend. Whether you are interested in attending a theater gala concert or you wish to have an unforgettable rooftop experience and drink refreshing cocktails at the luxurious Radisson Blu Hotel, there are plenty of interesting events to keep you entertained this weekend in Cape Town.
1 Liefde By Die Dam (November 17)
One of the most anticipated music events this weekend in the city is the amazing Liefde By Die Dam festival which will take place at the Meerendal Wine Estate in Durbanville this Saturday. The festival comes to the Mother City for the first time ever and some of the best South Africa's top artists are scheduled to perform. The line-up includes names like Spoegwolf and Tarryn Lamb, Koos Kombuis, Francois van Coke, Die Heuwels Fantasties, Sunset Sweatshop, Early B, and Die Heuwels Fantasties. The popular comedian Schalk Bezuidenhout will be acting as an MC. Make sure to come early on Saturday, as the festival starts at 10 am.
Venue: Meerendal Wine Estate, Vissershok Rd, Durbanville, Cape Town
2 Richard Cock and Charl Du Plessis Gala Concert (November 16)
Head out to Stellenbosch this weekend to listen to the spectacular Oude Libertas Theatre Gala Concert at the Oude Libertas Amphitheatre. Compiled by maestro Richard Cook and performed by the Cape Town Festival Orchestra, the gala concert presents a wide range of music and includes a performance by South African pianist Charl du Plessis who will include many classical favorites in his set. Tickets to this gala concert will set you back R250 per person.
Venue: Oude Libertas Amphitheatre, Adam Tas Rd, Stellenbosch
3 Jenny and the Jameses @ Cafe Roux (November 17)
If you are into that authentic Celtic sound, make sure to get your ticket to the Jenny and the Jameses concert at Café Roux in Noordhoek this Saturday. This band definitely knows how to entertain the crowds and their performances are spectacular in every way. For more information about the event, please click here.
Venue: Cafe Roux, Noordhoek
4 Summer Breeze a Roof Top Experience (November 18)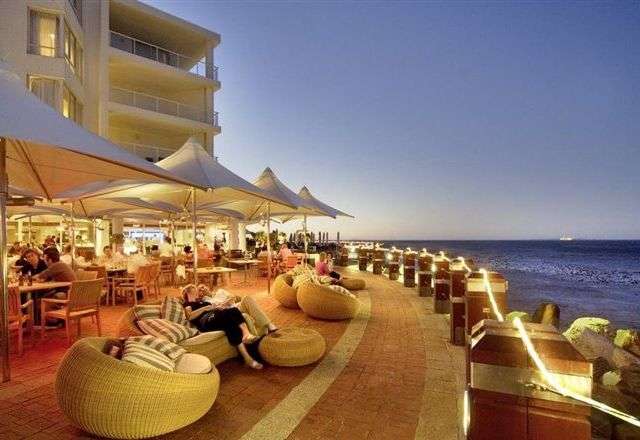 Fashion Clubbers are inviting you to the first chapter of the Summer Breeze a Roof Top Experience at the Radisson Blu Hotel on November 18th. Catch some sun on the rooftop terrace of this luxurious hotel and enjoy a wide range of refreshing cocktails from the bar. Food orders will be available from the hotel menu and artists like Maximilian, Adyn Dust, Dj Va-Va, Chris De Vos, IKon, Dakin Auret, and Minx are scheduled to perform. For tickets and other information about the event, please click here.
Venue: Radisson Blu Hotel, Riebeek Street Cape Town
5 Kirstenbosch Summer Concerts: Tresor Majozi (November 18)
Performance by the SAMA award-winning singer-songwriter Tresor Majozi will be the opening act of the Kirstenbosch Summer Sunset Concerts in Cape Town. For those who not know, Majozi comes from Durban and his music can be described as indie-folk with some electro influences. At the moment, he is working on his latest album which will be released at the end of 2018. Tickets for adults cost R190 and the gates open at 4 pm this Sunday.
Venue: Kirstenbosch National Botanical Garden, Rhodes Drive, Newlands
6 Toy Run (November 18)
Besides numerous music events this weekend, Cape Town is scheduled to host South Africa's largest motorcycle ride, the popular Toy Run. Expect to see cute toys like fluffy bears and blue dolphins strapped to thousands of bikes. The race is free and it ends at the main event which will take place in Killarney this Sunday. Visitors can donate toys and gifts to places of safety, hospitals, and orphanages.
Venue: Killarney Raceway, Potsdam Rd, Table View, Cape Town
---
Looking for more things to do in Cape Town this weekend? We offer a wide range of tour activities you can enjoy. Be sure to follow us on Facebook or check out our blog, which has a huge range of ideas on what to see and do, where to stay and how to put every moment of your weekend to good use. If you're planning a longer stay, be sure to get in touch. We will help you find the perfect place to stay in Cape Town this weekend or any other weekend you plan to visit.