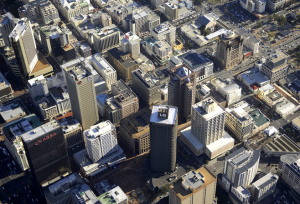 With its constantly growing infrastructure and modern, thriving City Centre, it is no wonder that business travel in Cape Town has become almost as popular as leisure travel. The city is home to a large number of national and international corporations, including Amazon, LG, BP and many others, along with the world-renowned ICC (International Convention Centre).
Advertising, manufacturing, media, design, IT, travel and a diversity of other industry events draw many business travellers to the city each year.
The city is also ideal for a variety of team building getaways too, with a huge range of attractions and facilities on offer once the work day has come to an end.
In today's global world, business travel is no longer considered a cost, but instead an investment. As South Africa's premier coastal city has proved in its numerous awards over the years, there are many business opportunities to be found from across Cape Town.
Accommodation for Business Travellers
For those travelling to Cape Town on business, the variety of accommodation options are abundant. Globally acclaimed hotels, cosy guest houses, lock-up-and-go apartments and even luxurious villas can be found both in the CBD and its immediate surrounds, as well as in the various suburbs of the city. This allows you to choose the best place to stay that suits your specific needs, whether that is easy access to conference centres, full catering, self-catering or something small, well-equipped and convenient.
Cape Town's tourism and accommodation market is geared towards business travellers and the leisure market, with constant improvements that ensure the best facilities and features on offer for those who require a comfortable yet fully equipped home from home during their trip. This means plenty of WiFi hotspots across the city, free WiFi and easy access to internet, phones, faxes and even conference facilities in many accommodation venues, a host of value added services such as car hire, tour bookings and travel assistance and many other facilities that help the stay as memorable as possible.
We have recently launched a number of new serviced apartments in the city, have a look at the following recommended options:
& many more, please contact us directly for more info.
What Else Should You Know About Cape Town Business Travel?
Some other things to assist you with planning and enjoying Cape Town business travel include the following:
Areas such as the Waterfront, Gardens, Camps Bay, Green Point and Sea Point are all within easy reach of the CBD, while still providing a bit of peace and quiet. Accommodation options are plentiful in these areas too.
Facilities such as banks, ATMs, foreign exchange and other related services can all be found in the City Centre. Cape Town is as First World as any other acclaimed destination, even if it is still essentially African in its beauty and scenery.
Conference venues range from the huge and renowned (such as the ICC), to unique and interesting (such as wine estates in the Cape Winelands) or even the trendy and small (such as boutique hotels on Kloof or Long Street). This ensures plenty of variety to suit every preferences and requirements.
For longer stays, there are many mobile or virtual offices to be found across the city. These allow you to rent office space on a month to month basis, with shared boardroom and relaxation areas, reception, answering service, internet and other facilities.
Public transport is improving all the time, but in the heart of the city, it is very easy to find private cabs. Hiring a car is another simple way to get around, with a wide range of rental car options for short and longer term hire.
Of course, even if you are visiting the city for work, that doesn't mean you won't be able to enjoy all the leisure pursuits on offer. Restaurants, bars, casinos, beaches, nature reserves, wine farms and a huge range of other attractions can be found after a long day of work, meetings and networking comes to an end.
Have you recently been in Cape Town on business? If so, what advice would you give to fellow business travellers wanting to make the most of their time in the city? Share your thoughts in the comments below!