Home to the massive Canal Walk, Intaka Island and its own ferry, Century City in Cape Town is a must-visit for everyone – local or visitor. This area is relatively new, with construction starting in 1997. Today, it has emerged as a mixed use development that is home to commercial, entertainment, retail, and residential premises along with a number of attractions. Based in the northern suburbs, about 10 km to the north-east of the City Centre, along the N1 motorway, crossed by various waterways, wetlands and canals.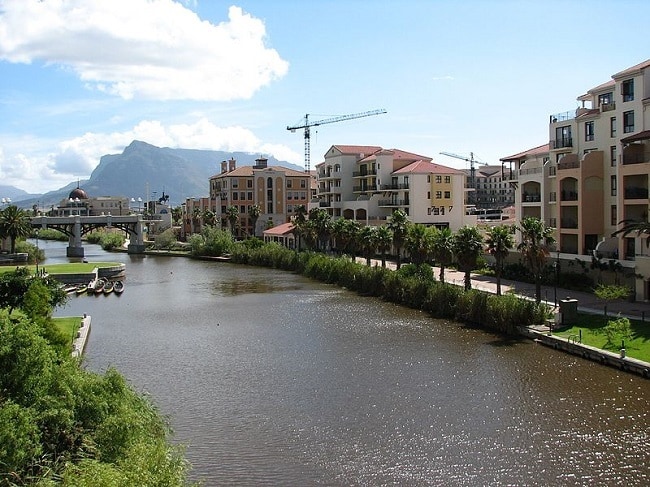 What makes this area worth a visit? And, more to the point, what can you see and do in Century City in Cape Town? Let's take a look…
What to See and Do in Century City Cape Town
With its mixture of residential, retail, office and entertainment space, this area has become popular for long-term residents, commercial businesses, shops and visitors. Century City in Cape Town has become a mini CBD a little ways out of the city, heading towards the airport. Thanks to its major attractions, it offers a fun day out. Some of the top things to see and do here include the following:
Canal Walk
This massive shopping centre is home to a large number of shops, ranging from homeware to clothing for kids and adults, specialty stores, department stores, supermarkets and various other shops. It also houses a Nu Metro cinema, along with many restaurants and dining options via its large food court. Opening in 2000, the mall built around a canal, as its name implies. This mammoth shopping mall has a retail area of 141,000 square metres, with a number of entrances and various parking levels.
Intaka Island
This slice of natural paradise lies off Century City, amidst the waterways. Boat rides can be taken to the island at reasonable prices. These last 35 minutes and run from 09h30 to 15h30 on Saturday to Thursday, and until 14h00 on Fridays. Trips are hop on, hop off, which means that you can get off at Canal Walk and resume your boat trip later. On the island, there are birds and various other things to see. Self guided trails are also offered for those wanting to explore.
Ratanga Junction
A massive theme park built in the early part of the 2000s, Ratanga Junction offers a wide variety of rides and highlights. Private functions can be booked here, while kids' outings are also planned throughout the year. The park is open daily from 10h00 until 17h00. During bad weather, rides do not run. Private bookings can also interrupt regular park hours. For more details, it is best to visit the park at www.ratanga.co.za for pricing, dates, guidelines and other info.
______________________________________
Looking for somewhere to stay in this area? We offer a small but excellent selection of accommodation in Century City. Browse our selection to see what is currently on offer, or contact us today for more help in planning your travels to Century City in Cape Town.
Image: Andres de Wet via Wikimedia Commons