"The flowers of late winter and early spring occupy places in our hearts well out of proportion to their size."
So said Gertrude S. Wister and it could well have been about the wonderful vision of the spring flowers of the Northern Cape.  The spectacular beauty that erupts each year is something that you will definitely not want to miss on your South Africa travels.
Driving north from Cape Town you will skirt the West Coast, heading for Langebaan where the turquoise blue sea of the lagoon waits to entice you from your journey.  This historic town was once a whaling station, transforming itself into a popular water sport destination over recent years.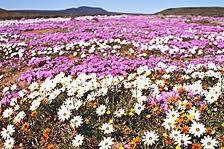 The flowers begin right here on the West Coast National Park!  But don't get side tracked … Continue on your journey through to the Namaqualand National Park where the sight of blues, oranges, yellows combined with a crystal clear white carpeting the earth, will have you drawing out your camera to record the memories.
The upturned faces of the flowers track the sun throughout the day and with the sun in the north at this time of the year, your journey back to Cape Town will be more memorable than your outward one.
This beauty is even more stunning for the dry, arid, desert-like conditions around you.  The further north you travel, the greater the range of flowers – from the large daisy like flowers to the smaller bulb species such as Watsonia.
The vibrancy will take your breath away!  So how does the desert produce this riotous colour?
Rainfall is sparse through winter.  Couple with very dry summers and you get conditions that force the plant to adapt.  Dropping their seed in the late spring/early summer and only germinating in the moist weather of the winter ensures that Mother Nature performs at her best in the gentle warmth of the Northern Cape spring.
Closer to your accommodation in Cape Town, the world renown Kirstenbosch Gardens replicates this annual showing, but nothing can truly prepare you for the real show of the Northern Cape!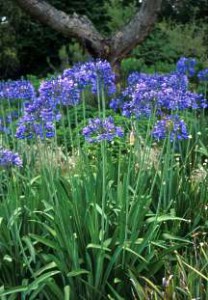 Kirstenbosch offers you a rather more cultivated option, with beautiful walks set out along the slopes of Table Mountain.  Manicured lawns with large spreading oaks encourage you to take your time, stop for a picnic, spread out your rug on the manicured lawns and admire the sensational views.
The flowers that bloom here may be different from the spring flowers of Namaqualand, but you will get to catch the beauty of South Africa's botanical offerings year round.
Summer months mean fun.  Take in a sunset concert, climb the slopes of Table Mountain in the early morning warmth or soak up the atmosphere in one of Kirstenbosch's restaurants.
If you want to experience all Cape Town has to offer, contact us now for the best accommodation in cape town and tours.  We guarantee you an unforgettable experience with memories to cherish forever.