Are you looking to have a great holiday in Cape Town but you don't want to spend a fortune? No problem, we've got you covered! One of the best things about Cape Town is that you don't have to' blow your bank' to have the absolute BEST time! The Mother City is, and will always be, a place that is filled with an abundance of adventure, fun, and beauty, and she even gives some of that away for free. Here are 8 ways you can celebrate the holidays in Cape Town without blowing your budget all while still having an absolutely incredible holiday: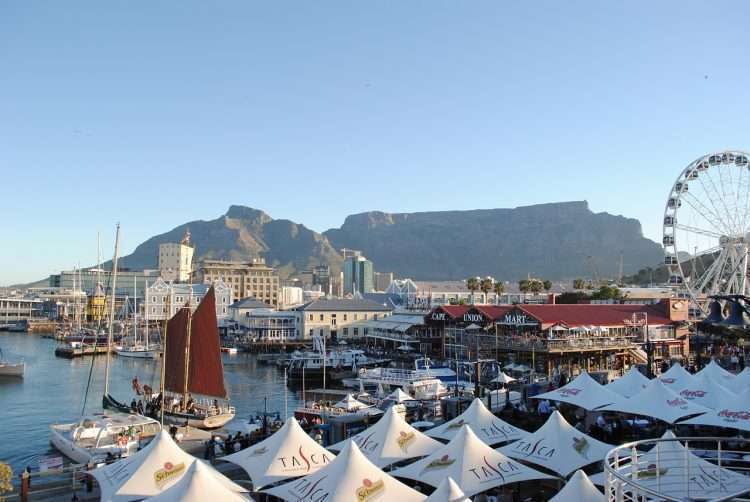 1) Go on a New7Wonders of Nature Yellow Frame tour through Cape Town – holiday portraits with a Cape Town twist!
View this post on Instagram

Because what is a holiday without some awesome snapshots? These iconic yellow frames are a Cape Town fan-favourite and beloved Mother City quirk. There are currently 7 of these Cape Town gems scattered around the city for your enjoyment and photo taking pleasure. Just to make it a little bit easier, here is the Yellow Frame roadmap of Cape Town and all the spots you should visit: Signal Hill, the V&A Waterfront, Eden on the Bay at Blouberg, the Cape Town Station, District Six, Silo District and the Lookout Hill in Khayelitsha. By embarking on this Yellow Frame tour through the Mother City you also get to see some of her most iconic landmarks, top attractions and beautiful must-see spots.
2) Take a boat trip to Seal Island in Hout Bay – affordable, adorable & adventurous!
View this post on Instagram

This is your opportunity to see thousands of Cape Fur Seals diving, playing and sunbathing on the iconic Duiker Island, also known as Seal Island, in Hout Bay. And the best thing is you don't have to spend a fortune either! These scenic and exciting boat charters to Duiker Island can cost anything from R60 –R100 p/adult and R25 – R60 for children under 14 years (kids under 2 years of age are free). Not only is this an affordable ocean activity for the whole family to enjoy this holiday season, it is also filled with excitement and sensational views. The world renowned Chapman's Peak will be among the backdrops for your boat trip, and it is every bit as mesmerizing as people say.
---
---
3) Go on a beach hopping tour of Cape Town – the perfect combination of adventure & relaxation
View this post on Instagram

There is nothing quite like Cape Town beach life, and exploring some of its most iconic and picturesque beaches truly is quite a treat! And what's even better is that you can indulge in as much Mother City sunshine, Atlantic Ocean bliss and white sand toe scrunching as your heart desires all free of charge. While the Mother City has a few paid beach options on her list, there are way more that require no entrance fee at all. Because Cape Town has such a variety of stunning 'MUST-VISIT' beaches on offer, we recommended you break your Cape Town beach tour up into 3 main categories: The Atlantic Seaboard, the vibrant False Bay & stunning West Coast. Grab your bathing suites, some snacks and an adventurous spirit, your about to have the time of your life, Cape Town beach style!
4) Celebrate the holidays with some Mother City musical delights – time to jive to the Cape Town beat!
View this post on Instagram

Holiday season in Cape Town truly is a celebration, and what better way to celebrate the glorious festive season and warm summer weather than with some of the Mother City's most vibrant musical delights. The Kirstenbosch Summer concert series, the V&A Waterfront musical performances, incredible performances at the Labia Theatre and live music and entertainment at the Bay Harbour Market are merely a few of the incredible music and entertainment events on offer this holiday season in Cape Town. These can all be enjoyed at a fraction of the cost (and some with no cost at all) all while being jam-packed with enjoyment for the whole family.
---
---
5) Enjoy a holiday feast at some exciting Cape Town picnic spots – beach, forest, boulder or mountain top, you decide!
View this post on Instagram

What would a holiday celebration be without some glorious Cape Town feasting? The Festive season is all about family, friends, celebration and EATING, lots and lots of eating! But now you can add an extra dash of Mother City excitement to your festive season holiday feast – and not quite in the traditional way! This Cape Town feasting adventure has 3 main steps, all adding a unique touch to this holiday season adventure. First off, find a picnic basket. Then pack it full of tasty home-made treats, fresh fruits & delicious snacks from one of Cape Town's amazing markets. The Neighbourgoods Market, Oranjezicht City Farmers Market and the Bay Harbour Market are great options! Now it's time to pick your picnic spot! Cape Town certainly has no shortage of sensational picnic spots, but here are just a few favourites: The beach (Oudekraal beach, Little Bay in Bloubergstrand, and Maiden's Cove are popular picks) but just about any beach will do, the Newlands Forest, Kirstenbosch Botanical Gardens and the Bakoven Boulders.
6) Take a hop-on-hop-off train trip along the southern line rail route
View this post on Instagram

All aboard! Whether you're young or young at heart, you'll be sure to enjoy every second of this exciting train trip along the lively Cape Town False Bay. The Southern Line Rail Route stretches between Cape Town and Simon's Town with plenty of incredible spots, hidden gems and charming vishing villages along the way. For only R35 p/p you can purchase a hop-on-hop-off ticket. This will allow you to stop at the charming Kalk Bay for a bite of what some might call the very best fish and chips in Cape Town, get your surf on at Cape Town's most famous surfing hotspot, Muizenberg, and even get to see the adorable African Penguins at Boulders Beach.
7) Hike, walk or stride your way through Cape Town – because when in doubt walk it out!
View this post on Instagram

From the Sea Point Promenade and Table Mountain to the Silvermine Nature Reserve and free Cape Town walking tours, a holiday in the Mother City just wouldn't be complete without enjoying one of her sensational hikes or walking trails. Cape Town has an abundance of exciting hiking trials on offer catering to every experience level, degree of fitness and sense of adventure. And most of them can be enjoyed free of charge! The Sea Point Promenade is also a great pick for exploring Cape Town on foot. It's vibrant energy, central location and abundance of family-friendly activities makes it a hotspot for anyone visiting the Mother City. But if you're looking for something a bit more structured, Cape Town has a variety of free walking tours on offer where you get to see some of its best spots and iconic landmarks.
8) Go on a Cape Town sugar binge – Charly's Bakery, Honest Chocolate, the Ice Café and so much more!
View this post on Instagram

Holiday season means it's time to indulge and sooth your craving sweet tooth, and this certainly is no different when in the Mother City. Cape Town is filled with hidden sweet spots and incredible sugary delights all of which can be enjoyed without having to spend a fortune. Honest Chocolate is a Wale Street-based coffee and chocolate shop where you can get handmade chocolate made from raw ingredients and organic Ecudorian cacao. Almost everything on the menu is under R50, so be sure to indulge, you deserve it! Next up is Charly's Bakery! Easily known as South Africa's most iconic bakery, Charly's Bakery is colourful, vibrant and delicious and allows you to enjoy a coffee and a cupcake for as little as R50. And for all the ice-cream lovers The Ice Café in the charming fishing village of Kalk Bay is yummy ice-cream goodness in every single way! Besides these 3 Cape Town sweet spots, there are many more sugary gems waiting to be discovered by you, all affordable and all delicious!
While your holiday in Cape Town will definitely be filled with adventure, beauty, fun and endless discovery, it does not have to blow your budget. At a fraction of the cost you can explore and experience some of Cape Town's most iconic landmarks, best kept secrets and glorious hidden gems, all while having tons of fun doing it! The Mother City invites anyone and everyone to join in on all of her holiday season fun, and that means you too, what are you waiting for?
---
Planning on spending this holiday season in Cape Town? Learn more about the Mother City, how to get around, things to do in Cape Town, and more from our blog. We can help you find the perfect place to stay. Get in touch if you'd like help finding accommodation or Cape Town tours to indulge in when you are around.