Cape Town is known for its diverse culture and rich history. Boasting a vibrant melting pot of people and cultures form both South Africa and around the world, the Mother City's cultural scene is both thriving and unique. However, there are certain cultural attractions and unique cultural experiences that undoubtedly deserve to be on everyone's Cape Town bucket list.
Cultural Experiences in Cape Town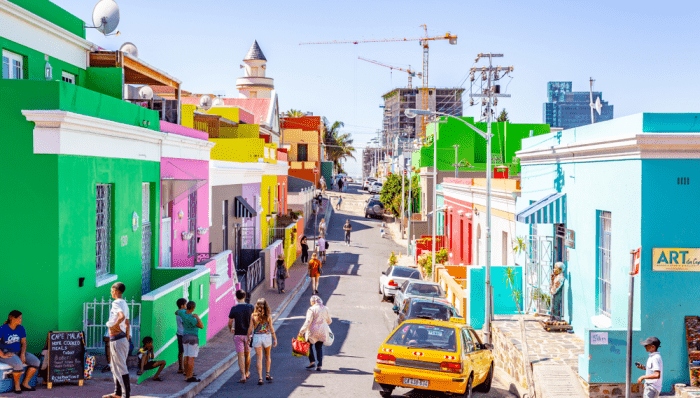 If you're looking for some exciting, authentic and immersive things to do in the Mother City, here are 8 top cultural experiences in Cape Town you absolutely cannot miss out on.
1. Attend a screening at the Labia Theatre
View this post on Instagram
The Labia Theatre is the oldest Independent Art-Repertory Cinema in South Africa, showing independent movies, foreign films, historical cinema and other alternative and art circuit films. It's a must-visit destination in the Mother City and undoubtedly one of the top cultural experiences in Cape Town. This cultural heritage institution located in Orange Street is Cape Town's original Independent Art Movie house dating all the way back to 1949 when it originally opened.
Today, it's a quirky movie house which screens mostly artsy, alternative and foreign films in a relaxed non-commercial setting. Attending a screening at the Labia Theatre is therefore not only one of Cape Town's top cultural experiences, but a great choice for a day out exploring the Mother City. It also has a cosy coffee café and a licensed bar, thereby making it one of the only cinemas where you can relax, sip a drink from the bar and watch a movie.
2. Visit the District 6 Museum
View this post on Instagram
A visit to the iconic District 6 Museum is both an enriching and eye-opening experience. Giving you a real and raw perspective into Cape Town's history, a visit to this renowned Cape Town cultural gem will show you a side of the Mother City you haven't seen before. The District Six Museum was set up as a visual display to show what people of colour living in this area went through in the 1970s when over 60,000 people were forcibly removed during the Apartheid era.
In addition to housing an impressive collection of historical materials including photographs, paintings, artefacts, physical remains and audio-visual recordings, the District 6 Museum also came into being as a vehicle for advocating social justice. It's therefore seen as a space for reflection and contemplation! The Museum is committed to telling the stories of forced removals and assisting in the reconstitution of the community of District Six and Cape Town by drawing on a heritage of non-racialism, non-sexism, anti-class discrimination and the encouragement of debate.
3. Attend First Thursdays in the inner-city
View this post on Instagram
First Thursdays have undoubtedly become one of Cape Town's most exciting cultural experiences. On the first Thursday of every month Cape Town's inner-city streets come alive with avid art enthusiasts eager to explore the Mother City's thriving artistic scene. First Thursdays are dedicated to dozens of art galleries and cultural events showcasing the wealth of talent Cape Town has to offer.
It's a night filled with incredible artistic pursuits and tons of fun as people freely explore the inner-city streets of Cape Town. It's completely free and there is no structured tour, thereby inviting you to explore as many art galleries as you'd like. Cape Town's inner-city restaurants, bars and hangouts are also buzzing on First Thursdays, thereby allowing you to enjoy a truly thrilling night out on the town.
4. Explore Bo-Kaap
View this post on Instagram
Bo-Kaap is known as Cape Town most colourful neighbourhood, largely owed to its colourful mix of Cape Dutch and Georgian architecture homes that line the steeply cobble-stoned streets. It's also one of Cape Town's oldest neighbourhoods and undoubtedly one if the most culturally diverse. Bo-Kaap's history and diverse cultural roots have therefore played a vital role in shaping this beloved Cape Town neighbourhood into what it is today.
Situated at the foot of Signal Hill, on the fringe of the city centre, and formerly known as the Malay Quarter, Bo-Kaap's origins date back to the 1760s when numerous "huurhuisjes" (rental houses) were built and leased to slaves. These people were known as Cape Malays, thereby paying tribute to its name. And is therefore celebrated as the historical centre of Cape Malay culture in Cape Town.
In addition, Bo-Kapp is also home to the Bo-Kaap Museum, the first established Muslim mosque in South Africa, the Auwal Mosque and the Diamond Gallery, one of the largest diamond wholesalers in South Africa, to mention just a few of its gems. Besides its diverse culture and rich history, the colourful Cape Town neighbourhood of Bo-Kaap is also celebrated for its authentic Cape Malay cuisine. Enjoying an authentic Cape Malay meal in Bo-Kaap certainly deserves to be on everyone's Cape Town bucket-list. Thereby making a visit to Bo-Kaap one of the top cultural experiences in Cape Town and certainly one of the most enriching and exciting too.
5. See a show at the Fugard Theatre
View this post on Instagram
A visit to the iconic Fugard Theatre deserves to be at the top of every theatre lover's Cape Town to-do list. Named after the legendary South African playwright Athol Fugard, the Fugard is one of Cape Town's most beloved and celebrated theatres. It is also where you'll catch the biggest shows on the circuit, usually with a uniquely South African flavour. Seeing a show at the iconic Fugard is therefore another one of Cape Town's exciting cultural experiences and one that can be enjoyed by theatre lovers as well as those new to the theatre scene.
6. Take a trip to Robben Island
View this post on Instagram
The world-renowned Robben Island is undoubtedly one of Cape Town's top attractions and a must-visit location for anyone travelling to Cape Town. Especially if you're looking to immerse yourself in an iconic piece of South Africa's history. Symbolising a vital part of South Africa's journey to democracy, a trip to the iconic Robben Island is one of Cape Town's top cultural experiences.
Due to the 18-year incarceration of Mr. Nelson Mandela (former South African President and iconic world leader), Robben Island is home to one of the most recognisable prisons in the world today. It was also the location where thousands of freedom fighters from South Africa were arrested and incarcerated for many years.
If you're looking for an authentic experience of Robben Island, our Table Mountain and Robben Island Tour promises a jam-packed and immersive cultural adventure. You will also get to make a nostalgic stop at the very cell Nelson Mandela called his home for over a decade. Led and guided by a previous political prisoner, visitors can expect a real and raw perspective and understanding of both the prison's history and the personal plight of the prisoners themselves during their time spent there.
7. Attend a live jazz performance
View this post on Instagram
In Cape Town jazz is more than a genre of music, it's a story of slavery and the struggle against apartheid. It reflects the Mother City's rich history and salvation in more ways than one. Dating back to the 1960's, Cape Town was home to some world-famous jazz heavy-hitters, including Basil Coetzee, Winston Mankunku, and Abdullah Ibrahim (known then as Dollar Brand). Cape Town was also the very location where Abdullah Ibrahim composed Mannenberg, the seminal and influential Cape jazz tune. Attending a live jazz performance in the Mother City is therefore another one of the top cultural experiences in Cape Town. It's certainly something every music lover should get to be a part of!
The Southern tip of Africa truly is a special place for jazz and exploring the Mother City's vibrant and unique jazz scene is one cultural adventure that will undoubtedly leave you inspired and wanting more. The Crypts, The Piano Bar, Winchester Mansions and Kaleidoscope Café are just some of the live jazz performances that should be on your jazz tour through Cape Town.
8. Visit the Slave Lodge
View this post on Instagram
The Slave Lodge is a South African social history museum located in the heart of Cape Town. Forming part of the list of the oldest buildings in the Cape, the Slave Lodge is home to several cultural experiences in South African history. Built in 1679, it the second oldest existing colonial structure of the Cape Colony. Used as a slave lodge until 1811, it was initially used to house slaves who belonged to the Dutch East India Company. Thereafter the Slave Lodge was converted several times and used for a variety of purposes. It was also the home of Government buildings and the Supreme Court before it became a cultural museum. Today the Slave Lodge is a museum managed by Iziko Museums of South Africa and undoubtedly one of Cape Town's top cultural attractions. Exhibiting mainly the material culture of the descendants of the Dutch and British colonists, the Slave Lodge is dedicated to showcasing exhibitions and installations that deal with human rights, equality and the importance of remembering the past. As time has progressed however, it has also embraced showcasing newer exhibitions that aim to raise awareness of human rights globally.
Exploring Cape Town's rich cultural diversity and visiting some of it's vibrant and celebrated cultural attractions promises to be an exciting and enriching experience for the whole family. Boasting a variety of top cultural experiences, Cape Town has something for every art aficionado, music lover or cultural enthusiast to enjoy.
---
Planning to visit Cape Town any time soon? You can check out our guide to the Ultimate things to do in Cape Town. If you're also looking for a perfect place to stay, we can help. Get in touch if you'd like help finding accommodation and top activities & tours to enjoy.