Also known as the Mother City of South Africa, Cape Town is home to a number of awesome themed restaurants. Whether you are searching for a bohemian Cape Town restaurant that offers delicious African-inspired dishes or you maybe want to check out some of the best International eateries in the city, there is something for everyone in Cape Town. Let's take a look at some of the most eccentric places in the city that serve tasty food.
1 Moyo Kirstenbosch
Moyo Kirstenbosch is an African themed restaurant located in the Kirstenbosch National Botanical Gardens. It offers a unique African dining experience with a variety of pan-African platters to choose from. Try the delicious potjies or order chicken tagines with homemade bread. Besides great food, Moyo Kirstenbosch also offers a pleasant African ambiance and live traditional dancing and singing.
2 The Bombay Bicycle Club
One of the first things you will notice at the Bombay Bicycle Club are the amazing prints, photos, and paintings on the walls. There is even a massive trombone and a bicycle hanging from the ceiling. This bohemian restaurant is split into three levels and the ever-changing collection of specials on the menu is delicious. Don't be surprised if one of the waiters starts handing out hats to guests, it's part of the tradition here.
3 Beefcakes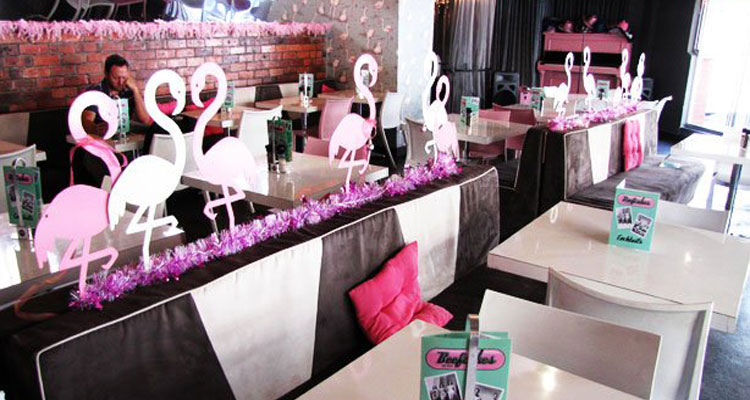 Image: CapeTownMagazine.com
Beefcakes is a chic Cape Town restaurant inspired by the 50's and serves amazing burgers. Order the "Buffy the Hamburger Slayer" that comes with cheddar and a huge amount of bacon. You can also order the popular "Chilli on the Willy Burger". The interior is quite fascinating with disco balls, flamingo wallpaper, and a pink piano located on the stage.
4 La Boheme Wine Bar & Bistro
For a budget-friendly gourmet experience, head out to La Boheme Wine Bar & Bistro that is well-known for its cozy interior and an eclectic menu which changes daily. You can share a tapas menu or try some of their meat and fish dishes that come with home-made pasta. La Boheme Wine Bar & Bistro also features an extensive wine list available by the glass.
5 I Love My Laundry
Want to do your laundry and have an awesome meal? Come to I Love My Laundry and check out their quirky décor. Fondue nights are held on Tuesdays and one of the signature specials of this joint are 8 pieces of dim sum that come with a glass of wine or a cup of coffee. Don't ask for additional chili if you're not ready to feel the burn of a thousand suns.
6 The Company Garden Restaurant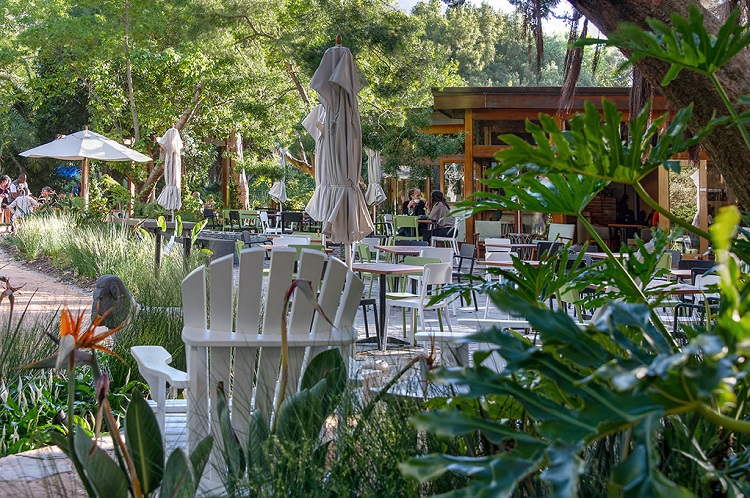 Image: Thecompanysgarden.com
The recently renovated Company Garden Restaurant is one of the most famous places to eat in the city and features a heritage vegetable garden and an awesome playground for children with a range of wooden carvings and swings. Expect to find lots of traditional dishes, but keep in mind that the service might be slow sometimes. Richard Griffin, who is the owner of a number of quirky restaurants in Cape Town, is the mastermind behind the Company Garden Restaurant.
7 Kloof Street House
Are you looking for a perfect place to hang out with your buddies from soccer practice or with your girlfriends from yoga classes? Come to Kloof Street House, a stylish restaurant situated inside a Victorian house that features a fun décor with chesterfield couches, a library room, and some super old artifacts. The food is nicely presented and includes plenty of delicious starters and main dishes like filling steak fillets, slow roasted lamb shoulder, grass-fed beef burger, and kingklip.
8 Sidewalk Café
Sidewalk Café is an ideal Cape Town restaurant for a casual breakfast, lunch, or just a snack. This lovely neighborhood café and restaurant offers spectacular views of the Lion's Head and is famous for its innovative dishes that are reasonably priced.  For breakfast, try the tasty blueberry flapjack with grilled banana, bacon, maple syrup and crème fraiche or order chorizo and smokey baked beans and eggs. Some of the most popular main dishes include chicken laksa and crispy calamari with black pepper lemon mayo, hand.  The Sidewalk Café also offers an extensive wine list and a variety of cocktails including power punch, caiperhinia, and Singapore sling.
_____________________________________________________
We hope that you have enjoyed this list of the themed restaurants in Cape Town. You can also read our our guide to the best restaurants in Cape Town – from Cape Wine Route, the Constantia Wine Route to the False Bay coast and the Atlantic Seaboard. If you're looking for luxury accommodation around these areas, we can also help! We are always here to help our guests, whether it is booking the best accommodation in Cape Town or arranging tours.