There is nothing more magical than celebrating Christmas in one of the most beautiful cities in the world, Cape Town. But besides a vibrant festive season spirit, Cape Town has an endless variety of fun activities and experiences to be enjoyed by the whole this Christmas season.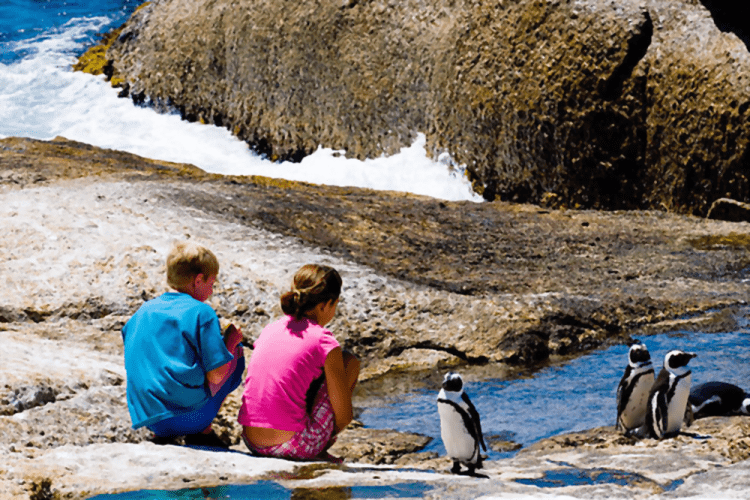 Here are 8 magical things to do in Cape Town at Christmas with kids.
1. Visit Santa's Festive Village
View this post on Instagram

Snow, candy and fun festivities, a visit to Santa's Village at Somerset Mall is definitely one of the top things to do in Cape Town at Christmas with kids. Offering fun Santa workshops every weekend over the festive season, the kids will have tons of fun joining in on all the festive season games and activities. There are also some great prizes up for grabs. Including a special Christmas hamper that will be awarded to the lucky winner that wrote a special letter addressed to Santa and dropped it off at the Santa post office in the Santa Festive Village.
2. Have tons of fun at the Frozen Fun Slide Park at Canal Walk
View this post on Instagram

Canal Walk Frozen Fun Slide Park is hosting school holiday entertainment with the launch of four exciting frozen slides. Thereby making for a fun-filled experience for the kiddies this Christmas in Cape Town. But don't worry, you don't have to miss out on the Christmas holiday fun either. Set up at varying heights, the Fun Slides are perfect for children and adults of all ages. Thereby allowing the whole family to join in on the fun and games. As the event was put together in celebration of the launch of Frozen 2 in cinemas, kids can also enjoy building their own snowman in the Olaf Snow Play Area. The Canal Walk Frozen Fun Slide Park will be open from the 29th of November until the 5th of January (closed on the 25th of December). Thereby giving you tons of time to enjoy this fun Cape Town holiday activity.
3. Enjoy the Summer Splash at Cape Gate Centre
View this post on Instagram
Summer Splash is hosting a tropical-theme water park with various attractions and activities this holiday season. Making it one of the top things to do in Cape Town with the kids this holiday. Featuring a variety of water slides, a wave board, paddle boats, a mini-beach, a dunk pool, foam slip & side and weekly beach activities, there is tons of fun to be had by all. But, that's not all! There is also a beach-theme workshop that will be taking place completely free of charge. This includes sandcastle building and kite-making workshops, a beach treasure hunt and a fun water wars challenge. The Summer Splash event at Cape Gate Centre is one holiday activity the kids will absolutely love and enjoy. This fun-filled Cape Town holiday event will be running from the 6th of December until the 11th of January.
---
---
4. Visit the Imhoff Farm
View this post on Instagram
The Imhoff Farm in Kommetjie is a great place to enjoy a fun-filled family day outdoors. Jam-packed with a variety of exciting activities for the youngsters, a visit to the Imhoff Farm is one of the best things to do with kids on your Cape Town holiday. From Camel rides, a visit to the snake park that is filled with a variety of weird and wonderful reptiles or popping in at the Higgeldy Piggeldy Farmyard where kids can feed ducks and goats. There is an endless variety of fun activities to enjoy. Kids of six and up can also choose to enjoy a fun game of laser tag as well as paintball that's open to the older kids. Once everyone has worked up a bit of an appetite, visit the Blue Water Café for a delicious breakfast, lunch or in between snack or cup of coffee. Sit back and relax while the kids play around on the outdoor wooden jungle gym while you watch them from your seat. A visit to the Imhoff Farm in Kommetjie is undoubtedly a great family-friendly activity to enjoy in Cape Town over the holidays.
5. Enjoy a day at the Acrobranch Adventure Park
View this post on Instagram
Are you looking to add a bit of adventure to your holiday season and Christmas celebrations? Then a visit to the Acrobranch Adventure Park in the Constantia Nek forest is the perfect holiday activity for the whole family. This tree-top obstacle adventure park provides an action-packed day of tree-top adventures for visitors of all ages. But just before you get a little worried about the kid's safety, there is no need to. Their Acro-twigs course is perfect for the little ones. With on-site safety guides keeping a close eye at all times to set your mind at ease. Kids between three and six can tackle nine obstacles that will not only test their abilities and give them the opportunity to learn new skills, but provide them with tons of fun too! This is a great activity to do with kids in Cape Town over the holidays.
6. Visit the V&A Festive Season Summer Palace
View this post on Instagram
The vibrant V&A Waterfront will be hosting a fun-filled festive season event for the kids from the 1st till the 24th of December. The V&A Festive Season Summer Palace is an event where kids are welcomed by Mother Earth and the Guardian of Joy to a palace filled with fun and exciting surprises. Themed Joy from Africa to the World, kids will be able to explore a space that tells an African festive story of peace and kindness. This event is completely free and can be attended right throughout the festive season by kids of all ages.
7. Watch a movie under the stars at the Galileo Open Air Cinema & enjoy their super special Christmas screening too
View this post on Instagram
Known as the first and finest outdoor movie experience in Cape Town, attending a screening at the Galileo Open Air Cinema has become one of the best family-friendly things to do in Cape Town during the holidays. Running from the 16th of October 2019 – 25 April 2020 with screenings from Wednesday – Saturday and selected Sundays, the Galileo Open Air Cinema boasts a jam-packed line-up of blockbuster hits. All of which can be enjoyed in some of the most beautiful settings in Cape Town. In addition to a great movie experience under the stars, the Galileo has also added some special touches to their eighth season. They've added an amazing mini-market to every show as well as an array of giant lawn games. Ensuring that tons of fun will be had by every member of the family.
The Galileo will also be hosting a very special Christmas screening on the 25th of Christmas. Thereby making it great family-friendly Cape Town Christmas event that every member of the family will enjoy. This year's Christmas movie under the stars is none other than the 'How the Grinch Stole Christmas' – which will definitely be a hit for the kiddies! From a beautiful setting, a warm welcome from Santa Clause himself and a vibrant artisanal food market to fun-filled family games and picnic festivities, it promises to be one Christmas evening you won't soon forget.
---
---
8. Go Artjamming with the whole family
View this post on Instagram
Artjamming is a super fun activity where every member of the family has the opportunity to express their artistic side in a fun and cool creative environment. Everyone gets to choose a blank canvas, some painting tools and cool paint colours. Then it's time to go wild and crazy and express your artistic side like you never have before. Dab, swish, flick, or brush, it's completely up to you. It's all about being creative and having tons of fun doing it. Trust us, the kids will absolutely love it!
These 8 magical things to do in Cape Town at Christmas with kids will undoubtedly add tons of fun to your holiday. Plus, it gives the whole family the opportunity to make some truly special memories as you experience some exciting events and activities together. Thereby making your Christmas holiday in Cape Town one you won't soon forget.
---
Planning on spending this holiday season in Cape Town? Learn more about the Mother City, how to get around, things to do in Cape Town, and more from our blog. We can help you find the perfect place to stay. Get in touch if you'd like help finding accommodation or Cape Town tours to indulge in when you are around.