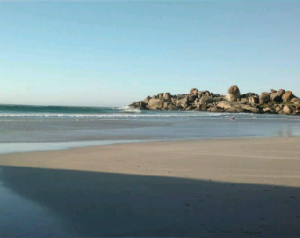 October is just past the half-way mark, and while the unpredictable spring weather is still being a bit of a tease, one thing is for sure… summer in Cape Town is almost here! The busy summer season begins to pick up around November, reaching its peak between December and February.
Hot, clear days that seem to last forever are followed by warm nights that are perfect for sundowners, cocktails, al fresco dining and even picnics on the beach with flame throwers and providing impromptu entertainment.
Summer is also about braais (known as barbeques in the rest of the world), open-air concerts at Kirstenbosch, endless days on glorious beaches, shorts, t-shirts, sandals and plenty of festive cheer. As Christmas and New Year's Eve get closer, the atmosphere is almost electric. Simply put, summer holidays in Cape Town are quite simply spectacular!
Getting Ready for a Sizzling Cape Town Summer
If you are planning a holiday in the popular Mother City, now is the time to get ready for the best Cape Town summer yet. Whether you are visiting on business, with family, on honeymoon or as part of a tour group, the following tips will help you get summer ready in no time at all.
1. Book your accommodation – if you haven't done so already, now is a good time to find and book the perfect place to stay for the duration of your trip. Villas, apartments, holiday homes, hotels, guest houses and many other options can be found, but due to the high demand, you need to get in there as quickly as possible if you want to get that amazing villa that gives you easy access to Clifton's beaches.
2. Plan your custom-made itinerary – this summer, make like a local and hire a car to explore the city at your own pace. Summer is a great time to head up Table Mountain in a cable car, take a boat cruise around the Waterfront, swim with penguins at Boulders Beach, try a Full Moon Hike up Lion's Head, laze on Llandudno Beach, eat ice cream on Camps Bay Beach or even try paragliding off the mountains overlooking Clifton.
3. Get beach body ready – yes, we know you have been putting off gym lately, especially as the weather turns colder around the rest of the world. When you arrive in Cape Town to weather that averages 30 degrees Celsius during the peak of summer, you will want nothing more than a dip in the chilly Atlantic Ocean however, or a swim in the warmer False Bay waters
4. Find out what's on the social calendar – CometoCapeTown.com features the best events that happen every month in Cape Town, but there are many other annual events that take place in summer too. Kirstenbosh Summer Concerts are one such event, while the Cape Town Festival of Beer in November, Mother City Queer Projects (MCQP) party in December, Cape Minstrels Carnival and J&B Met in January are equally epic events taking place each summer.
5. Download essential travel apps for your smartphone or tablet – a language app such as Google Translate or iTranslate will help you learn a few key Afrikaans or Xhosa phrases (even if English is spoken everywhere in Cape Town), while other apps such as XE currency exchange calculator, TripAdvisor, Foursquare and a good map tool like Google Maps or iMaps will also help make your trip that much easier.
You can also get the latest tips on what is hot and happening on the CometoCapeTown Facebook page to stay updated on where to go, what to see and what to do during the glorious Cape Town summer.