Can you hear the Cape Town Christmas bells ringing? Its Christmas time in the Mother City and what a glorious time it is indeed! Cape Town on Christmas is every bit as magical as you can imagine, and the Mother City certainly likes to pull out ALL the stops. From beautifully decorated spaces, celebrated Christmas light shows, magnificent festive season specials and an abundance of incredible events to choose form, spending your Christmas in Cape Town will be every bit as memorable as it is magnificent! But this is the Mother City after all, and we are nothing if not bold and unique, so we therefore like to do things a little differently. Because who doesn't like colouring outside of the lines, even on Christmas day! Here are some unusual Christmas traditions in Cape Town you might not have known of, but certainly will know now:
Christmas Traditions in Cape Town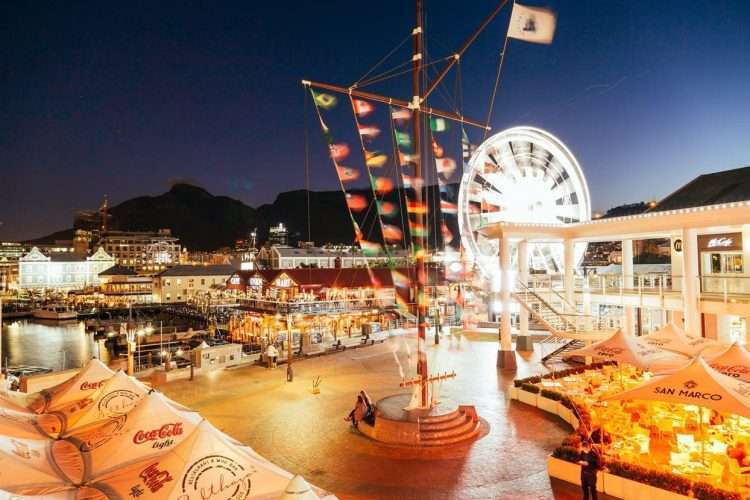 Christmas day is also the perfect beach day!

Cape Town summer is in full swing and this means Christmas day also makes for the perfect beach day! So don't be surprised if you see people flocking to one of the Mother City's beaches on Christmas day, because when the sun is out, Cape Town comes out to play, and there is no time to celebrate quite like Christmas day! Why can't you be sun-kissed and salty-haired on Christmas day too? Well, in Cape Town you can be! So grab your shades, sunblock and sandals and head to the beach for a Cape Town Christmas day accompanied by a dip in the Atlantic – what a treat!
Sometimes we braai on Christmas day and that's okay!
View this post on Instagram

A braai is not only a celebrated Christmas tradition enjoyed by many Mother City locals, but a cherished South African past-time! While Capetonians certainly enjoy their fair share of tasty festive roasts and buffet feasts, sometimes we like to throw some coals on the braai, chuck a couple of steaks and lamb chops on there, open a cold beer and enjoy the company of family and friends. This is one Cape Town Christmas tradition that everyone should experience at least once in their lives, because there is no Christmas braai quite like a Cape Town Christmas braai!
Capetonians add a summer twist to winter Christmas past-times
View this post on Instagram

Travellers from the Northern Hemisphere may find their first African Christmas a little strange as Cape Town swaps snowy days, warm fireplaces and egg nog for beach sand, surf boards and refreshing cocktails! But that doesn't mean the Mother City doesn't enjoy her fair share of spray-on snow, cosy winter food classics, warm Santa Clause hats and jingle bells, because she certainly does! In Cape Town we add a dash of summer time magic and a solid dose of winter Christmas favourites to produce the perfect festive season mix. All resulting in one glorious Cape Town summer Christmas day you won't soon forget!
Cape Town Christmas trees are sometimes made of wood, wire & beads but they are every bit as festive as the real thing!
View this post on Instagram

Who wouldn't want a beautifully crafted wood, wire and beaded Christmas tree this festive season? Well in Cape Town we're all about it, in fact, we LOVE it! The ultimate expression of an African Cape Town Christmas is a wood, wire and bead Christmas tree from an informal trader or craft market. Choosing your annual beaded Christmas tree from one of your favourite local traders or craft markets is a cherished Christmas tradition that is every bit as fun as it sounds! Plus it truly is an adventure! Every year you can expect new and fresh ideas as each trader puts their own creative spin on their hand crafted Christmas tree. And what's even better is that these super cool wire and beaded trees can stay in your home all-year-round and makes the perfect home décor addition!
Cape Town loves the outdoors, even on Christmas day – hike, swim or surf?
View this post on Instagram

Capetonians love to spend their time celebrating the Mother City in the sunshine and discovering all her natural gems, hidden spots and incredible hiking trials. Outside is the best ode of Cape Town and this is certainly applied to Christmas day too! So don't be surprised if you see some jolly Cape Town locals top-off their family Christmas feast with a glorious hike, ocean surf or dip in the Atlantic. But we certainly hope you'll join us!
In Cape Town Christmas is a whole weekend filled with festivities!
View this post on Instagram

In the Mother City we turn our one day Christmas celebration into a whole weekend filled with festivities! And sometimes even more! Because why celebrate Christmas for just one day if you can do it for so much more! Capetonians therefore frequently enjoy booking Christmas getaways to some of the Mother City's favourite holiday destinations and hidden gems. The 24th, 25th and 26th of December is turned into an epic Christmas season celebration filled with family, friends and togetherness, and is an event that is certainly enjoyed by ALL! Why not turn your Christmas into a fun-filled family getaway in the beautiful Mother City? It promises to be every bit as spectacular as it sounds!
Sometimes we like to include an iconic landmark in our Christmas photos just because we can!
View this post on Instagram

Cape Town loves and celebrates every single one of its iconic landmarks and cherished tourist attractions, so much so that we even like including them in our Christmas holiday cards and festive season photos. Because who wouldn't want a family Christmas photo with one of the New7Wonders of Nature, known as Table Mountain, in the background? In the Mother City we like to add an extra special touch to our Christmas photos, and Cape Point, Robben Island, Camps Bay, Chapman's Peak, the 12 Apostles and the African Penguins at Boulders Beach is guaranteed to do just that!
Whether you celebrate Christmas the traditional way or add some unique touches to your festive season celebrations, adding some unusual, yet enjoyable Cape Town Christmas traditions to your festive season promises to make it a Christmas day you and your family won't soon forget!
---
Planning on spending this holiday season in Cape Town? Learn more about the Mother City, how to get around, things to do in Cape Town, and more from our blog. We can help you find the perfect place to stay. Get in touch if you'd like help finding accommodation or Cape Town tours to indulge in when you are around.