Cape Town has been voted the BEST city in the world for 6 years running, it's therefore no surprise that the Mother City offers an abundance of sensational luxury experiences to be enjoyed by all. Not only is Cape Town beautiful, it is also home to a variety of iconic world-renowned landmarks and tourist attractions like Table Mountain, the 12 Apostles, Robben Island, Cape Point and Camps Bay, just to mention a few, all of which can be experienced and enjoyed in the most luxurious ways. Here are our top 5 luxury experiences in Cape Town that will not only leave you spell-bound and wanting more but with lasting memories too:
1) Private helicopter flight & lunch in the winelands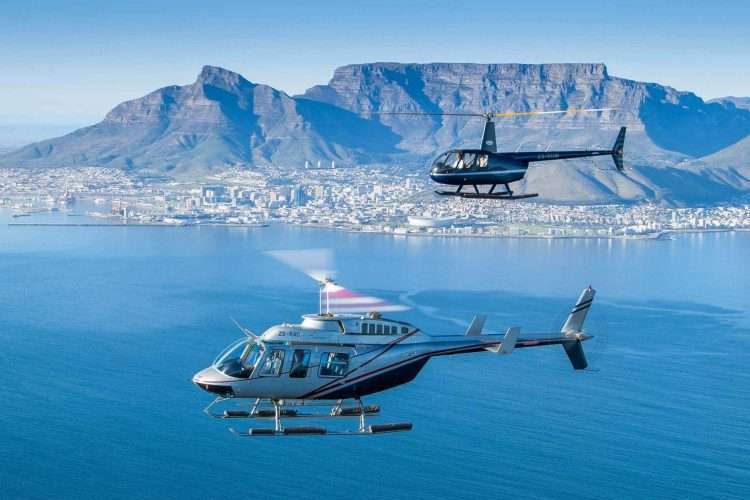 Let's be honest, Cape Town certainly has no shortage of incredible viewing points, but there is no view of the Mother City quite like the view from the top. A private helicopter flight allows you to experience it in the most exclusive and luxurious way. Not only do you get to see the Mother City from way up high in your private state of the art helicopter, but you get to wine and dine at one of Cape Town's most unique and elite Wine Estates. Not only is this private helicopter experience the epitome of Cape Town luxury, it also allows you to see some of the Mother City's most iconic landmarks and sensational tourist attractions from a whole new perspective. There certainly is nothing like a bird's eye view of one of the most picturesque coastlines in the world! We offer chartered, scheduled or private helicopter rides in Cape Town.
2) Charter a private yacht & sail the Atlantic
Experiencing and exploring the Mother City's most celebrated landmarks and best kept secrets on-board your own private luxury yacht is one luxurious Cape Town experience you won't soon forget. With the glorious Atlantic beneath you and the magnificent beauty of Cape Town all around you, you'll see Cape Town like you never have before. Why not indulge in a sunset yachting trip to Clifton's 4th beach and watch the sun go down over the Mother City while sipping on a divine cocktail? Or explore the vibrant False Bay on a private yachting trip jam-packed with snorkelling, jet skis, ocean swimming and so much more? Or perhaps a day of basking in the sun and lounging next to the Atlantic whilst your personal chef, waiters and bartenders attend to your every whim against the backdrop of the striking Table Mountain is more your style? Whatever your private luxury yachting wish may be, the Mother City promises to make them all come true on this exclusive luxury Cape Town experience fit for a king and queen!
3) A luxury One & Only Cape Town spa experience
The One & Only Cape Town is one of the most luxurious and exclusive hotels in the Mother City, so it only makes sense that they offer an elite spa experience to match. This private and lushly landscaped Spa Island is based on the pillars of unwinding, restoring and elevating, and that is exactly what you'll get! This serene sanctuary is snuggled within exquisite gardens surrounded by the resort's tranquil waterways, it truly is the epitome of luxury relaxation at its very best. You are encouraged to indulge in their incredible selection of spa offerings and to sit back, relax and allow yourself to be pampered to your heart's content. The One & Only Spa is also the only place where you can experience the combination of Cape and African influences, thereby making it a truly unique experience you won't find anywhere else. Be sure to try their tantalizing African Rain shower experience, it really is something special!
4) A visit to the Aquila Private Game Reserve
A trip to South Africa just wouldn't be complete without seeing some of its wild life, and in Cape Town there certainly is no better place to do it than at Aquila Private Game Reserve. Located only 2 hours from Cape Town city, Aquila allows you to indulge in an authentic luxury African experience topped off with some sensational sightings of the iconic Big 5, elephant, lion, buffalo, rhino and leopard, as well as a significant amount of other wild game, which roam freely on the reserve. Besides this memorable African Safari experience, it also boasts a range of other indulgent features like luxury hideaways and overnight accommodation, restaurants, bars, lounges, infinity pool, a Tranquila Spa and so much more. This is one luxury overnight adventure you don't want to miss out on! Book with us here, and we will offer you a better rate than going direct…
5) Hot air balloon adventure over the Cape winelands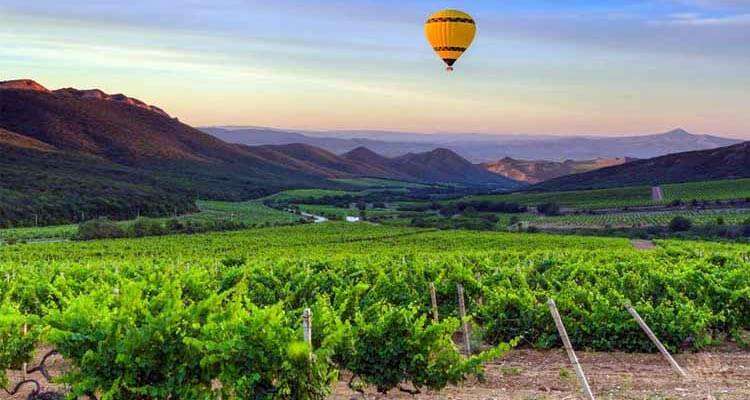 There certainly are many ways to see the Cape Winelands, but there's nothing quite like doing it from a hot air balloon! This is Cape Town luxury in every way and the perfect romantic gesture for that special someone in your life. While you may need to get up a bit earlier to enjoy this exclusive, yet exciting, activity, it will definitely be worth every single second! Flying over one of the most sensational wine producing regions in the world is an experience that's hard to quantify, but is one you won't soon forget!
The Mother City has beauty, style and grace, she has made herself known as one of the most beautiful, unique and exciting cities in the world, and her luxury experiences embodies all of that! Embarking on one of these exclusive Cape Town experiences not only ensures you tick some really incredible experiences off of your bucket list, but it will also leave you with lasting memories. Time to sit back, relax and indulge, your luxury Cape Town adventure awaits!
---
Cape Town has no shortage of luxury experiences worth exploring. If you're looking to spend luxury holiday in Cape Town, browse our selection of tours, Cape Town villas and apartments or get in touch today for help with finding the perfect best experiences and places to stay in Cape Town.