Home to some of the most beautiful beaches in the world, it's no surprise that people travel from far and wide to experience Cape Town's beach magic first-hand. Whether you're looking for a stunning secluded beach escape, long stretch of white sand or something a little more cool and quirky, the Mother City has the perfect beach for every beach lover at heart.
Here are our top 5 beaches in Cape Town that should undoubtedly be on everyone Cape Town beach buck-list.
1. Llandudno Beach
Location: Hargrave Avenue, off Llandudno Road, via Victoria Road (M6), Llandudno, Cape Town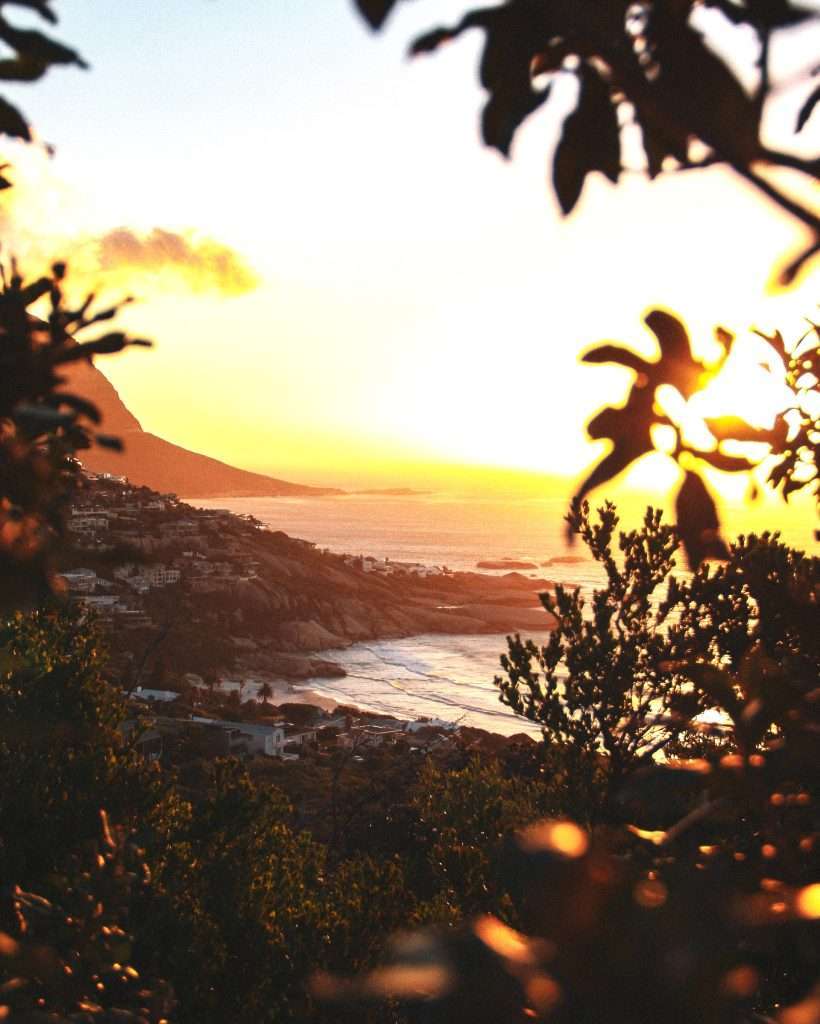 About 20 kilometres (12 miles) south of Cape Town on the way to Hout Bay and the scenic Chapman's Peak Drive, is where you'll find one of the most beautiful beach gems and best beaches in Cape Town – Llandudno Beach. Llandudno may be a bit off the beaten track, but this spectacular beach is certainly a favourite among local beach lovers, and we have no doubt it will be a favourite of yours too.
A fantastic curl of sand and sea, backed by milkwoods and indigenous bush, and bordered on either end by dramatic outcrops of giant granite boulders, Llandudno also boasts turquoise ocean waters, a beautiful ocean view, stunning serine surroundings, and a soft sandy cove – Llandudno is pure beach bliss! In fact, Llandudno is somewhat of a Cape Town hidden beach gem as its where locals go to escape the large beachy crowds of some of the Mother City's larger beaches like Camps Bay and Clifton Beach.
Besides enjoying a blissful beach day in a more tranquil and secluded beach setting, Llandudno Beach and its giant granite boulders is one of the most spectacular secret sunset spots in the city. It is also one of the best beaches in Cape Town for beach picnics, body boarding, surfing, and sneaky sundowners as you watch the Mother City sun go down from this magical beach spot.
How do you get there: A narrow road winds its way down through an exclusive hillside neighbourhood to a soft sandy cove where you'll find children building sandcastles; groups of friends playing beach bats and frisbee; surfers carving patterns on the waves; waggy-tailed dogs bounding about; and people soaking up the glorious Cape Town sunshine.
As with all the beaches along the Atlantic coastline, the ocean water is definitely chilly (like REALLY chilly), however, once you're in, the refreshment factor on a sweltering hot summer's day is truly unbeatable!
**Tip: If you're planning to spend the day at Llandudno Beach, make sure you bring all your beach equipment, beverages, and a jam-packed picnic basket for the day, as there are no shops or restaurants in Llandudno.
**Extra Tip: If you're in the mood to explore, there are a few hidden caves amid the boulders where ancestral Khoi-San strandlopers once lived.
**For the surfers: Easily known as one of the most scenic breaks in the city, Llandudno's hollow waves that work in a south-to-south-easterly wind have become a fan-favourite for avid local and international surfers. And when the swell arrives you better know its game on as Llandudno transforms into the ultimate surfing hotspot.
The waves are known to be best during the Summer and Spring months when storms haven't dug into the sand just yet. While Llandudno certainly offers one of the most scenic surfs in Cape Town, it's not recommended for surfing first timers or inexperienced surfers. It's unpredictable granite boulders and big, hollow barrels requires a certain level of surfing skill and experience to navigate. Intermediate and advanced suffers are also advised to take extra precautions as Llandudno's waves certainly carry a bit of punch.
2. Clifton Beaches 1-4
Location: Victoria Road (M6), Clifton, Cape Town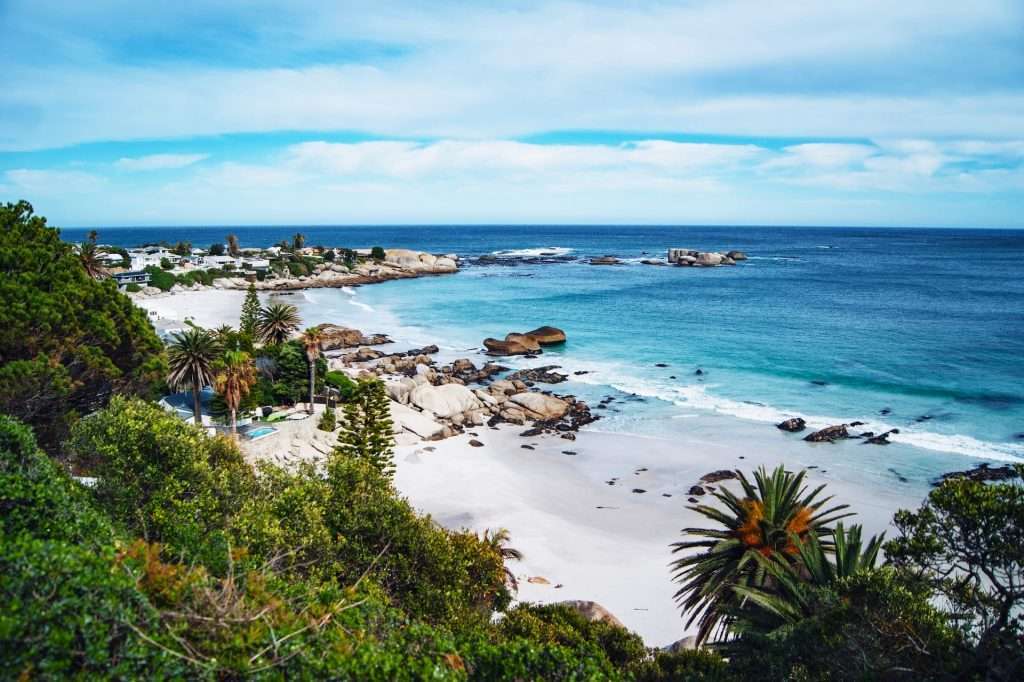 Situated in one of Cape Town's most sought-after and affluent suburbs, Clifton's 4 beaches are arguably some of the best and most beautiful in the country, if not the world. Referred to as the 'French Riviera of South Africa', as well as ranked 2nd on NatGeo's best beach list, Clifton Beach is at the heart of Cape Town's vibrant beach scene. It's no surprise Clifton Beach is a massive fan-favourite among locals and tourists alike!
Clifton Beach comprises of four beach coves, namely Clifton 1st, Clifton 2nd, Clifton 3rd and Clifton 4th Beach, each separated by giant boulders that protect against Cape Town's unruly 'south-easter' wind. The stunning Twelve Apostles Mountain Range backdrop, soft white sand, and majestic blue water of each of the four beaches are an unofficial playground for those looking to take advantage of the refreshing Atlantic chill on a hot summer's day in Cape Town.
Unoriginally named first, second, third and fourth beach, each cove has a personality of its own, attracting a slightly different crowd of people of all ages.
Clifton 1st Beach: Clifton 1st beach is frequented by Cape Town locals and vacationers staying in the adjacent luxury apartments. It's the perfect beach oasis if you're eager to escape the crowds for a relaxing sun-kissed day by the seaside. In addition, it is popular among surfers as well as those in the mood for a bit of body or board surfing with the current being just strong enough to delight your inner surfer. Clifton 1st beach is also the only off-leash dog-friendly beach of the four coves.
Clifton 2nd Beach: Clifton 2nd and 3rd beach sees a lot of traffic from a laidback younger crowd, particularly students. It is deemed the chosen beach hotspot for just about everyone, predominantly attracting a trendy crowd of 20- somethings looking to have a good time, soak up the glorious Cape Town beach sunshine, catch a tan, and enjoy the cool Clifton beach vibes. The more active beachgoer can enjoy a day of volleyball, beach bats and tossing around a frisbee in this secluded cove.
Clifton 3rd Beach: In addition to the above, Clifton's gay beach is a popular rendezvous spot for gay men, but is open to absolutely everyone. The atmosphere is lively and vibrant, and the beach is not as crowded as its more popular neighbour. Plus, the weather conditions are always perfect for catching a tan.
Clifton 4th Beach: The biggest and most popular of the four beaches, Clifton 4th beach is one of Cape Town's top blue flag beaches, boasting excellent facilities and lifeguards on duty. It is most commonly frequented by cool and trendy people tanning their toned bodies and wholesome families building sandcastles. A classic Cape Town beach with a great holiday atmosphere, there's no better place to sit back, relax, soak up the sun, take a dip in the Atlantic, and enjoy a blissful beach day during summer in Cape Town. Fourth beach also holds Blue Flag status, an international award given to beaches that are clean, safe, offer great amenities, and implement environmentally conscious initiatives.
**Tip: Clifton Beach is a popular spot right throughout the year, especially during summer in Cape Town and parking is scarce. If you're planning on travelling by car, be sure to arrive extra early to secure a spot in the small parking area near 4th beach or along Victoria Road. We'd recommend using Uber to avoid the hassle and frustration of finding parking or potentially not finding any parking whatsoever.
Remember to pack light as all of Clifton's 4 beaches are only accessible via stepped pathways and winding, narrow staircases.
**Extra Tip: Clifton Beach is also regarded as one of the city's best sunrise and sunset spots. There truly is nothing like watching the sunset from one of Clifton's giant granite boulders.
3. Camps Bay
Location: Victoria Road, Camps Bay, Cape Town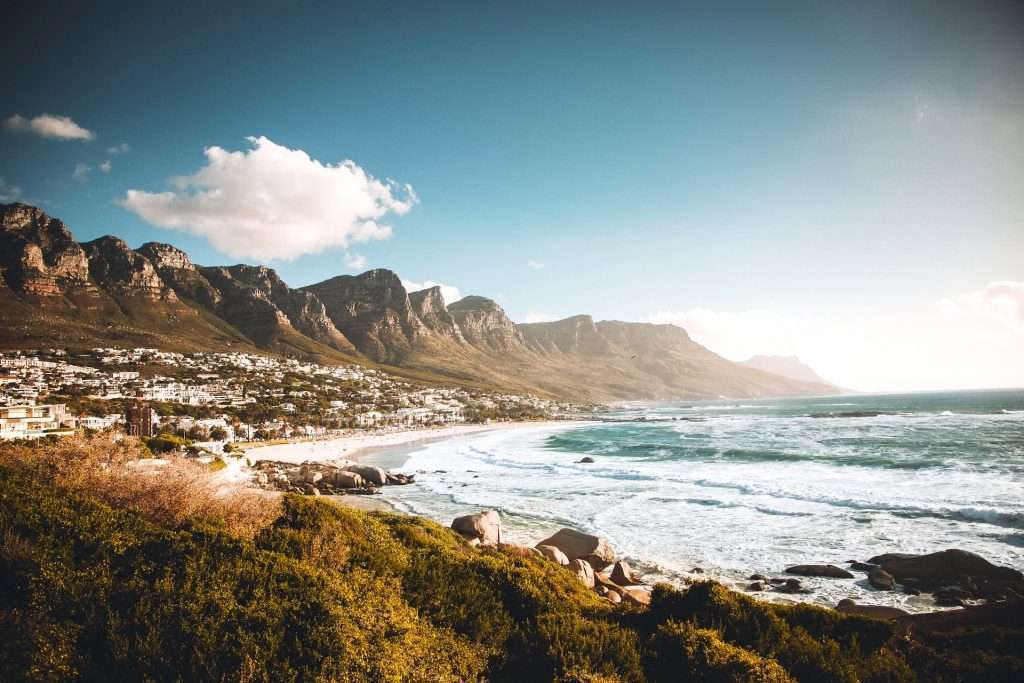 Of course we had to include one of the most breathtaking beach stunners in the world – the one and only Camps Bay – in our list of top 5 beaches in Cape Town.
Located just down the road from Clifton Beach you'll find the gently curving crescent and pure slice of beach paradise that is Camps Bay – the best-known beach on the Cape Town coast.
Boasting a beautiful long stretch of white sand, clear turquoise water, fringing palm trees, a vibrant and trendy strip of restaurants, bars, and hangout spots (known as the famous Camps Bay Sunset Strip), and a lively energy, Camps Bay is pure beach perfection.
Perfectly complimented by a picturesque backdrop of the Twelve Apostles Mountain Range, Lions Head, and the glorious Atlantic Ocean, it's no surprise that the captivating Camps Bay is regarded as one of the most beautiful, highly sought-after, and best beaches in Cape Town. Not to mention the fact that it has made its grand debut on countless Instagram feeds, travel bucket-lists, postcards, and travel magazines. With everyone looking to experience just a second of that glorious Camps Bay beach magic!
Both locals and visitors of all ages flock to this palm-lined beach to sunbathe, surf, bodyboard, play beach bats or volleyball, and pretty much anything and everything in between. Camps Bay most definitely has it all! It is also known as one of the most stunning and sought-after sunset spots in the city, with the Camps Bay beachfront and Camps Bay tidal pool being two of the most beautiful sunset watching spots in Cape Town.
**Tip: During Cape Town's peak summer season (December and January), Camps Bay's main beach can get incredibly crowded. If it gets to be too much, head in the direction of Clifton Beach for just under a kilometre where you'll discover the more secluded, yet equally beautiful Glen Beach – another one of Cape Town best beaches and favourite local beach gems.
**Extra Tip: Similar to Clifton Beach, parking can become exceptionally hard to find during Cape Town's summer months. Be sure to arrive extra early to secure a spot or opt to take an Uber to avoid the Camps Bay parking struggle all together.
4. Boulders Beach
Location: Bellevue Road, off Mcfarlane Road (M4), Simon's Town, False Bay, Cape Town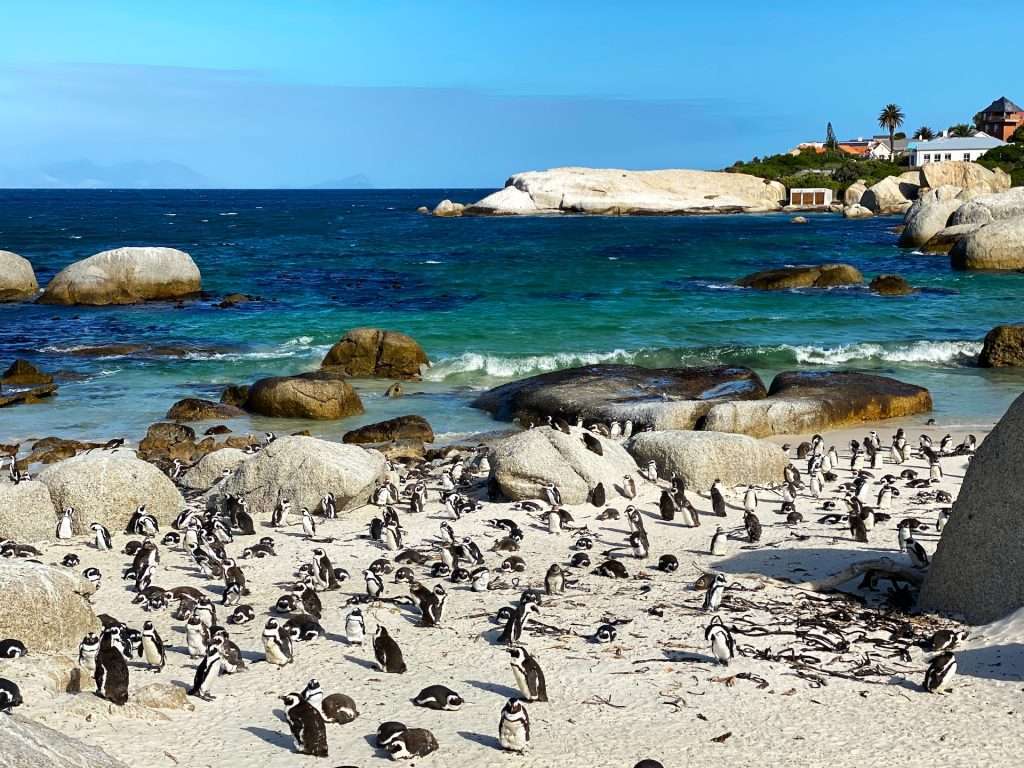 Located about 40 kilometres (25 miles) south of Cape Town, along the vibrant False Bay coastline, just beyond the naval base in picturesque Simon's Town, the cool, quirky, and charismatic Boulders Beach has captured the hearts of beach lovers around the globe. Crowned the 62nd most beautiful beach in the world by Flight Network on their World's 100 Beach list, Boulders Beach has established itself as one of the most sought-after beach destinations for anyone travelling to Cape Town. Boasting large granite boulders, a stunning swimming bay, rockpools and a spectacular backdrop. It will almost feel like you've escaped to your own little piece of beach paradise.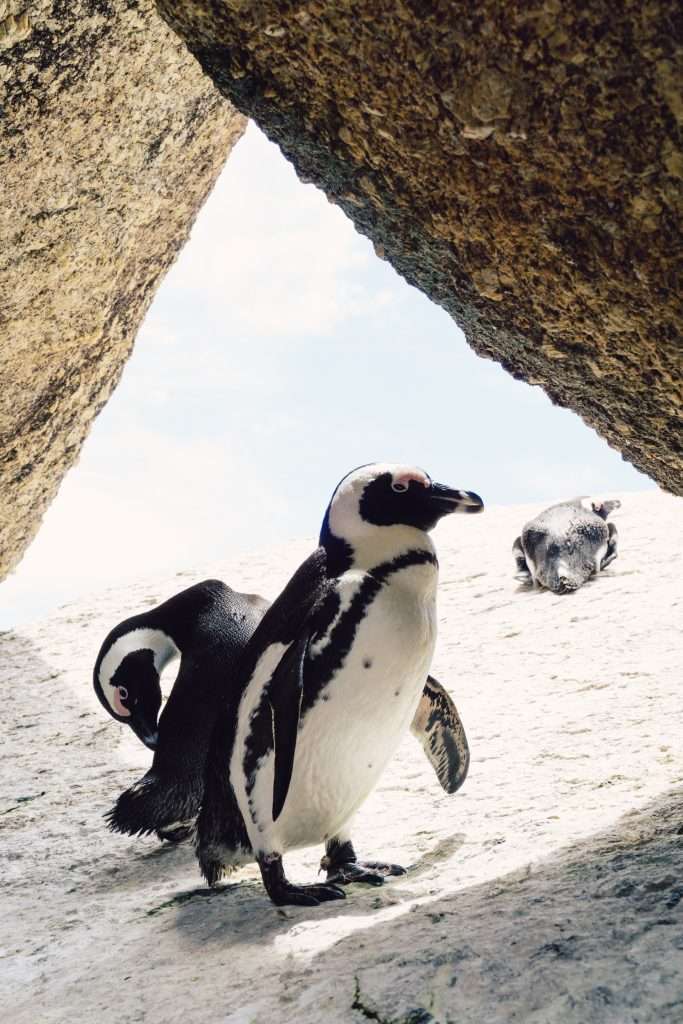 What makes a visit to Boulders Beach extra special is it's cute and charismatic colony of African Penguins that have claimed the beloved Boulders Beach as their own. Home to a thriving population of African Penguins, Boulders Beach is one of the only places in the world where you can get up close and personal with these cool and charismatic ocean locals. This undoubtedly makes visiting the African Penguin colony at Boulders Beach a bucket-list worthy experience in every way and something absolutely everyone who travels to Cape Town should experience at least once in their lives.
Besides seeing the African Penguins from the African Penguin Viewing Site at Boulders Beach, you can enjoy a variety of other once-in-a-lifetime adventures such as swimming, kayaking or even enjoying a laid-back beach day with them right by your side. How incredible is that? It's no surprise that this stunning sheltered beach is among the most visited and sought-after beaches in Cape Town.
**Note:Visitors will need to pay an entrance fee (which forms part of a conservation project) to gain access to the African Penguin Viewing Site and Boulders Beach. Your ticket is valid for the entire day. You can choose to exit and re-enter as it suits you (this only applies to the day your ticket was purchased).
**Visit the SANParks website for more information regarding Boulders Beach's Conservation Fees.
5. Muizenberg Beach
Location: Beach Road, Muizenberg, Cape Town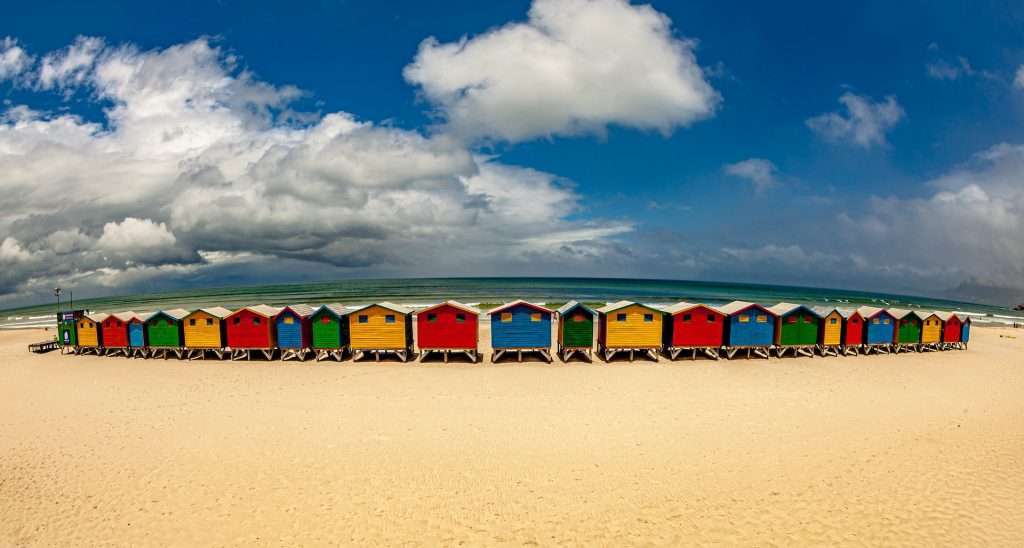 Surf's up, salty-hair and sun-kissed beach vibes is Muizenberg Beach to a T! Located along the beautiful False Bay coastline, Muizenberg Beach has fast become one of the Mother City's most popular beaches. Undoubtedly making it one of the best beaches to visit in Cape Town. Known as one of the top blue-flag swimming beaches in the city, Muizenberg is the perfect place to enjoy a fun-filled beach day with the whole family.
Besides it's cool laid-back beach vibe, Muizenberg Beach is also home to the famous Muizenberg Beach Huts, also known as the colourful Muizenberg Bathing Boxes which have become one of the most 'Instagrammable' spots and must-visit attractions in Cape Town.
Besides its sought-after beach status and colourful beach huts, Muizenberg is loved for its laid-back surf's up approach to life. It's no surprise that the cool Muizenberg Surfer's Corner is widely known as one of the ultimate surfing spots in Cape Town. It is also one of the best beaches in Cape Town for those who want to learn how to surf. Plus, the whole family can join in on the surfing fun, even if you've never surfed a single wave in your life!
Besides being the ultimate surf spot for surfing first timers, Muizenberg Beach is also one of the most sought-after surfing hotspots for avid local and international surfers. This top Cape Town beach definitely has something for everyone to enjoy.