Named one of the most beautiful cities in the world, Cape Town is home to a variety of iconic landmarks, magnificent natural wonders, stunning beaches and the captivating Cape Winelands. The Mother City is filled with tons of beauty, adventure, bucket-list worthy experiences and thrilling discoveries.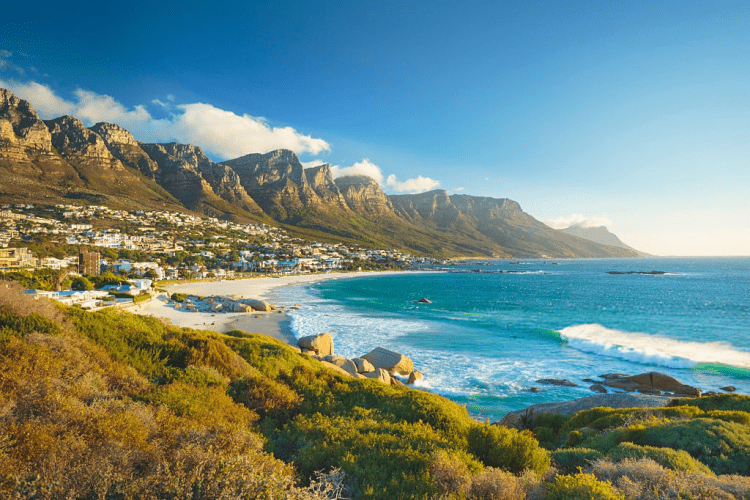 Cape Town will completely charm you with its beauty, people and a variety of activities it has to offer. When in Cape Town, here are the top things you need to check out during your stay this new year.
Witness, hike or take an Aerial Cableway ride to the top of Table Mountain
View this post on Instagram
Acclaimed one of the 7 Natural Wonders of the World, Table Mountain is one of the Mother City's most beloved landmarks. It showcases the best of Cape Town for a memorable holiday. Besides witnessing its tall-standing beauty from below, you can choose to enjoy an exciting Aerial Cableway ride to the top. If you're feeling extra daring and adventurous, a thrilling hike to the summit is without a doubt worth the effort.
Some of Table Mountain's top hiking trails for adventure enthusiasts include: Platteklip Gorge, Skeleton Gorge, India Venster, Kasteelpoort, Devil's Peak, Maclear's Beacon or the Pipe Track. If you're looking to take the whole family along on your Cape Town holiday hiking adventure, opt for one of its easier trails such at Platteklip Gorge or the Pipe Track. Whichever way you choose to admire the magnificent Table Mountain, it promises to be filled with the most spectacular panoramic views. Making it a bucket-list worthy experience in every way.
Take a scenic drive along Chapman's Peak Drive
View this post on Instagram
Known as one of the most scenic coastal drives in the world, a drive along the renowned Chapman's Peak drive deserves to be on everyone's Cape Town bucket-list. Chapman's Peak boasts some of the most spectacular views of the Atlantic Ocean, Mother City and beyond. Affectionately referred to as 'Chappies' by Cape Town locals, It is located approximately 25 kilometers from the city centre.
This spectacular toll road snakes its way between Noordhoek and Hout Bay, passing the jaw-droppingly beautiful panoramic Chapman's Peak point along the way. It's also known to be one of the very best sunset spots in the city, making a sunset drive along Chapman's Peak Drive an absolute must-do Cape Town holiday activity. If you're lucky, you'll even spot some Southern Right Whales and dolphins in the sparkling Atlantic Ocean below you.
Take a trip to the captivating Cape Point & stand at the point where 2 Oceans meet
View this post on Instagram
The magnificent Cape Point is one of the best of Cape Town spots that deserves to be on everyone's bucket-list. Located approximately 60 kilometers from Cape Town's city centre, It lies within the southernmost tip of the Table Mountains National Park. It also forms an integral part of the Cape Floral Region, a UNESCO World Heritage Site and is one of the richest areas of flora in the world. In addition, Cape Point is celebrated for its exciting diversity of bird and wildlife. Home to approximately 250 species of birds as well as eland, Cape zebra, reptiles, and troops of brazen baboon, it's any nature lover's utopia.
Besides its unparalleled natural beauty and scenic wonder, Cape Point is home to some of the most spectacular secret beaches, hiking trails, nature walks, adventure activities and thrilling experiences. In addition, the renowned Cape Agulhas, located at the southernmost tip of Africa, is the place where the Indian and Atlantic Ocean meet. Not only does a visit to Cape Agulhas make for an epic Cape Town holiday road trip, it gives you the once-in-a-lifetime opportunity to stand at the exact point where two oceans meet.
Explore one of the Great Botanic Gardens of the Word, Kirstenbosch Botanical Gardens
View this post on Instagram
Located on the eastern slopes of the magnificent Table Mountain, Kirstenbosch Botanical Gardens is acclaimed one of the great Botanic Gardens of the World. Forming part of the Cape Floristic Region UNESCO World Heritage site, Kirstenbosch is home to more than 20,000 native South African plant species spread across a 528-hectare nature reserve of indigenous forest and fynbos, it truly is any nature lover's paradise.
In addition to its magnificent natural beauty, Kirstenbosch Botanical Gardens is filled with a variety of exciting experiences and fun-filled activities for the whole family. From the famous Treetop Canopy Walk (that the kids will absolutely love), a variety of hiking trails, waterfalls and fauna and flora displays to a range of restaurants and fun nature walks, Kirstenbosch has something for everyone to enjoy. It is also known as one of the best picnic spots in the city as well as the stunning location where the Kirstenbosch Summer Sunset Concert Series takes place every Sunday between November and April.
---
---
Take a trip to Robben Island & immerse yourself in a vital part of South Africa's history
View this post on Instagram
Robben Island isn't only one of Cape Town's most beloved landmarks, but a vital piece of South Africa's history as well as a true reflection of the country's long journey to democracy. Known as one of the most famous prison sites in the world, Robben Island was where the renowned Nelson Mandela spent 18 years in prison during the South African apartheid era.
Today, the island is a UNESCO World Heritage Site and a must-see attraction for anyone travelling to Cape Town. With a variety of tours departing daily, visitors to Robben Island will experience an in-depth perspective of what life was like on the island during Nelson Mandela's incarceration. In addition to being jam-packed with incredible history, insight and chilling facts and revelations, Robben Island itself is quite a destination to explore. With unique fauna and flora displays as well as a wide range of Cape Town's beloved marine life making an appearance, it truly provides you with a memorable experience all the way through.
Witness the artistic beauty of the Zeitz MOCAA Museum of Contemporary Art Africa
View this post on Instagram
The renowned Zeitz MOCAA Museum of Contemporary Art Africa is undoubtedly known as one of the top attractions to visit on your holiday to Cape Town. Acclaimed as one of the largest museums on the continent dedicated to African contemporary art in the world, the Zeitz MOCAA is any art lover's dream come true. Even if you don't consider yourself an avid art enthusiast at heart, the Zeitz MOCAA will undoubtedly make you a true believer. Housed in the 9,500-square-meter grain silo with the backdrop of the iconic Table Mountain on the Victoria and Alfred waterfront, it is a true stroke of architectural genius.
Besides its magnificent architectural display, its true artistic wonder is what keeps people going back for more. Boasting 9 floors with over 100 galleries, there truly is something for every art lover at heart. Often compared to New York's MoMA or London's Tate, the Zeitz MOCAA features 21st-century art from all around Africa and its diaspora. Including the private collection of Jochen Zeitz, German-born former CEO of Puma and conservationist. In addition to its grand artistic display, this top Cape Town attraction also houses centres for photography, performing arts and the moving image. As well as an art education institute, a curatorial training program and a Costume Institute. It truly offers something for everyone to marvel at, experience and enjoy!
Visit the colourful & culturally diverse neighbourhood of Bo-Kaap
View this post on Instagram
Known as the most colourful and culturally diverse neighbourhood in the Mother City, a visit to Bo-Kaap undoubtedly showcases the very best of Cape Town. Located in the heart of the city at the foot of Signal Hill, the beloved neighbourhood of Bo-Kaap is characterised by steeply cobble-stoned streets lined with brightly coloured houses. Known as the Cape Malay Quarter of Cape Town, Bo-Kaap is home to a large population of Cape Town's Muslim community. Consisting of those who have descended from the "Cape Malays," slaves brought by Dutch settlers from Indonesia, Malaysia, and other African countries.
Besides its colourful surroundings, vibrant energy and warm and welcoming atmosphere, Bo-Kaap is filled with rich history, cultural diversity and tradition. In addition to exploring the colourful streets of this beloved Cape Town neighbourhood, visitors can also enjoy a visit to the Bo-Kaap Museum. Housed in the neighbourhood's oldest building. Not to mention enjoying an authentic, flavoursome and down-right delicious traditional Cape Malay meal at one of Bo-Kaap's local restaurants or cafés. Trust us, this is one unique Cape Town experience neither you, nor your taste buds want to miss out on!
Visit Boulders Bay & see the African Penguins in their natural habitat
View this post on Instagram
No Cape Town trip would be complete without a visit to the famous Penguin Viewing site at Boulders Bay. Located approximately an hour's drive from Cape Town's city centre, Boulder's Bay in Simon's Town shelters a breeding colony of more than 2,000 endangered African Penguins. Forming part of the Table Mountain National Park Marine Protected Area, Boulder's Bay charges a small entrance fee to access the famous African Penguin Viewing site. All of which goes towards a marine protection program for these beloved Cape Town ocean locals. In addition to seeing these tuxedo cuties in their natural habitat from the Penguin Viewing Site, a visit to Boulders Bay offers visitors so much more.
By spending the day on the renowned Boulders Beach (which is one of Cape Town's few paying beaches) you can enjoy up-close-and-personal encounters with these charismatic and cool African Penguins. Not to mention taking a dip in the ocean and surrounding rock pools with them by your side. If you're feeling extra adventurous you can even choose to enjoy an African Penguin kayaking experience. Due its popularity, Boulders Beach can become quite crowded during the holiday season. But just a short walk away you'll stumble upon another one of Cape Town's hidden beach gems, Foxy Beach. This is a great beach destination for viewing the penguins with a walkway that leads past the prime sites. Thereby making for a fun-filled day out with the whole family this Cape Town holiday season.
Visit Signal Hill & the Noon Gun
View this post on Instagram
Located only about a 5-minute drive from the Cape Town city centre, Signal Hill is by far one of Cape Town's best lookout points for admiring a spectacular view. Not to mention one of the absolute best sunset watching spots in the Mother City. Boasting a 350-meter summit, the beautiful Signal Hill forms the body of the adjacent Lion's Head peak. It was actually named for its historical use when signal flags were flown from here to send messages to approaching ships. It carries a great deal of Cape Town's history in addition to the spectacular views over Cape Town and beyond.
Besides the fact that Signal Hill has fast become the ultimate sunset and sunrise watching spot in the city, it is also the best place to witness and hear he famous Noon Gun firing. At noon every day (except Sundays and public holidays), a cannon activated by an electronic impulse from the Observatory fires a single shot. In 'earlier' days the firing of the renowned Noon Gun served as a signal and reminder of the exact time to ships anchored in the bay. Today, the tradition carries on. Tourists, locals and visitors are invited to attend a free presentation on the history of the Noon Gun at the Lion Battery. As well as stay and watch the firing. It truly is quite a bucket-list experience everyone who visits Cape Town should get to experience at least once.
---
---
Take a trip & explore the vibrant False Bay Coastline
View this post on Instagram
Taking a trip along Cape Town's vibrant False Bay Coastline is without a doubt one the bets things to do during your Cape Town holiday with the whole family. Besides spectacular ocean views all the way throughout your trip, the False Bay Coastline is lined with some of the most stunning coastal towns. Each one being as cool, charismatic and captivating as the next. From the famous Muizenberg Beach, Simonstown, Kalk Bay, Boulders Beach and Fish Hoek to Glencairn Beach, Long Beach, St James and Clovelly Beach, False Bay is filled with hidden beach gems around every corner.
Besides stunning beaches, the False Bay Coastline's charismatic coastal towns are also known to have some of the best local fish and chips spots in the entire city. Such as the famous Kalkies, the Salty Seadog and Brass Bell to mention just a few. These Cape Town seaside towns are also known for their quaint cafés, thrift stores, arts and crafts shops, cool coffee spots, historical and cultural sites and so much more.
Visit the V&A Waterfront
View this post on Instagram
The vibrant V&A Waterfront is one of the Mother City's main attractions. Stretching around two harbour basins, the Victoria and Alfred Waterfront is a buzzing entertainment quarter. Jam-packed with absolutely everything your heart desires. Whether you're young or young at heart, the V&A Waterfront is the place to be to enjoy the best of the best Cape Town has to offer. Once a scruffy fishing harbour, the now re-imagined waterfront district has become one of the city's top tourist attractions and must-visit hotspots.
In addition to being one of the leading shopping districts in Cape Town, home to over 450 stores, the V&A Waterfront also boasts an incredible variety of restaurants, bars, markets, landmarks, art, music and cultural experiences as well as adventure activities. Not to mention the fact that it's a working harbour and showcases some of the most magnificent harbour front views in the city. The Two Ocean Aquarium, Springbok Experience Rugby Museum, the Clock Tower, Scratch Patch, the Cape Wheel and various ocean adventures and boat rides are just some of the exciting activities that can be found in and around the Waterfront.
Visit one of Cape Town's renowned Wine Estates
View this post on Instagram
Known as one of Cape Town's top beach destinations and must-visit spots to experience the best of what Cape Town has to offer, a visit to Muizenberg Beach should be on everyone's Cape Town bucket-list. Besides being one of Cape Town most beautiful blue flag swimming beaches, Muizenberg Beach is also home to the famous colourful Muizenberg Beach Huts.
It's therefore no surprise that Muizenberg's renowned beach huts, cool laid-back ways and beautiful beach surroundings has made it one of the most Instagram-worthy spots in the Mother City. In addition to its cool, colourful and captivating beachy vibes, Muizenberg's famous Surfer's Corner is also known as one of the best surfing hotspots in the city. Not only is it a top surfing destination for avid surfer's from around the world, but the best place in Cape Town for those who are keen to learn how to surf.
Visit one of Cape Town's most beautiful beaches
View this post on Instagram
There is no better way to spend your a memorable holiday in Cape Town than by soaking up all the summer sun it has to offer. And what better way to do just that than by spending the day on one of Cape Town's beautiful beaches? Holidays are all about cool summer vibes and chilled beach times, making a fun-filled beach day one of the best things to do in Cape Town. Some of the most beautiful beaches in Cape Town that all deserve a spot on your holiday bucket-list are: Camps Bay, Clifton Beach, Llandudno, Boulders Beach, Bakoven, Bloubergstrand, Noordhoek, Hout Bay and Muizenberg Beach.
Exploring and experiencing the best of Cape Town will undoubtedly make for an unforgettable holiday in the Mother City. Boasting an endless variety of spectacular natural wonders, beaches, attractions, landmarks, adventure experiences and everything in between, there is no shortage of things to do and see in Cape Town.
---
Planning to visit Cape Town in 2020? Learn more about the Mother City, how to get around, free things to do in Cape Town in 2020, and more from our blog. We can help you find the perfect place to stay. Get in touch if you'd like help finding accommodation or Cape Town tours to indulge in when you are around.