The hiking culture in Cape Town is thriving and thrilling, and it certainly encourages EVERYONE, whether you're a born and bred Cape Town local or a traveller passing through, to get in on ALL the hiking action. Much like wine and artisan coffee, hiking is somewhat of a way of life in the Mother City, but with so many incredible landscapes, daring discoveries and down-right magnificent destinations right at your fingertips, how can you not want to hike and explore it ALL?
With so many spectacular hiking trail options out there, where exactly do you start? Well, we've got your back! Here are some of the best hiking trails in Cape Town that you absolutely should try out and will without a doubt fall head-over-heels in love with once you do:
Hiking Trails in Cape Town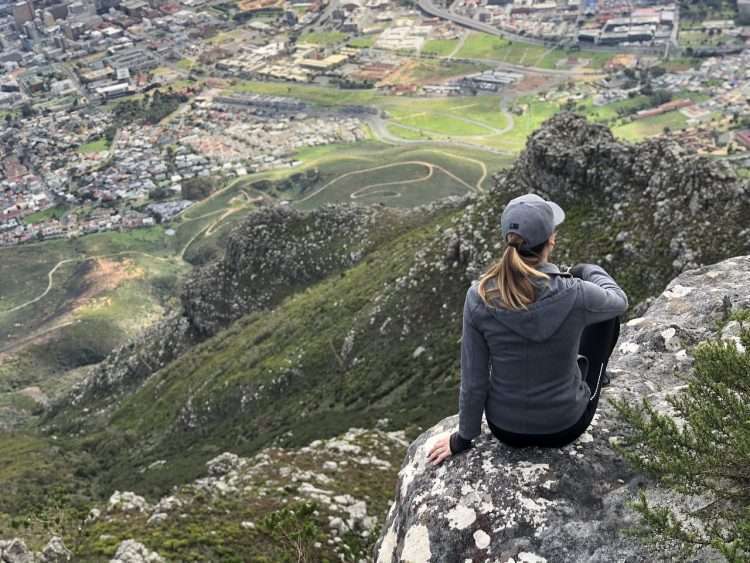 Table Mountain
How can we not start with the greatest hiking giant of them all, that just wouldn't be right now would it? The glorious Table Mountain is without a shadow of a doubt the most beloved and majestic icon of the Cape Town skyline, but besides giving us something truly glorious to look at and admire, it makes for a pretty hefty and daring hike too. While hiking this mountainous beast might seem pretty intimidating, it's definitely quite the Cape Town bucket list adventure that everyone should experience at least once in their lives. But although the views are truly spectacular and the climb quite the adventure, a Table Mountain hike should never be underestimated! The climb can get pretty steep and as this is the Mother City, the weather can change on a dime, so be sure to go prepared! But one thing is for certain, NOTHING beats the view from the top, and it will make absolutely everything else so worth it. The Platteklip Gorge route is definitely recommended for first time hikers or those that are a bit more inexperienced, and the best is it still offers all of the same magnificent views and cool experiences!
Lions Head
The beloved and beautiful roaring Cape Town Lion has sure made its fair number of features on Instagram feeds and story highlights as one of the most magnificent and popular hiking trails in the Mother City, and with good reason too. Boasting truly spectacular views of Cape Town and beyond and a really enjoyable hiking adventure for people of all hiking experience levels, Lions Head is a real Cape Town hiking gem! The walk to the top will take you approximately an hour and 30 minutes, depending on fitness levels and how many times you stop to take pictures, yes, the views are really that INCREDIBLE! Lions Head has also become a popular running spot for all the fitness enthusiasts and running fanatics looking for an extra challenge, but while some people may run the Lion, that certainly doesn't mean you need to, well, unless you'd like to of course! But we suggest you take your time and soak up every sensational view and cool moment of the experience in your own time. This incredible Cape Town landmark is also popular among hikers for its full-moon hikes, definitely adding a different element of exhilaration and beauty to the mix.
The Pipe-track
View this post on Instagram
With incredible views over Camps Bay and Lions Head, the Pipe Track is a definite hiking favourite amongst most. Another bonus for first time hikers is that it is pretty effortless and is generally all on the flat, unless you start the hiking trail from Camps Bay, then the initial climb will require some effort, but it is certainly still do-able. The Pipe Track follows a path between Kloof Nek and Kasteelspoort, adjacent to Table Mountain, and is guaranteed to provide you with SENSATIONAL views, a good workout and even some rich Mother City history. Yes, the Pipe Track trail actually follows the pipeline that was built for the purpose of servicing a pipeline that used to supply 19th-century Cape Town with water from the Disa Gorge. The name makes sense now right! This is definitely one of Cape Town's best and most-favoured hiking trails, and after hiking it for the first time you'll know exactly why, and don't be surprised if it has you going back for more again and again!
Kloof Corner
View this post on Instagram
Known as one of the best and certainly the most beautiful sunrise and sunset spots in the city, Kloof Corner is definitely worth all the rage and praise it's getting! But not only does it promise to be the most magnificent start and end to your day, it also makes for a really pleasurable hike for hikers of ALL experience and fitness levels. Kloof Corner is a great alternative to Lions Head and The Pipe-Track and is possibly one of the easiest hikes on the Table Mountain chain. Taking you approximately 40 minutes, this hiking trail is a great choice for first time hikers looking to embark on their first Cape Town hiking adventure! Besides a great hiking experience, the view alone is guaranteed to knock your socks off.
---
---
Cecilia Waterfall Hike
View this post on Instagram
Let's be honest, who can resist a cool waterfall hike? And the Cecilia Waterfall hike promises to be all you can imagine and so much more, thereby making it another one of Cape Town's best and coolest hiking trails! This Cape Town hiking gem both starts and ends in the Cecilia Forest that can be found just off Rhodes drive. Alternatively, this hike can also be started from Kirstenbosch, but this alternative is a lot tougher and includes quite a few steps to make it to your end point. But if stepping is your game then DEFINITELY go for it! This hike will take you approximately 3 hours and certainly requires a bit of hard work along the way, especially going up Cecilia Ravine. However, the end point is a cool, leafy green and moss-covered enclave which is home to none other than the Cecilia Waterfall! This sensational sight will make every single sweat droplet, stiff muscle and out-of-breath-moment oh so worth it!
Elephant's Eye Cave, Silvermine
View this post on Instagram
This is one super cool hiking trail that has fast become a fan-favourite among locals and travellers alike, and by adding an extra thrilling 'cave element' to the mix it just makes it that much more exciting! Although the name of this awesome Cape Town hiking trail may sound a bit intimidating at first, it's certainly not to be feared, and although slightly more taxing than some of the easier hikes, it is still classified as not being too difficult, thereby making it manageable for most hiking enthusiasts. In order to reach the Elephant's Eye Cave, you'll make your way from the car park at Silvermine's reservoir and continue to follow the sign-posted jeep track up the mountain. Once you reach the fire lookout hut, you can rest assured that you have managed to conquer the bulk of the hike, well done! Elephant's eye is a big hole that is positioned at the steepest part of the hike and certainly a pretty cool sight to see. When embarking on this hiking trail, be sure to take full advantage of all the glorious things it has to offer, especially the spectacular views and shaded pine trees that make for the perfect resting spot or quick chill session along the way, plus you can even take a picnic with, how cool is that!
Boomslang Cave
View this post on Instagram
From one cave to the next, Boomslang cave is another one of Cape Town's top hiking trail picks, and no, it's not only because of its name, however it does definitely catch your attention doesn't it? This cool Cape Town cave gem is positioned just above Kalk Bay and is not too difficult to access, plus it's also considered one of Cape Town's favourite novice hikes. You can therefore rest assured that even if you're not equipped with all the expert hiking skills, you will still be able to savour and enjoy every second of the Boomslang Cave trail. Located on Boyes Drive above Kalk Bay station you will come across a sign that says Echo Valley, hike up the steps and follow the signs to Boomslang Cave. At the top of the valley gorge you will find your Cape Town cave nirvana, and what a super cool find it will be! Now you better be prepared to crawl on your hands and knees, as this is the only way you'll be able to enter the cave, but it promises to be SO worth it.
Kasteelpoort Hiking Trail
View this post on Instagram
If a truly SPECTACULAR view of the Twelve Apostles Mountain Range, Lions Head, Robben Island, Camps Bay and the Atlantic Ocean AND an epic hiking adventure is what you're after, then the Kasteelpoort Hiking Trial is just the one for you! This epic Cape Town hiking trail also boasts the renowned 'diving board' at the top of its summit, a true Cape Town gem that has made its debut on many travel magazine and Instagram feeds. As the name suggests, the 'diving board' hangs right over the edge and is not to be attempted by the faint hearted or the inexperienced, especially not on a windy Cape Town day.
We all know how unpredictable that Mother City gust can be! But besides it's super cool, must-see end point, Kasteelpoort gives you two options for the starting point of the hike, you can either start with the Pipe Track (which could add an extra hour to your hike) or you can park in Theresa Road and walk up the Jeep track to the Pipe Track. However, whichever route you choose to take, prepare yourself for a truly picturesque hike up, and don't be surprised if you stop for way more water breaks than you intend to, the truly SPECTACULAR views all the way through will make you want to take hundreds, if not thousands of photos.
In the early morning you'll be shaded from the sun by the mountain, thereby making this hike pleasant even on warmer Cape Town days. While this Cape Town hiking trail is suitable for all fitness levels and provides easy access to the mountain, you should definitely be prepared to do a bit of rock scrambling as it's not smooth sailing all the way through, good gripping shoes are therefore highly recommended.
---
---
Skeleton Gorge
View this post on Instagram
Let's end this best hiking trails in Cape Town list off just the way we started it, with a bang, and a hike up the world-famous Skeleton Gorge is exactly that. While this hiking trail may well be one of Table Mountain's most strenuous and daring hikes, the beautiful forest-like start and the beach-like finish may just make it worth the climb! Starting off your hiking journey in the beautiful Kirstenbosch Botanical Gardens, you will then start making your climb up the back of the mountainous beast that is Table Mountain.
The first half of the hike is beautifully shaded, and it will just about feel like you've made a quick escape to a jungle far-far-away, and who knows maybe you have. This hike is however definitely a tough climb and therefore welcomes the more experienced hikers to give it a go. But although it may require quite a bit of hard work and definitely some heart-racing, sweat-inducing moments throughout, the sensational views you will get to enjoy and admire is absolutely beyond anything you've seen before. You will also find quite a few natural gems and beautiful surprises along the way such as the 'Breakfast Rock' as well as the 'beach' at the reddish Hely-Hutchinson reservoir at the summit. If you do dare to take on Skeleton Gorge you are encouraged to pack some snacks and plenty of water, you're going to want to keep your hydration and energy levels up.
---
With so many SENSATIONAL Cape Town hiking trails right at your finger-tips the only thing you will have a problem with is picking which one to do first! But why not do them ALL? Because you know why? You absolutely CAN and should! Each hiking trial brings with it a new adventure, spectacular sights, tons of fun, never-to-be-forgotten moments and a true sense of awe and accomplishment you just won't find anywhere else.
So, why not put together your Cape Town hiking dream list, then tick them off one by one as you explore and discover everything the Mother City and Mother Nature have to offer in the very best way! Happy hiking everyone!