Cape Town is known for its spectacular natural beauty and amazing sites that can be seen throughout the city. Man-made parks also abound in Cape Town, from the much-frequented Kirstenbosch Gardens and relics of a distant past, such as the Company Gardens, to the many diverse reserves spread throughout the Cape peninsula. Each of these Cape Town parks are wonderful places to visit, to relish the beauty of nature, take a walk in a tranquil environment and/or to enjoy a picnic with the family.
—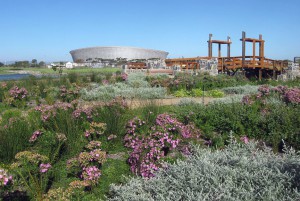 The newest addition to parks in Cape Town's inner-city is a legacy of the 2010 FIFA World Cup – the new Green Point Park. Reminiscent of New York's famous Central Park, the Green Point Urban Park is an oasis in the midst of the manic bustle of the city and tourist hub that is the Atlantic seaboard. An excellent place to learn about biodiversity (for young and old) the area around the Cape Town Stadium, has wide, paved paths, islands with shade-trees and a variety of structures where visitors can rest and eat. Facilities are clean, neat and safe and in addition to the views of the Stadium and Signal Hill. The 10.5 hectare Green Point park is open from 7am – 7pm daily and entrance as well as parking is free (with 24-hour security – because the City knows we don't live in a perfect world yet!). Intended as a "people's recreation park", in addition to the many educational activities, the Park also boasts a fitness park with cycling and outdoor training facilities which are available to visitors. Other sections of the park include a play park for the kids, adventure park, a learning park for functions or seminars, an art park for exhibitions and craft markets, and an events park for concerts and outdoor events. The park is also walking distance from other interesting historical sites such as the Mouille Point Lighthouse.
—
If you are heading to Cape Town for adventure, fun, teaching a seminar or for a visit with family and friends, why not takeadvantage of the great parks in Cape Town, and in particular, Green Point Urban Park? Whatever your travel needs, we can assist you, from booking your flights and your rental car, to finding you the perfect accommodation in Mouille Point. Enjoy the quintessential Cape Town lifestyle in your own stylish and contemporar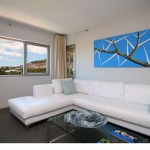 y high-end

apartment with all the creature comforts of home and the freedom to do as you please. Have breakfast as you look out over Green Point Stadium and its beautiful park from the comfort of Seaways apartment or sip a cocktail as you enjoy the spectacular views from 407 New Cumberland. Make Cape Town your home away from home, take in the beauty of the Green Point Park and make use of the free facilities to turn a lecture into an unforgettable experience, take your children on an adventure walking distance from where you stay, or browse the arts and crafts markets that Cape Town is so famous for.
We invite you to make your visit for business or pleasure, your perfect vacation! CometoCapeTown.com – be our Guest.