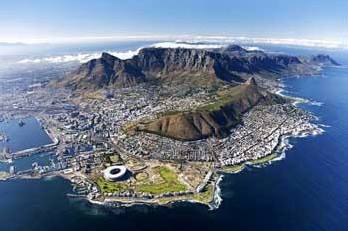 Proving once again that the Mother City is a true travel gem, Travel + Leisure voted Cape Town their fourth Best City in the World in the 2013 World's Best Awards run by the popular media franchise. To top off this honour, Cape Town came first in the World's Top City in Africa and the Middle East category.
The city is no stranger to awards and accolades of course – we've racked up a huge range over the years, from various prestigious travel authorities. Whether it's the beaches, the hotels or the whole city itself, one thing is clear… people can't get enough of Cape Town!
The Future of Cape Town Travel
One of the (many, many) reasons that the city continues to thrive on the tourism front is its ability to constantly evolve. Plenty of organisation and work goes into creating a destination worthy of awards, and much development goes on behind the scenes to provide our visitors with everything they need during their travels.
Public transport systems are improving, Cape Town International Airport has undergone a series of improvements over the years to cater to visitors from all over the globe, environmental elements are addressed to retain the beauty of our Blue Flag Status beaches and much is done within the city to make it a safe, enjoyable place for all.
So what lies ahead for Cape Town travel?
As the recent Travel Indaba 2013 showed, tourism is becoming more connected to digital than ever before. Bookings for everything from flights to accommodation are done online, with social media acting as travel planner and helpful virtual assistant for many travellers.
Another trend worth noting is that there is a slow shift from obvious sights to 'off the beaten path' attractions. In other words, travellers are seeking a unique experience compared to a cookie cutter holiday.
These two shifts are presenting a way for trips that are far more customised and original – digital tools help to plan a mix and match type of holiday, while also providing that all-important insight into the more unique attractions.
We Heart Innovative Travel
With all of this in mind, the ComeToCapeTown.com website has had a few key changes that bring the best of both digital and the off-beat to visitors.
We've added some cool new features such as flight booking and car rental tools, visitor reviews on accommodation listings, helpful area pages and even tours offered through our trusted travel partners.
Brought into this expanded 'one stop' offering, we're making social a focus too. Every member of the team is proudly local – this allows us to find the most interesting places, events, stories and tips. No more cookie cutter holidays! No more running around trying to plan a holiday! No more tearing out your hair! Get whatever you need right here on our site, and you can bet your socks that travel planning will be a lot easier. I'll even bet my own socks!
It's only halfway into the year, so while we're making bets, I'll put out another one – there will be more Cape Town travel awards before 2013 is over.
If you had to present Cape Town an award, what would it be? Beaches, people, weather, days of sunshine in winter? Go on – give us your ideas in the comments below!