Visiting from outside of town and wondering where to spend Christmas in Cape Town this year? Bored with the same old family dinners or lunches at home and in need of some fresh inspiration? We have carefully selected some of the best ideas for Christmas Eve Dinner and Christmas Day Lunch in Cape Town, so that you can get planning right now!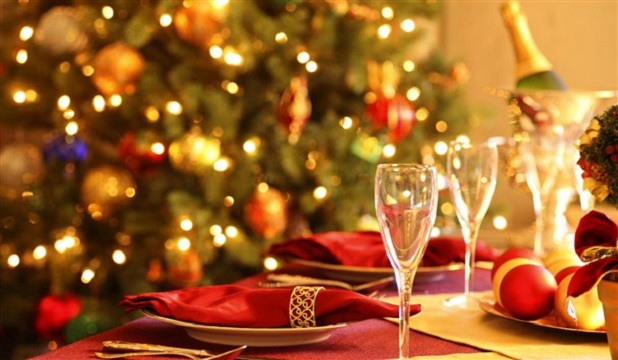 It goes without saying that bookings are absolutely vital – wherever you plan to enjoy your festive dining. Plan ahead and start making those bookings as soon as you can so that you have enough time to get a spot before bookings are full.
Other than that bit of advice (and our suggestions below), we also suggest that you take a look at restaurant guides such as Eat Out and Food Blog to get a full list of restaurants in the city and see which ones are open for Christmas. We also have to state that all information is correct at the time of going to press and therefore subject to change beyond our control.
Cape Town Christmas Eve Dinner Ideas
Some of our top picks for Christmas Eve dinners in Cape Town include the following:
1. Spier Wine Estate, Stellenbosch (+27 (0) 21 809 1946)
Dinner costs R325 per person, with a complimentary drink included. Wine pairing costs R450 per person, while there is also a kid's dinner option for children under 12, which costs R160 per child. Reservations are essential – 50% pre-payment is required by Monday 1 December 2014 in order to ensure a booking. There is also a 100% cancellation fee in place, so make sure that you plan ahead.
2. Azure @ 12 Apostles Hotel and Spa, Camps Bay (+27 (0) 21 437 9029)
Dinner costs R955 per person, with a four-course dinner, Christmas hats, crackers and tips included in the cost. A festive eggnog welcome drink is offered on arrival, with a delicious menu (subject to change) that caters to even the most delicate of taste buds. Bookings are essential so make sure you get your spot as soon as you can. There is also a lunch menu (included in our list below).
3. The Conservatory at The Cellars-Hohenort, Constantia (+27 (0)794 5535)
Dinner costs R750 per person, with a six-course meal and welcome drinks included. Meal highlights include a traditional Christmas turkey terrine, succulent meat and veggies as well as decadent dessert. This elegant restaurant is set in the historic Constantia Winelands area in the southern suburbs. A lunch menu is also offered – call the restaurant to find out more.
4. La Mouette, Sea Point (+27 (0)21 433 0856)
Dinner costs R445 per person (same price applies to Christmas lunch, dinner and boxing day lunch). On the menu, there are yummy items such as cured Franschhoek trout, grilled linefish niçoise and strawberry trifle and doughnuts. The tasting menu applies only for whole tables and booking is essential. 
5. Rick's Café Américain Restaurant & Bar, Gardens (+27 (0) 21 424 1100)
Dinner includes an a la carte menu as well as their usual menu, so costs will vary per person. This popular Casablanca inspired restaurant and bar is situated in Park Road, just off Kloof Street. Bookings for Christmas Eve are essential – call or email at info@rickscafe.co.za.
Cape Town Christmas Day Lunch Ideas
For those wanting to enjoy a festive Christmas lunch in Cape Town, here are some suggestions:
1. Hilton Cape Town, City Centre (+27 (0) 21 481 3700 )
Lunch costs up to R375 per person. The Hilton has events running over the 24th and 25th, including a lunch buffet on the 25th that offers a festive atmosphere, delicious food and great views of Signal Hill and the city. Bookings can be done via phone or email at hiltoncapetown.reservations@hilton.com.
2. Azure @ 12 Apostles, Camps Bay (+27 (0) 21 437 9029)
Lunch costs R985 per person, including Christmas hats, crackers, live entertainment and tips. Diners can expect plenty of delicious items on the menu, along with the signature views of Camps Bay and the Atlantic Ocean that the hotel is famous for offering its visitors. Bookings are essential.
3. Orinoco, City Centre (+27 (0)21 418 4544)
Lunch costs R285, including a buffet style meal and a complimentary glass of bubbly or cocktail. Various yummy items will be featured on the buffet menu, while the stylish atmosphere of this city restaurant makes it a must-try.
4. Planet Restaurant @ Mount Nelson, Gardens (+27 (0)21 483 1948)
Dinner is R1 350 per person, but for those who want to splurge on a truly outstanding lunch, the menu offers treats such as duck terrine with roasted stone fruit, pistachio nut biscotti and prune puree, roast suckling pig with black pudding, and Christmas pudding with cherry and almond ice cream. There is also live entertainment on offer plus free mince pies.
5. Shimmy Beach Club, V&A Waterfront (+27 (0)21 200 7778
Lunch costs R750 per person and is served buffet style. This trendy bar and restaurant is a favourite with locals and visitors alike, making it the perfect choice for those wanting to enjoy the beach style vibes along with scrumptious food. Bookings can be done via phone or email at tickets@shimmybeachclub.co.za.
—
We hope this info has been useful and of course, we wish all of our readers a very happy festive season, too! We'd love to hear your ideas for Christmas in Cape Town… leave your comments below and let us know where you plan to be enjoying dinner or lunch!