Named the best food city in the world in 2016 by Conde Nast Traveller in its Readers' Choice Awards survey, it's certainly no secret that Cape Town is one of the top food capitals in the world. Home to a variety of world-renowned restaurants, 5-star eateries, trendy cafes, cool pop-up food spots and exceptional rooftop and winelands dining experiences, Cape Town is any food lover's dream come true.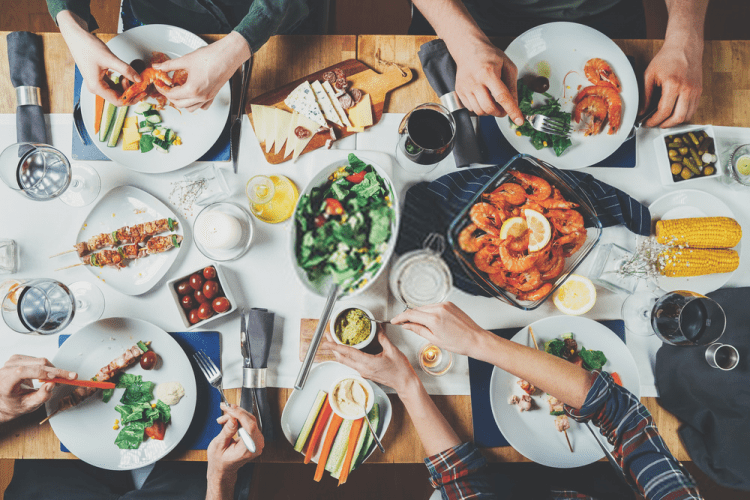 However, there are a few Mother City dining spots that you absolutely cannot miss on your trip to Cape Town. To ensure you experience the very best of what the Cape culinary scene has to offer, here are some Cape Town restaurants that should be on your bucket-list.
1. The Test Kitchen
View this post on Instagram
The Test Kitchen was ranked 22nd in The World's Best Restaurant Awards in 2016 and was also named 'Best Restaurant in Africa' at The World's Best Restaurant Awards. The restaurant has undoubtedly taken the global culinary scene by storm attracting avid foodies from all around the world. If you consider yourself to be a true foodie at heart, the Test Kitchen certainly deserves a prime spot on your culinary bucket-list.
Positioning itself as one of the most sought-after and thrilling culinary experiences in the Mother City, dining at this world-class Cape Town restaurant is considered quite the culinary adventure. With the world-renowned Chef Luke Dale Roberts spearheading the charge, the restaurant is bold, contemporary and experimental in the most exciting way.
Starting your adventure in the Dark Room, boasting an array of inventive globally inspired tapas, only to finish it in the Light Room where beautifully plated mains are served, it promises to be a culinary experience you won't soon forget.
2. La Colombe
View this post on Instagram
Located at the beautiful Silvermist Wine Estate in Constantia, La Colombe has consistently received world-wide acclaim. It has positioned itself amongst the top restaurants in the world, making it a sought-after Cape Town restaurant that should be on your bucket-list.
Widely known as one of South Africa's most iconic and internationally acclaimed fine dining establishments, La Colombe boasts a fusion of Asian and French cuisine. Known for their uncomplicated clean flavours created from only the freshest seasonal ingredients, every dish at La Colombe promises to be pristine and exceptional.
In addition to classic clean flavours, Chef Proprietor Scot Kirton's is also known for his endless array of sublime new inspirations that form the mainstay of La Colombe's Tasting Menu. Thereby giving rise to a range of world-class classic signature dishes that absolutely everyone should have the pleasure of tasting at least once in their lives.
---
---
3. Chefs Warehouse Beau Constantia
View this post on Instagram

The fact that Chefs Warehouse was rated by seven of the country's top chefs as one of the best restaurants in Cape Town, makes it a top Cape Town restaurant that should be on everyone's bucket-list. Headed up by world-renowned Chef and culinary mastermind Liam Tomlin and co-owned by Chef Ivor Jones, they've positioned Chefs Warehouse as one of the most highly acclaimed dining hotspots in the Mother City.
Offering guests a word-class dining experience, this sought-after Cape Town restaurant is all about keeping things fresh and fun both in the kitchen and out. Diners can expect to enjoy a vibrant seasonal and produce-driven menu that changes regularly. The restaurant also pride themselves on creating and serving up exceptional modern tapas style dishes, with their signature experience being tapas for two.
It has also become a sought-after culinary experience among both locals and avid foodies from around the world. In addition to a thrilling menu, a relaxed atmosphere and chic interiors, this culinary gem also boasts one of the very best views in Cape Town over the Constantia Valley.
4. The Commissary
View this post on Instagram
If you're in the mood for something trendy, cool & captivating a visit to the Commissary should undoubtedly be on your Cape Town restaurant bucket-list. Welcomed by a graffitied-hallway and greeted with a laid-back atmosphere, communal tables, multi-coloured lights and splashes of spray paint, this Cape Town culinary gem is nothing like you've experienced before.
Spearheaded by the Shortmarket Club's Chef Wesley Randles, the Commissary is a no-fuss casual eatery that encourages you to let your hair down and completely succumb to the epic culinary experience that awaits. And you better believe that the food is every bit as bold and fierce as the décor itself! This top Cape Town restaurant boasts a small, yet interesting menu jam-packed with casual, flavour-packed plates, inspiring combinations and 'moreish' menu options.
The Commissary has also become widely known for their seasonal sharing plates that makes it incredibly easy to enjoy a little bit of everything this cool Mother City culinary hotspot has to offer. At The Commissary there are no reservations, and people are seated on a first-come, first-served basis, so make sure you're there nice and early to avoid missing out.
5. Belly of the Beast
View this post on Instagram
Another top Cape Town restaurant that should be on your bucket-list is the Belly of the Beast. An online-bookings-only, fine-dining restaurant headed up by Chef Neil Swart, and co-owned by Anouchka Horn. Priding themselves on being one of Cape Town's leading restaurants, the Belly of the Beast is all about pushing the boundaries of creativity to take their guests on an inspired culinary adventure.
Diners can therefore expect to enjoy bold, daring, in-depth flavours and unique dishes that are unlike anything you've tasted before. All served in an intimate dining atmosphere, this industrio-mod eatery only caters for a maximum of 20 guests per service; thereby offering a more personalized, unique and exclusive dining experience.
What makes this Cape Town culinary experience even more unique is the fact that they offer their guests no menu options or set number of courses. Thus, placing all your trust in the Belly of the Beast culinary masterminds to satisfy you with their seasonal fair.
---
---
6. Greenhouse
View this post on Instagram
The famous Greenhouse Restaurant is ranked as one of South Africa's Top 10 Restaurants and world-class Cape Town dining experiences. Known as one of the leading fine dining restaurants in the Mother City, Greenhouse is spearheaded by head Chef Farrel Hirsch and located at the Cellars-Hohenort hotel in the beautiful Constantia Valley.
With an emphasis on local ingredients, wonderful flavour combinations, impeccable presentation and unique creations, Greenhouse will take you on an inspired culinary adventure. For Chef Farrel Hirsch it's more than merely enjoying a meal, it's about the experience in its entirety; thereby making for a bucket-list worthy culinary experience in every way.
Boasting an inventive and thoughtful tasting menu showcasing all the delights of South African specialist ingredients, inspired signature dishes and an exceptional wine list, Greenhouse is modern South African dining at its finest.
7. The Pot Luck Club
View this post on Instagram
Dubbed the coolest place to be in Cape Town, a visit to the Pot Luck Club should be on every avid foodie's bucket-list. This trendy Cape Town eatery boasts a relaxed yet edgy environment that is known to draw the crowd with its inventive, innovative and bold approach to flavours, which keep people going back for more.
At the Pot Luck Club, sharing is caring with their menu consisting of a vibrant collection of tapas sized plates. The "Sharing plates" are divided into 5 basic tastes; salty, sour, sweet, umami and bitter to allow guests to try each sensation on its own as well as all the flavours as a whole. This gives diners the opportunity to taste and experience everything this cool Cape Town restaurant has to offer.
8. The Granary Café at the Silo Hotel
View this post on Instagram
The Granary Café's exceptional food and world-renowned location in one of the greatest architectural wonders the Mother City has to offer, the Silo Hotel, makes it a top Cape Town restaurant that should be one everyone's bucket-list.
Boasting the perfect mix of classic and contemporary, The Granary Café features a short but incredibly diverse menu focusing on fresh, local ingredients. Featuring a range of classic dishes with a unique contemporary spin, as well as some of executive chef Veronica Canha-Hibbert's own bold and delicious creations, there is something for everyone to enjoy. The Cauliflower & Chestnut Gnocchi, Springbok Shank, Tuna Tartare, Cape Seafood Curry, and a 300g Beef Ribeye are all said to be truly exceptional.
These sought-after Cape Town Restaurants that should be on your bucket-list will undoubtedly provide you with some of the most exciting culinary experiences and world-class cuisine. Thereby making the Mother City a culinary hotspot for avid foodies and food lovers from all around the world.
---
Looking for more help finding Cape Town restaurants? Get in touch with us today! Check out our destination guides to find out more about popular areas to stay in the Mother City. You can also contact us if you would like to learn more about accommodation on offer in the city. We will help you plan your stay, booking the world-class restaurants in Cape Town along with tour activities, car hire and everything else you could ever need.
We'd also love to hear from you – tell us your best Cape Town restaurants to wine and dine? Share your tips and ideas below and let us know!