Cape Town boasts one of the most thrilling culinary landscapes in the world. With every year bringing something unique, indulgent and exciting to the table. And 2020 is certainly no different! Known as the culinary capital of Africa, the Mother City is at the forefront of the global culinary scene. Condé Nast's Readers' Choice Awards even crowned Cape Town the number one food city in the world.
It's therefore no surprise that Cape Town has fast become the ultimate destination for avid foodies, chefs and keen food enthusiasts from around the globe. And with good reason too. Boasting some of the most highly acclaimed restaurants, cafes and eateries in the world, going on the ultimate Mother City culinary adventure should be at the top of your Cape Town foodie bucket-list.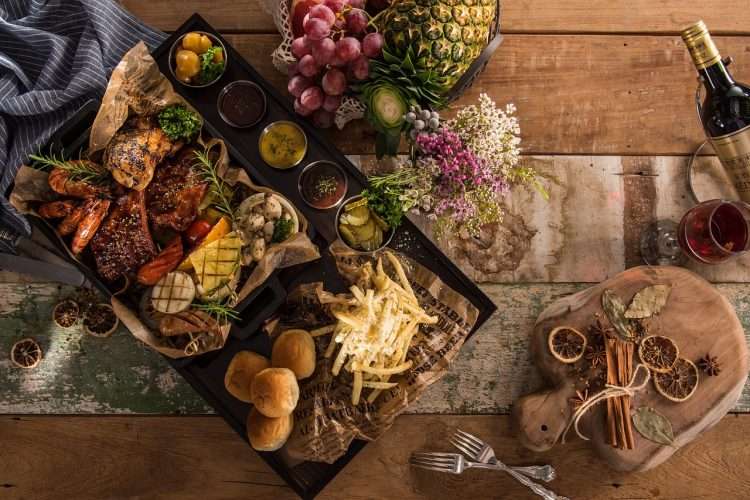 To kick-start your food journey through the city, here are Cape Town's 10 most notable restaurants in 2020 that you absolutely must try.
View this post on Instagram
Wolfgat was named the Best Off-Map Destination & Restaurant of the Year in the internationally acclaimed 2019 World Restaurant Awards. This west coast wonder is an absolute must-visit for anyone travelling to Cape Town. This prestigious title undoubtedly makes Wolfgat one of Cape Town's best restaurants to try in 2020. Wolfgat is a tiny beach restaurant situated in a 130-year-old cottage and cave on the beach of the picturesque coastal town of Paternoster. This Cape West Coast gem is all about sustainable, back-to-basics cooking, which will without a doubt steal your food loving heart from the very first bite.
Wolfgat is headed up by talented Chef Kobus van der Merwe and his six mostly female staff that have no real formal training. Opening their doors only 2 years ago, this west coast wonder has made some massive waves in the global culinary world. You shouldn't expect any molecular flair or innovative experimental creations at this restaurant. It's all about using sustainable and fresh ingredients to create delicious hearty meals that soothe the soul. Every dish comes from the heart and you'll be sure to taste the pure passion and joy in every single bite and plate of food. In fact, Chef Kobus van der Merwe and his team is so dedicated to their craft that they go out everyday foraging for fresh ingredients, herbs, succulents and dune spinach on the wild Atlantic shore of the Western Cape to be incorporated into the delicious dishes. So, you better know you're in for one incredible culinary experience you won't soon forget. Wolfgat's seven-course tasting menu is said to knock your culinary socks right off.
View this post on Instagram
We absolutely could not compile Cape Town's 10 most notable restaurants in 2020 list without one of the most highly acclaimed culinary hotspots in the city, the famous Test Kitchen! Receiving tons of global praise, the iconic Test Kitchen was crowned one of the 50 Best Restaurants in the world as rated by the World Restaurant Awards. Not to mention the fact that it ranked 22nd in The World's Best Restaurant Awards in 2016. As well as claimed the number 44 spot in 2019 and the 'Best Restaurant in Africa' title at The World's Best Restaurant Awards.
Spearheaded by the world-renowned Chef Luke Dale Roberts, dining at the Test Kitchen is said to be quite the thrilling culinary adventure. Known for its bold, contemporary and experimental culinary creations and flavour combinations, it will undoubtedly have you savouring every bite. All while leaving you mesmerized, wowed and wanting more.
View this post on Instagram
This newly renovated and re-imagined Magnolia Social Dining Lounge recently opened its doors at the sought-after Erinvale Estate Hotel and Spa, adding an amazing third restaurant to their prestigious property. Priding themselves on offering guests a revolutionised and truly unique social dining experience, the restaurant deserves a prime spot on any food lover's Cape Town culinary bucket-list.
The man of the moment is none other than Chef Stefan Bekker. He believes that food should be an experience that is both enjoyed and remembered long after you've finished your plate of food. For him it's so much more than just a meal, it's about the experience in its entirety, enjoying and sharing it with the people you know and love. This encompasses the true essence of social dining. But what exactly can you expect to enjoy at this top Cape Town social dining spot? Stefan and his team have carefully conceptualised an innovative small plated menu. His daring interpretation of humble snacks, using only the best regional fare, means the cooking is always seasonal and fresh, with some exciting flavour combinations and unexpected surprises. The wide range of dishes on offer also means there's something for everyone to enjoy.
Besides a sensational social dining experience, the Magnolia Social Dining Lounge is all about encouraging diners to open themselves up to new experiences. To fully immerse themselves in a revolutionised dining experience where diners are encouraged to share and interact with each other in the most authentic way possible. Besides a unique culinary adventure, this restaurant will captivate your attention with its bold art-deco décor, trendy vibe and vibrant atmosphere.
View this post on Instagram

Cape Town has no shortage of world-renowned culinary gems to choose from, and the incredible La Colombe is right up there with the best of them. The popular Cape Town fine dining restaurant La Colombe has claimed the 114th spot at the highly acclaimed World's Best Restaurant Award, which is a pretty remarkable achievement in itself. It's certainly not showing any signs of slowing down anytime soon.
Situated high-up on the slopes of the Constantiaberg mountains at the renowned Silvermist Wine Estate, La Colombe has fast become the coveted culinary jewel of the Constantia Wine Valley. And certainly Cape Town too! Headed up by multi-award-winning chef-proprietor Scot Kirton and executive chef James Gaag, La Colombe has undoubtedly established itself as one of Cape Town's 10 most notable restaurants in 2020.
Focusing on creative French-Asian dishes using fresh foraged ingredients that they magically transform into immaculately plated dishes. This Cape Town culinary gem will have avid foodies savouring every bite. Perfectly paired with stylish interiors, immaculate décor and an exceptional wine and drinks selection, it's the perfect dining spot to enjoy a spectacular meal and evening out in the Mother City.
---
---
View this post on Instagram
Located in the beautiful suburb of Newlands, Lapos Kitchen is a true Cape Town culinary hidden gem. That's unlike anything else you'll find in the city. Known as one of the best Italian Social Dining Experiences in Cape Town, Lapos Kitchen has captured local and global food lover's hearts with their authentic approach to food, warm, vibrant and welcoming atmosphere and stunning setting. The fact that Chef Lapo Magni and his friendly team makes it a point to make each diner feel right at home from the second they arrive is just an extra special touch.
Diners can expect delicious, fresh, seasonal and ethically sourced ingredients all used to create a wide range of exceptional dishes bursting with flavour. Combining the very best of his traditional Italian roots with an authentic African inspired fusion, the chef presents diners with a spectacular culinary experience they won't soon forget. In addition to an exceptional menu, Lapos Kitchen gives diners the opportunity to choose from a few dining experiences. The restaurant's flagship experience invites guests to share in a feast of 6 carefully constructed courses, where they are taken on an immersive culinary journey across Italy and South Africa.
They also host a Lazy Sunday event where guests are invited to enjoy an informal and super-chilled event. Here guests are encouraged to sit back, relax, socialise and enjoy good food, good wine and good company in an amazing setting. The Lapos Kitchen Lazy Sundays is an ongoing event held once a month; thus, keep an eye on their social media pages for more information. In addition to Lapos Kitchen's incredible selection of food, vibrant energy and cool laid-back vibe, the setting is what makes it truly unique. As you make your way down a descending staircase not quite knowing what to expect, you'll suddenly find yourself in some lush oasis right in the heart of the city. With beautiful lush greenery, big shaded trees and the sound of flowing water with the Liesbeek River just below you, their outdoor seating area is truly magical. But if the outdoor dining is not quite your scene, they have a chic and intimate indoor social dining lounge and seating area too.
View this post on Instagram
When seven of the country's top chefs rate a restaurant among the best in Cape Town, it absolutely deserves a prime spot on Cape Town's 10 most notable restaurants in 2020 list. Headed up by Chef Liam Tomlin's, who now has a total of 5 eateries and restaurants dominating the Cape Town culinary scene. Namely Chefs Warehouse Beau Constantia, Canteen on Bree Street, Thali, Chefs Warehouse at Maison (in Franschhoek) and Jewells at the Spice Route. All of which has something unique and exciting to offer diners.
Co-owned by Chef Ivor Jones, Chefs Warehouse Beau Constantia is all about creating an inspired menu and delectable array of imaginative global tapas. Bursting with flavour, it will have you indulging on very bite and savouring every moment of this exceptional Cape Town dining experience. Paired with spectacular panoramic views of the Constantia Valley and beyond and a stunning setting featuring chic interiors and a warm and welcoming atmosphere, this is one culinary gem that is absolutely worth the visit.
View this post on Instagram

The internationally acclaimed Nobu has fast become the top culinary hotspot in the Mother City, thereby earning itself a top spot as one of the best Cape Town restaurants to visit in 2020. Based at the luxurious One&Only Cape Town hotel, Nobu has become one of the most sought-after dining hotspots in the Mother City. This culinary icon invites you to embark on an unforgettable evening of gourmet excellence, fresh creations and masterful Japanese-Peruvian menus. Thereby ensuring an evening you won't soon forget. Nobu is all about cutting-edge cuisine that can be savoured and enjoyed in the trendy atmosphere of the world's most revered Japanese restaurant.
This magnificent brainchild of Michelin-starred chef Nobu, invites you to discover a modern medley of Japanese classics fused with Peruvian flavours. Boasting an indulgent menu that includes the master chef's famous black cod in miso and a full selection of sushi, sashimi, tiradito, ceviche, tempura and toban yaki. There truly is something for everyone to enjoy. You can expect sensational South African seafood abounds, perfectly combined with the succulent, smooth and rich flavours of Asia and South America. This is one Cape Town restaurant you cannot afford to miss out on in 2020.
View this post on Instagram
The famous Greenhouse Restaurant is ranked as one of South Africa's Top 10 Restaurants. Thereby making it one of Cape Town's 10 most notable restaurants in 2020 and world-class dining experiences for locals and travellers alike. Establishing itself as one of the leading fine dining restaurants in the Mother City, Greenhouse is spearheaded by head Chef Farrel Hirsch and located at the Cellars-Hohenort hotel in the beautiful Constantia Valley.
With an emphasis on local ingredients, wonderful flavour combinations, impeccable presentation and unique creations, this restaurant will take you on an inspired culinary adventure. For Chef Farrel Hirsch it's more than merely enjoying a meal, it's about the experience in its entirety; thereby making for a bucket-list worthy culinary experience in every way.
Boasting an inventive and thoughtful tasting menu showcasing all the delights of South African specialist ingredients, inspired signature dishes and an exceptional wine list, Greenhouse is modern South African dining at its finest.
---
---
View this post on Instagram
Dubbed the coolest place to be in Cape Town, a visit to the Pot Luck Club should be on every avid foodie's 2020 bucket-list. This trendy Cape Town eatery boasts a relaxed yet edgy environment that is known to draw the crowd with its inventive, innovative and bold approach to flavours.
At the Pot Luck Club, sharing is caring with their menu consisting of a vibrant collection of tapas sized plates. The "Sharing plates" are divided into 5 basic tastes; salty, sour, sweet, umami and bitter to allow guests to try each sensation on its own as well as all the flavours as a whole. This gives diners the opportunity to taste and experience everything this cool Cape Town restaurant has to offer.
View this post on Instagram

The magnificent Franschhoek has fast become one of the most sought-after culinary destinations in the Western Cape. With an incredible array of sensational new restaurants opening their doors in this winelands escape. One of which is none other than Le Chêne. Situated in Leeu Estates in Franschhoek, and opened in October 2019, it is the latest offering from chef Darren Badenhorst. With chef Oelof Vorster heading the kitchen, the pair have devised a sensational menu offering that is both varied and proudly South African perfectly paired with rigorous French technique. The end result is truly sensational!
Diners can expect perfectly executed plates that are both soothing and familiar, yet bold and unexpected. In addition to offering an exceptional dining experience, Le Chêne boasts chic and sophisticated interiors showcasing all the unique character you would expect from this Franschhoek culinary gem. They also offer diners exceptional wine-pairing suggestions. Plus, the beautiful vineyard, garden and mountain range views just makes this Cape Town dining experience extra special.
There is no doubt that Cape Town's culinary landscape is at the forefront of the global culinary scene. Boasting an exceptional variety of incredible restaurants and eateries to choose from, it's no surprise that avid foodies and chefs travel from all around the world to experience it first-hand. TThere is no better time than right now to add these top 10 Cape Town restaurants to your bucket-list.
---
Looking for more help finding Cape Town restaurants? Get in touch with us today! Check out our destination guides to find out more about popular areas to stay in the Mother City. You can also contact us if you would like to learn more about accommodation on offer in the city. We will help you plan your stay, booking the world-class restaurants in Cape Town along with tour activities, car hire and everything else you could ever need.
We'd also love to hear from you – tell us your the most notable Cape Town restaurants to wine and dine in 2020? Share your tips and ideas below and let us know!