Sometimes there's nothing better than to escape from the hustle and bustle, break away from the pressures and stressors of life and take a moment to relax, reset, reflect and recharge. Plus, there truly is no better place than the beautiful city of Cape Town to do just that.
Quiet Places in Cape Town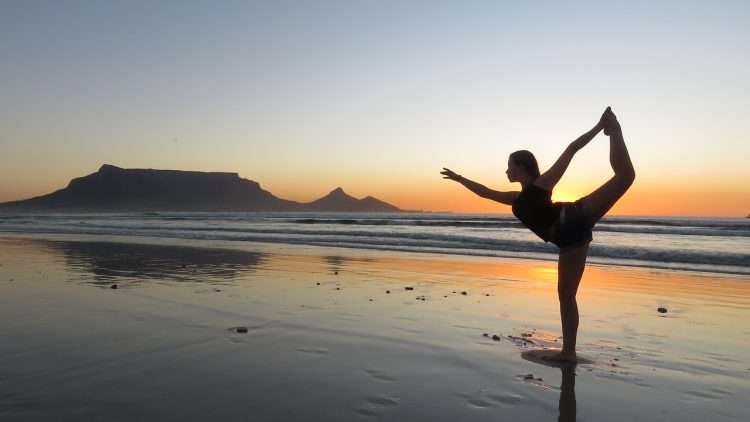 Filled with beauty, wander and awe, the Mother City has a calming and serene presence about her that's hard to deny. With so many magnificent natural wonders and awe-inspiring landscapes, Cape Town has no shortage of sensational destinations to choose from when you'd like to escape for a while.
Here are some quiet places in Cape Town where you just need to be alone to take it all in.
1. Paternoster: Cape West Coast
View this post on Instagram

There is no better place than the beautiful and serene Cape west coast to breakaway from the hustle and hype of the city to relax and recharge for a while. The charming coastal town of Paternoster is the picture-perfect west coast escape to do just that. With rows of whitewashed fishermen's cottages, long stretches of white sand and an old dock where boats still pull up every day to deliver fresh hauls, this authentic fishing village truly is a West Coast gem in every way. Not to mention that it is the ultimate seafood mecca boasting some of the very best fresh seafood in the entire Western Cape.
Besides down-right delicious seafood, magnificent beaches, sensational scenery and a real fisherman's village charm, Paternoster also has an endless variety of natural gems to discover and explore. Nature lovers should definitely spend a day or two exploring the Cape Columbine Nature Reserve, a vast stretch of beautiful coastline with plenty of secluded beaches and hidden coves. You will also be able to enjoy amazing bird life and marine life sightings, with whales and dolphins often visible right from the shore. It's therefore safe to say that the beautiful Cape west coast fishing village of Paternoster offers the perfect escape. It's one of our quiet places in Cape Town where you can just be alone and appreciate all the beauty, wander and serenity it has to offer.
2. Arniston: Whale Coast
View this post on Instagram
Located along the Cape's Whale Coast near Cape Algulhas, the southernmost tip of Africa, t he charming fishing village of Arniston offers a truly picturesque oasis that very few people know about. It's a great place to escape for some much-needed and well-deserved rest and relaxation. Imagine a tranquil turquoise ocean, stunning white sand beaches, sensational surrounding scenery and a beautiful nature reserve right within reach. The quaint fishing town truly boasts an unapologetic natural beauty that is truly unparalleled.
By far one of Arniston's most magnificent hidden gems is the Waenhuiskrans Cave, and it is located just a short distance away just off the sandy shoreline of Arniston. This magical cave and stunning secret spot is however partially submerged and can only be reached during low tide. But trust us, it is absolutely worth the extra effort of scampering over the rocky seabed to reach it. The dark interiors of the cave contrasts so beautifully with the vibrant ocean outside. Not to mention the fact that a wide variety of sea animals have decided to make the Waenhuiskrans Cave their home after being carried in by the tide. So, don't be surprised if you encounter a few of them on your exciting cave exploring expedition. Just embrace every incredible moment of it all while admiring the sensational views in front of you.
---
Recommended Accommodation
---
3. Clifton Beach Secret Sunset Rock
View this post on Instagram
The Clifton Beach Secret Sunset Rock is one of our favourite places in Cape Town to escape the hustle and bustle of life, even if it's just for a while. Let's be honest, what could be more magnificent than being perched up high above the Atlantic, looking out at one of the most sensational panoramic views the Mother City has to offer, all while watching the stunning Cape Town sunset. It's pure bliss!
Crowned by Cape Town locals as the 'Secret Sunset Rock', this local sunset spot is one of the Mother City's most beautiful hidden gems. Most especially if you consider yourself to be a head-over-heels sunset lover at heart! But how exactly do you get to this stunning secret sunset spot? Once you're on Ocean View Drive, follow the road through the neighbourhood of Fresnaye. Continue all the way to the end of the road until you reach what appears to be a dead-end. You will pass several stunning high-end houses on your way. It will almost feel like you're not allowed to be there at all. But just completely ignore this weary feeling and park your car in the dead-end space.
As this is one of Cape Town's top hidden sunset gems, there is no clear path laid out to get there. You will therefore have to 'bundu-bash' your way through bushes and over a few rocks to get there. Before you know it, you will find yourself on a giant flat granite boulder that looks out over the beautiful Camps Bay and Clifton. This is Cape Town's beloved local 'Sunset Rock'. Find a spot anywhere on the boulder or scout out the area and find the perfect vantage point lower down. Whichever site you choose, the unobstructed views of the Twelve Apostles mountain range, Clifton, Camps Bay, the Atlantic Ocean and Lions Head promises to spectacular in every way.
4. The Company Gardens
View this post on Instagram
Right in the heart of the Mother City, you'll find this magnificent natural oasis of beauty and serenity. Boasting stunning shaded age-old Oak trees, lovely lush lawns, beautiful surrounding greenery and sensational scenery. It will almost feel like you've escaped to your own little piece of paradise. Find a quiet spot in the shade or soak up the sun on the beautifully lush lawns, while you sit back, relax and enjoy everything the tranquil environment of the city's oldest garden has to offer. There are also quite a few park benches scattered about, perfect for breaking away from the hustle of the city and taking a moment for yourself to recharge and reset.
Besides the fact that it's tranquil surroundings and stunning natural beauty makes the Company Gardens one of the most beautiful quiet places in Cape Town where you can just be alone and content for a while. It also has a few incredible gems to explore. In addition to the Iziko South African Museum and South African National Gallery, the Company Gardens also features a lovely fishpond, a Japanese garden, beautiful nature walks and a few furry friends running around. Thereby making taking a walk through this magical natural gem a real treat any day of the week.
5. Chapman's Peak Drive & it's secret sunset spot the Lookout Cave
View this post on Instagram
There is absolutely no denying the fact that Cape Town is home to some of the most spectacular natural wonders, landscapes, vantage points and viewing sites in the world. But, with a city as beautiful as the Mother City, we certainly don't expect anything less. It's therefore safe to say that there are few places in the world where you'll be able to enjoy views that are as magnificent as the ones you'll find right here in Cape Town. Chapman's Peak Drive boasts one of the very best views in the entire city. It's a great place to escape and enjoy some alone time in Cape Town while admiring all the beauty this magical natural gem has to offer.
Named one of the most magnificent marine drives in the world, Chapman's Peak Drive has established itself as one of most beautiful and highly sought-after attractions in Cape Town. Taking a drive along this captivating coastal road that ribbons along towering peaks and plunging cliffs between Hout Bay and Noordhoek, is therefore a bucket-list worthy experience everyone should get to enjoy at least once in their lives. However, if you're looking to experience something truly special, a magical sunset drive along this magnificent coastal road is everything you can imagine and so much more.
In addition to watching the beautiful Mother City sun go down from the top of Chapman's Peak, another equally incredible spot to watch the Cape Town sunset is from one of Chapman's Peak's stunning secret sunset spots, the Lookout Cave. As it's one of Cape Town's best kept sunset secrets, not too many people actually knowns it exists. Which means you get to admire all the beauty it has to offer without any crowds or disturbances. Positioned just below the pass, you must be willing to wonder a little off the beaten track to reach it. But don't worry, it will be oh so worth it in the end!
But how exactly do you get there? Make your way along Chapman's Peak Drive until you reach the famous Chapman's Peak Lookout Point. Now this is where the adventure starts. You'll have to climb over the railing and carefully make your way down the mountainside in order to find the cave. Once you've located this magical secret sunset gem, find a spot, sit back, relax and enjoy every second of this magical Cape Town sunset.
6. Elands Bay: Cape West Coast
View this post on Instagram

We told you the beautiful and charismatic Cape West Coast is one of the top tranquil, safe and serene destinations in Cape Town for whenever you just need to breakaway and be alone for a while. Plus, the pure unapologetic beauty and serenity of the Cape west coast is truly unparalleled, making it an absolute pleasure to experience by yourself. The fact that it's only a short drive from the Cape Town city centre means you can easily enjoy a daytrip or choose to spend the night, the choice is yours. In addition to Paternoster, another Cape west coast gem is the sleepy fishing village of Elands Bay. One of the top reasons why Elands Bay is one of the very best Cape Town destinations for a personal getaway of resetting and recharging is the fact that it is still relatively undiscovered by the masses and large crowds. Making it the perfect escape from the hustle and bustle of city life
Surrounded by pristine white-sand beach and sensational ocean views, Elands Bay is a tranquil and serene beach oasis in every way. It also boasts some diverse wildlife, stunning natural surroundings and some of the best swimming spots in Cape Town. Not to mention the fact that it is considered a true local surfing paradise. So, if you're an avid surfer at heart, be sure to take your surfboard along for some epic Cape Town surfing fun. In addition, if you're up for a bit of an adventure, by travelling a little further inland you will find a few incredible caves with enchanting rock art. This is believed to be the work of the Bushmen who wandered this land for thousands of years. Thereby adding a bit of culture and history to your Cape west coast escape.
Another not to be missed gem found in Elands Bay is Baboon Point, which is known for the distinctive way in which the mountain cuts into the ocean. Baboon Point was recently declared a provincial heritage site and is the only place in Africa where rock art has been discovered so close to the coast. If you're an avid bird watcher, exploring the Verlorenvlei wetlands should most definitely be on your Elands Bay to-do list. Home to over 189 bird species including around 75 waterbirds, it is a pretty spectacular experience for a head-over-heels bird lover at heart.
7. Crystal Pools at the Steenberg Nature Reserve
View this post on Instagram
This Cape Town hidden gem and stunning nature lover's escape is dedicated to all the adventure seekers and avid hikers and explorers out there. We know just how much you love discovering, exploring and experiencing one of Cape Town's most beautiful natural gems by yourself. While the Mother City has no shortage of spectacular well-known nature reserves and hiking trails. The Steenberg Nature Reserve and its thrilling Crystal pools is not only one of Cape Town's most beautiful natural wonders to explore. But one of its top hidden gems too. Located just an hour outside of Cape Town, Steenberg Nature Reserve is the perfect escape from the hustle and bustle of the city. It will almost feel like you've escaped to a whole new world entirely without really leaving the city at all. Thereby making it one of the best places in Cape Town for tranquil yet exciting escape from the city.
This glorious natural Cape Town gem is every bit as beautiful as it is exciting. And while it might take some extra effort to reap the rewards. The endpoint is well worth it – a true Cape Town pot-of-gold! The beautiful Crystal Pool Hiking Trail starts on the R44, just after you've crossed the bridge over the mouth of the Steenbras River.
The abundance of indigenous fynbos, lush surroundings and incredible views ensures you have more than enough to marvel at and enjoy. The first pool is about 45 minutes from the start of the trail. And welcomes you to enjoy a lovely picnic and a shaded escape to catch your breath. BUT, if you have a bit more energy left in your 'tank' we suggest you continue your journey to the second pool. You will certainly be well rewarded for your efforts, that's a promise. Boasting some serious swimming, kloofing opportunities and a waterfall it promises to be one exciting adventure you won't soon forget.
8. Cape Point & its variety of secret beaches
View this post on Instagram
If there's one Cape Town destination that's beauty and serenity will not only provide you with the perfect place to relax, reset and recharge, but sweep you off your feet with its unapologetic natural beauty, it's Cape Point. The magnificent Cape Point is not only considered as one of Cape Town's most beautiful natural wonders, but one natural lover's paradise and natural gem that should undoubtedly be on everyone's bucket-list. In addition to the Cape Point's spectacular scenic views, beautiful natural scenery, an incredible biodiversity and fauna and flora, incredible hiking trails, adventure experiences and so much more. There truly is something for everyone! In addition, Cape Point is also home to some of the most sensational and picturesque secret beaches in the entire Western Cape. Which is without a doubt one of the top serene and quiet places in Cape Town perfect for when you just need to reflect and escape the city.
One of Cape Points favourite hidden beach gems among local beach lovers is definitely Diaz Beach. Not to mention the fact that it is also another one of Cape Town's most beautiful secret sunset spots. One of the greatest things about Diaz Beach (as well as many of Cape Point's other secret beaches) is the fact that it has remained largely untouched by the masses. This is mainly due to its secret location and extra effort required to get there.
From the parking lot, you will embark on about a 20-minute hike. You will then reach a rather steep set of wooden stairs that will lead you to this picturesque beach escape. Boasting a white sandy beach, turquoise water and towering cliff faces. The unspoilt shoreline of Diaz Beach is bound to render you speechless. And at sunset the unrivalled beauty of Diaz Beach is only magnified. This is one Cape Town secret beach and sunset spot that should be on everyone's bucket-list.
Some of Cape Point's other secret beaches include Buffels Bay, Olifantsbos Beach and Maclear's Beach.
9. Struisbaai: Whale Coast
View this post on Instagram
Located just a stone's throw away from Cape Algulhas, Struisbaai is the picturesque Overberg fishing town in Cape Whale Coast. Boasting warm, aquamarine waters and the longest natural beach in the southern hemisphere, Struisbaai is pure beach bliss. It's an ultimate picturesque escape for anyone looking to enjoy some well-deserved rest and relaxation. In addition to its turquoise ocean waters, white sandy beaches, tranquil surroundings and serene and relaxing atmosphere, it has a variety of incredible natural gems to explore and adventures to experience. From beach exploring, seasonal whale-watching, horse rides along the beach, swimming and diving or just lounging around on the beach while admiring your tranquil surroundings. There truly is something for everyone to enjoy.
The fact that Struisbaai is located just a short distance away from Cape Algulhas, the southernmost tip of Africa where the Indian and Atlantic oceans meet as well as the Cape Algulhas Nature Reserve. Gives you the opportunity to experience everything this renowned Cape Town natural wonder has to offer. You can therefore enjoy the Cape Agulhas Lighthouse, shipwrecks, hiking trails, natural gems, biodiversity and of course stand at the very point where the two oceans meet.
---
---
10. Bloubergstrand Beach Front
View this post on Instagram
Bloubergstrand features one of the most spectacular views of Table Mountain in the entire city, it is home to a beautiful long white sandy beach, a vibrant boardwalk and a lively beachfront. Not to mention the fact that it is also known as one of the top surfing and kitesurfing destinations in the world.
But you'll truly see the magic of Bloubergstrand come to life at sunset. There truly is nothing better than finding the perfect spot on the long stretch of white sand of the Bloubergstrand beach, listening to the waves crashing on the shoreline, watching the colourful kites of the kitesurfers light up the sky and witnessing the beautiful sun set over the glorious Table Mountain and ocean waters. It truly is pure beach sunset bliss, making it one of the top quiet places in Cape Town where you can just be alone and soak it all in.
However, if you travel just a little further down the Bloubergstrand beachfront towards Big Bay, you'll see a sign saying 'Ons Huisie' & 'Kleinbaai', turn left there and follow the road. You'll then stumble across one of the most serene beachfront escapes that's bound to steal your heart. It boasts a boardwalk where you'll often see walkers, joggers, dog walkers and sunset strollers, as well as a few rockpools and wooden benches scattered about with the most picture-perfect view of Table Mountain. It truly is the perfect place to escape after a long day and just sit, back, relax and soak up all the stunning views and magic that surround you.
11. Llandudno Beach
View this post on Instagram
Llandudno Beach is also a beautiful place, where you can just be alone. It's one of the beautiful beaches in the Mother City, where you can enjoy a sun-kissed beach day. Boasting large granite boulders, crystal-clear ocean water, spectacular views and stunning surroundings. Llandudno is pure beach magic! The fact that it's surrounded by large granite boulders not only means you get some extra shelter from the wild Cape Town winds if you decide to spend a morning or afternoon on the beach or even take advantage of a late afternoon sunset stroll. But it creates the perfect little beach escape right in the heart of the Mother City. In addition to being one of Cape Town's most glorious hidden beach gems, Llandudno Beach, particularly its giant boulders, is also known as one of the best local secret sunset spots in the city. A visit to the stunning Llandudno Beach is an absolute must for anyone looking to explore the hidden gems of Cape Town in the most glorious way.
Regardless of which one you choose, each one of these quiet places in Cape Town where you can be alone and escape the craziness of the world for a while promises to give you the peace, serenity and stillness you need. Filled with magnificent beauty, stunning tranquil surroundings, amazing hidden gems and so much more, they promise to make your solo Cape Town escape one you won't soon forget.
---
If you're looking for things to do and places to visit in Cape Town, we will be more than happy to help. If you're also looking for a great all–inclusive holiday accommodation in Cape Town, we offer excellent Cape Town accommodation options – apartments, villas and hotels you can actually afford. Browse our selection of accommodation by area and tours, or get in touch today for help with finding the perfect places to stay in Cape Town.