Our guide to the best restaurants in Cape Town takes us across the Mother City on a journey of flavours, aromas and fresh ingredients. In this series, we will be showcasing some of the finest restaurants that the city has to offer, from fine dining establishments to cheerful breakfast haunts and local favourites.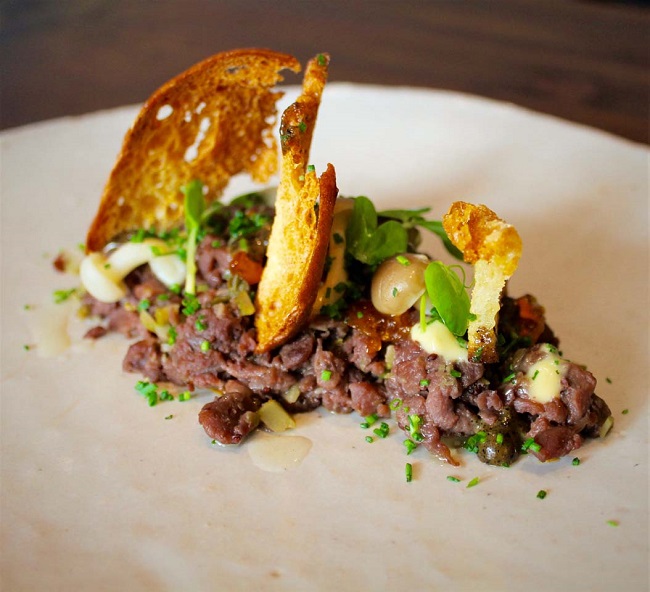 When you're in the mood for something meaty, grill restaurants in Cape Town are a must-try. Ranging from laid-back family hotspots to elegant dining encounters, there are a number of grill restaurants to be found across the Mother City. The next time you have a craving for ribs, steak, slow roasted pork or something juicy and delicious, you will know exactly where to go.
The Best Restaurants in Cape Town… For Grills
In no particular order, our favourite grill restaurants in Cape Town include the following:
Nelson's Eye
Hof Street, Gardens / +27 (0)21 423 2601 / Lunch & Dinner
This spot has been around for a long, long time. Their specialty is steaks, which are guarantee super grade, grained beef that is hung for up to 7 days. The meat is wet-aged for up to 21 days, further ensuring a high quality steak. For starters, there is a wide variety of salads and entrees, including Escargot, chicken livers, kudu carpaccio and garlic bread. On the mains menu, look out for dishes such as beef burgers, brandy flambéd fillet, prime 'Steak on a Board' or 'Steak on a Plate', pork ribs, beef kebab, and beef on the bone.
Hussar Grill Camps Bay
Camps Bay Drive, Camps Bay / Dinner
Open for dinner every night, and lunch only on Sundays, Hussar Grill is a franchise that truly excels at good steak, good wine and good times. The Camps Bay branch is one of their finest. Specialising in grade A grain-fed beef and wild game cuts, with beef hung for up to 7 days, before being wet aged in cold rooms for varying periods of up to 35 days. Menu highlights include traditional boerwors, springbok carpaccio, steak tartare, salads and grill cuts such as rump, sirloin and fillet. They also offer meat on the bone and house specialities such as game steak, grilled ostrich fillets and more.
Woodstock Grill & Tap
Albert Road, Woodstock / +27 (0)21 447 0934 / Lunch & Dinner
Positioned in the industrial sector of Woodstock, this grill restaurant is a great place to enjoy grass-fed beef burgers home-made free range biltong, beef tatare, beef bitterballen, marrow bones and many other meaty dishes. They also offer seafood dishes such as calamari and Salmon, along with Escargot, and even vegetarian dishes. Highlights include their slow smoked beef brisket, pork ribs and pork belly, braised lamb shank and beef short rib to name just a few.
Carne SA on Keerom
Keerom Street, City Centre / +27 (0)21 424 3460 / Dinner
Open Monday to Saturday for dinner, Carne brings Italian dining to the City Centre with a focus on high quality steaks. Chef Giorgio Nava serves up an incredible menu that boasts highlights such as ravioli filled with slow-baked shoulder of Karoo lamb, prime beef, lamb, venison, hanger steak, spider steak, prime rib on the bone, their signature 1.2 kg La Fiorentina T-bone, raw and cooked carpaccio, and other Italian meat creations. Finishing off the meal, their legendary dark chocolate fondant is delicious as well.
Primal Eatery
New Church Street, Gardens / +27 (0)21 422 3232 / Dinner
Situated in Gardens, Primal is open Tuesday to Saturday. This meat centric restaurant uses live fire, innovative cooking techniques and creative food styling to create a unique dining experience. Menu highlights include Porchetta, lamb shoulder "Greek style", smoked ox-heart tartare, and their butcher's cut of the day, which are served with onion and truffle mustard. For the non-meat eaters, there is also seafood, duck and fish dishes on offer, along with salads and grilled watermelon and various desserts.
________________________________________________
In the next guide to the best restaurants in Cape Town, we will take a look at some of the best burger restaurants in the city. You can find fine dining restaurants in the first part of this guide, seafood restaurants in the second part, pizza restaurants in the third part, and dessert restaurants in the fourth part, and breakfast restaurants in the fifth part of our dining guide. Stay posted to view the next installment! Looking for additional help? Contact us if you need help planning the ultimate holiday in Cape Town!
Image: primaleatery.co.za