With the festive season on its way, many locals, national visitors and international visitors enjoying their holidays and plenty to do, December weather was made for rest, relaxation and revitalisation. Summer and December are somewhat synonymous after all – in the southern hemisphere at any rate.
If you are visiting the city for the first time this month, you may be wondering what it is like to have a sunny Christmas rather than a snowy one. The good news is that the festive season is quite something on this side of the world, and what we lack in snow we certainly make up for in beach weather and endless days!
Cape Town Weather in December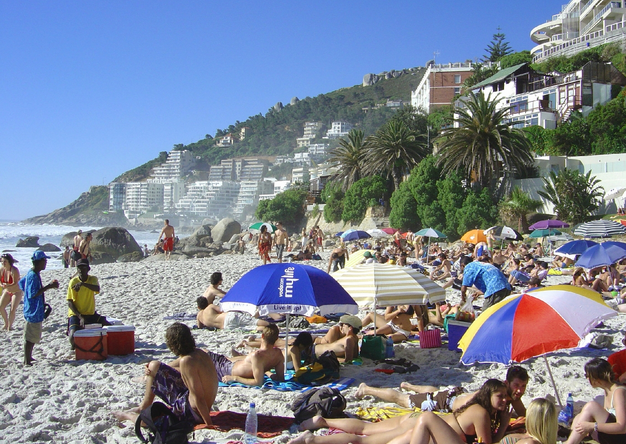 What can you expect from the weather in Cape Town in December? Here are a few things to keep in mind…
General Overview
Average daily maximum temperature: 25-35 degrees C (77-95 degrees F)
Average daily minimum temperature: 15-20 degrees C (59-68 degrees F)
Average monthly rainfall: 17mm (0.7 inches)
Average days and nights:  sunrise starts at about 05h00, and sunset begins at about 20h00.
Typical Climate Conditions
December is when most schools end for the year, which makes this month very busy. With temperatures averaging on 28 degrees Celsius or so, beaches are of course the place to be throughout the month. Temperatures can easily reach past the 30 degree C mark however, and even overcast days are a lot hotter than you may think. Sun protection is essential if you are heading outdoors – otherwise you may find yourself with a bit of nasty sunburn.
Winds can be a bit strong as summer progresses, and fires on the mountain can also occur. You will not have to worry about this from a safety point of view, but it is important to remember that the heat, wind and dry conditions make for fire warnings. Don't throw cigarette ends out of the car, and be careful not to leave any glass bottles behind if you are having a picnic or exploring the outdoors.
What to Pack for December Holidays
Swimwear, sandals, shorts, t-shirts, dresses and all the usual summer gear apply, while other things such as a good hat will also come in handy. Loose, lightweight clothing is also advised when the weather gets hot. There are many great shops to be found throughout the city, so if you do find that you need something cooler to wear, you will never have trouble finding sarongs, comfortable shirts and whatever else you may need.
Walking shoes and thick socks are equally important if you plan to be doing walking tours or heading out for a hike or nature walk. The heat can cause feet to swell a bit, and the last thing you want is blisters. The good news is that there is no malaria risk in Cape Town. Unless you plan to travel onwards to Kruger National Park or another area that may have malaria risk, you won't have to worry about any medication or vaccinations.
Last but not least, be sure to stock up on an extra memory stick or two for your camera. You will not want to miss a single Cape sunset this month!