Considered the oldest building in South Africa, the Castle of Good Hope offers guided tours. Here you will be introduced to the dungeons, the dolphin pool and the blacksmith! Inside the walls of the pentagonal castle you'll find a wide array of cultural and military history; much of it dates to 1652, and the arrival of Jan van Riebeeck.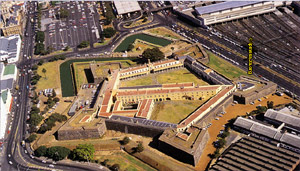 The castle has been exceptionally well preserved and provides a good couple of hours of entertainment for the family. The castle is open daily until 4:00 pm. For a special treat, take in the Key Ceremony, 10:00 am on week days, or
at 12:00 pm each day you can view the Change of Guards.
Many Cape Town day tours include a visit to the castle, alternatively you can travel by car or taxi.
Did you enjoy your experience at the Cape Town Castle? Tell other visitors about it below