From traditional, hand-crafted jewelry and beadwork, to designer labels, diamonds and precious stones, Cape Town is an affordable shopping destination with experiences for everyone.
Street side stalls, flea markets and trendy shopping malls are a few of the options available for your gifts, souvenirs and keepsakes.
Shopping malls include large chain stores as well as smaller boutiques, banking facilities, restaurants, and coffee shops. Some even have movie theaters and curio shops. Most locations offer hourly pay parking.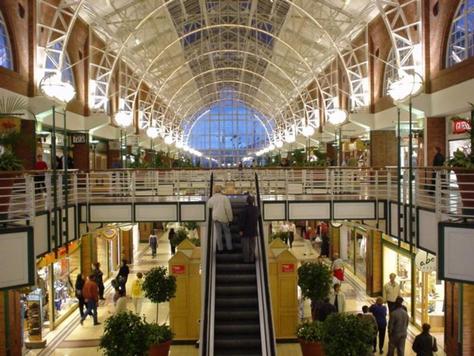 For the best shopping in Cape Town, try these popular malls:
* Cavendish Square
* V&A waterfront
* Bayside Centre
* Canal Walk
* Constantia Village
* N1 City
* Tygervalley
* Somerset Mall
Shopping malls are typically open Monday through Saturday, between the hours of 9:00 am and 5:00 pm, and on Sundays between 10:00 am and 1:00 pm. V&A Waterfront and Canal Walk offer shopping until 9:00 pm each evening, and many others offer late shopping on Friday evenings. Movie theaters and restaurants stay open later as well.
For a more unique shopping experience visit one of Cape Town's flea markets. Find a large selection of african gifts from local designers, artists and entrepreneurs.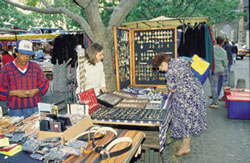 At the center of the city is Greenmarket Square, offering carvings, masks and drums, beadwork and jewelry. This craft market is right at the heart of the city, and also displays a wide variety of clothing, leather, and ceramics.
Items are often very reasonably priced, and some bargaining is available with some shops.
For an indoor market the Red Shed Craft Workshop and the Waterfront Craft Market are both open seven days a week and offer a variety of crafts and artwork as well as jewelry and clothing.
The best location for a Sunday shopping stroll – Greenpoint stadium. This flea market offers crafts and goods from CDs and sunglasses to African art and beads.
Cape Quarter, located at the heart of Green Point, offers home decorations, art, artifacts, and beauty and health-related needs. Among the beauty of the Malay-style architecture, these shops, boutiques and cafes are busy spots day and night. In the evening try the restaurants and bars, known to bring the piazza to life.
Various areas, including Hout Bay, Constantia, Kirstenbosch and Rondebosch, offer open air craft markets most weekends. You'll often find local posters announcing these events.
For antiques, memorabilia and bargains try Kalk Bay's quaint main street. Try a seaside cafe while during your visit. Hout Bay also has craft shops and galleries, set within beautiful surroundings.