Water sports and activities in and around Cape Town are as varied as they are numerous. From scuba diving to shark cage diving, you find these and many other options available for the outdoor enthusiast.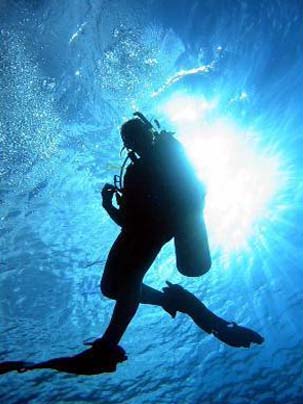 Other outdoor water sports include:
* surfing
* deep sea fishing
* kite surfing
* wind surfing
With its beautiful blue, sunny skies, Cape Town has much to offer the adventurous and the curious alike.
Deep Sea Sport fishing
You can enjoy deep sea fishing all year long in Cape Town. For detailed information, contact us now!
Deep sea fish offered in the area:
* tuna


* yellowtail
* reef fish
* swordfish
* marlin (between October and May)
* Cape snoek (between June and September)
* a variety of reef fish
Shark cage diving
For the more adventurous thrill seekers, try shark cage diving! Get face-to-face with a great white shark! A number of companies offer these services near Dyer Island, about a 90 minute drive from Cape Town. For further details and for rates, visit our tours page, or contact us directly.
Scuba Diving
Diving activities are abundant near Cape Town, with choices available on both the Indian and the Atlantic Oceans and along the Cape peninsula.
Temperatures in the water vary from 9 to 17 degrees, with visibility up to 25 meters. There is an abundance of sea life, numbers of reefs, ship wrecks and corals, as well as shoals of fish, anemones, dolphins, penguins and sharks.
For more information about diving opportunities in the area, contact the Scuba Shack or Dive Action
Kite surfing and surfing
In addition to beautiful beaches, Cape Town can brag of some of the best surf turf in the world. Just outside Cape Town, the Langebaan lagoon provides an internationally recognized boardsailing venue. Wind surfing and kite surfing are also very popular.
For more details about the kite surfing or wind surfing available in the area, or for lessons, visit the tours page, or contact us.