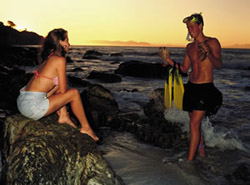 If you are in need of an adventure & activities you won't soon forget, pack your bags and come to Cape Town; Cape Town travel offers day tours, safaris, and adventures that will take your breath away. Enjoy the sunny skies with these attractions:
world class beaches, and beach resorts
watersports, including diving, surfing, windsurfing and much more
hundreds of scenic hiking trails
air activities; paragliding, helicopter rides, and private charters
breathtaking nine and eighteen-hole golf courses
sea adventures, including boating, yachting, sailing & game fishing
Want to learn more? Read on for details about all these adventure opportunities.
If its beaches you are searching for, Cape Town is an ideal destination. For family fun, try False Bay's gentle, warm waters. For the hip and trendy, the Atlantic Seaboard offers an ideal sunset local for couples, or the adventurous family willing to brave the chilly waters.
Maybe swimming with the fish is more your style? If so, the reefs and caves along the shoreline will be your destination of choice. Above waters sports are also popular, including surfing, kayaking, and even game fishing. If you are in need of an extra special adventure try shark cage diving!
If you prefer to watch the sharks and fishes from the comfort of a safety seat instead of up close and personal, then enjoy some of the boating, sailing and yachting opportunities instead. From whales to reefs the scenic cruises and boat trips from the V&A Waterfront are sure to please. Try a sunset cruise along the coastline in the summer for breathtaking photo opportunities. Charters are also available for most all private parties and events.
If you prefer the air activities, try a helicopter trip around the peninsula, or experience the breathtaking views of Lion's Head while paragliding.
Alternatively, enjoy a thrilling air ride in an original war fighter jet, or huey chopper!
From the air you may view the many exceptional golf courses Cape Town has to offer. Many of Cape Town's golf courses are built conveniently near luxury lodgings, hotels and holiday accomodation.
With breathtaking scenic views and vineyards, mountains and the sea as backdrops, the nine and 18-hole golf courses are sure to please even the most discriminating golfer.
Did you enjoy your outdoor experience in Cape Town? Tell us about your adventures below