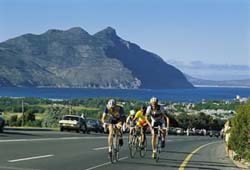 All the best of sport racing, the Cape Argus Pick 'n Pay Cycle tour is one of the largest, timed sporting events in the world! Each year the race brings over 35,000 cyclists to this prestigious event. Touted as a unique experience for both cyclists and spectators, it is one of the years biggest attractions.
The race covers 109 kilometers of scenic Cape Town locations, offering one of the most beautiful competitions in the world. The race begins in central Cape Town, leading to Simonstown and moving on toward Smitswinkel. Once at Smitswinkel, the cyclers head back along the coastline up to Chapmans Peak. Here they participants will traverse up a short, steep hill, Suikerbossie, and then proceed downhill to the finish line at Green Point. Most participants welcome the final leg of this journey at this point.
The route provides all the needs of the cyclers, including refreshment stations, number a total of 16 along the route, and medical points (6 total). Typically there are approximately 2,500 volunteers that help provide a successful event, helping with anything from operational support, manning the refreshment or medical stations, and any number of services needed to bring such an event to the area.
After the finish line, cyclists and their families will enjoy tents for relaxation, entertainment, and carnival fun, to celebrate the race's completion.
As a non-profit event, all proceeds to go charities, specifically Pedal Power Association and Rotary Club of Claremont.
Pedal Power has in the past used their share of the proceeds to encourage cycling activities locally. They develop and host other rides in the Western Cape area.
The Rotary Club invests in a variety of fundraising projects.
A series of events make up the Lifecyle Week, typically the week just before the Cycle Tour. These events include:
Cape Argus Pick 'n Pay Junior Tour (6 to 12 year old cyclers)
Cape Argus Pick 'n Pay Tricycle Tour (2 to 6 year old cyclers)
Cape Argus Pick 'n Pay Giro del Capo (International competition cyclers)
Cape Argus Pick 'n Pay Mountain Bike Challenge
Cape Argus Pick 'n Pay Expo
The Argus cycle tour weekend is usually very busy, so if you want to come, make sure you book early! For a list of hotels & accommodation, visit our Cape Town Accommodation page.