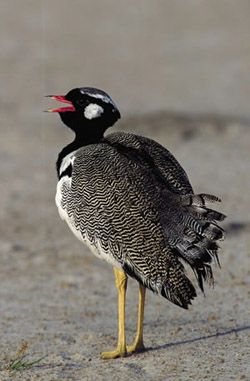 For the birding enthusiast, Cape Town and the surrounding areas offers a number of reserves and parks that make bird watching an excellent outing opportunity.
Sixty of the 86 endemics in South Africa and 42 of its 84 near-endemics are found in the Western Cape region. This area is also home to fynbos, forest and wetlands and other varied habitats.
This area is also a feeding ground for many sea birds, especially just off the shore of the Cape, where the cold currents of the Benguela and warmer Agulhas currents meet. The best viewing is during winter months, when at least three species of albatross, a number of petrels and shearwaters, and other species can be seen. You will be able to view an average of nineteen pelagic species at any time of the year.
What You'll Find
Rondevlei Nature Reserve – A quick 15 minute drive from central Cape Town in Grassy Park, Rondevlei is a haven for those seeking an alluring oasis for solitude, nature walks, or an outlet to uplift the spirit.
Among the flats and wetland of the Rondevlei Reserve you'll find:
Duck
Heron
Egret
Grebe
African Spoonbill
White Pelican
Darter
Malachite Kingfisher
Ethiopian Snipe (after water levels drop in Autumn)
Whitebacked Mousebird
Cape Peninsula National Park is mostly a coastal fynbos with rock and sand strewn shoreline. For the adventurous, spend time in search of this reserve's Hottentot Button-qual; difficult to find but worth the effort!
Other birds you'll find at this Cape park reserve:
Cape Sugarbird
Orange-breasted Sunbird
Cape Siskin
Sea watching is good during winter months
For face to face encounters with the African Penguin, be sure to visit Boulder's Beach.
Strandfontein Sewage Works – This marvelous reserve is home to over 100 species including the African Marsh Harrier and the Greater Flamingo.
West Coast National Park – Home to a large population of migrant shorebirds, this wetland area is made up of vast coastal shurblands. Birds you'll find here:
Southern Black Korhaan
Black Harrier
Grey-backed Cisticola
Lesser Double Collared Sunbird
Chestnut-banded Plovers
Day Tours
If you're looking to enhance your nature trip with an experienced guide then try one of the many guided tours. Day or overnight tours can be planned to make the best of your bird watching activities in the Cape Town areas. See the Bird Watch and Cape Sugarbird Tours websites for more information.