You simply can't get away from it… the changing face of Cape Town. Evidence alone is clear when driving along Sea Point, Green Point , Mouille Point, Waterfront and Cape Town CBD. New and exciting trends have appeared quite 'casually' and almost naturally, with fabulous developments on the horizon.
Cape Town, as with many international cities, has it's very own 'trademark' district. De Waterkant, tucked below the historical Bo Kaap and close to the bustling V&A Waterfront, is the next area to re-establish itself as the latest and trendiest hot spot. Not only in it's continual extending variety of stylish retail stores, restaurants, coffee bars and nightspots – but also in the new trend of upmarket and contemporary residential sites.
It's the natural extension for those who prefer city living/accommodation and it's definitely the 'trendy' address to have. This 'phenomenal' project was inspired by the industrial revolution and the whole jazz era that gave one the freedom of spirit and romanticism. In the same way that New York , which is made up of concrete, steel, glass and neon – yet it's heart holds poetry and it pounds with passion, this is recognized as the leader in designer developments.
As eclectic and international that Cape Town is becoming, it too is inhabited by people from all walks of life whose demands are high. The Rockwell is a state of the art contemporary residential building. Without a shadow of a doubt…..The Rockwell has landmarked itself as one of the most impressive architectural statements in Cape Town.
This designer development was an idea inspired by the early 1900's buildings in New York (and strongly characteristic in the surrounding area of De Waterkant), born a few years ago. It has always been a developers dream to turn this site into a lifestyle destination and residential development, when the time was right.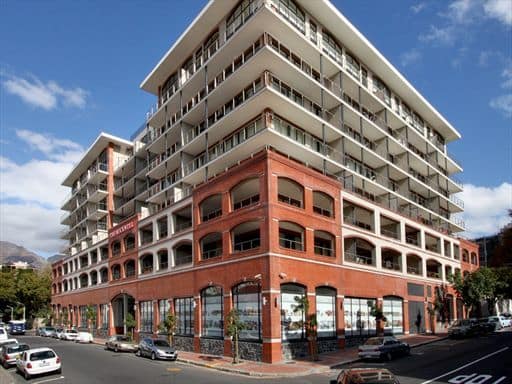 Over the last few years, De Waterkant has gained its popularity as a buzzing and trendy village area- with a similar energy that is reminiscent of a 'New York lifestyle'. It soon became the obvious new and avant garde address for the trendy and 'nouveau riche'.
With close access to the Waterfront and with fabulous harbour, city and mountain views on offer – it was the next natural step for this area to be developed residentially. The area has always been a popular one from the point of view that it nestles just under the historic BoKaap . The Rockwell seems to naturally fit in within these perimeters.
On first viewing The Rockwell, one senses a portrayal of strength and complete individuality. A mix of old-school character and modern free-thought. The Rockwell is a masterpiece development, authoritative yet trendy in its presence, and is defined as a 'Boutique Style Residence'. State of the art 'floating bridges' are a defining feature to the interior design.
These have no pillars holding them up but rather structural beams masterfully engineered to suspend them across from one side of the building to the other. They are beautifully finished with sprung solid timber flooring. Wooden boxes lushly planted, with individual sprinkler systems will be featured throughout. A magnificent chandelier, circa 1900's graces the centre lobby and maintains a timeless elegance to the foyer.
It offers a casual yet sophisticated real 'Capetonian' way of living with a premium level of security. Situated in the historic heart of De Waterkant,Green Point, The Rockwell enjoys the uniqueness of this neighbourhood, complimenting it with a feeling of upmarket, young and trendy.
The Rockwell boasts high quality finishes with a keen eye for attention to detail. It is a seven storey glass roof covered building that is way ahead of it's time, yet displaying an inherent richness and traditional warmth in its' architectural design.
The residential section is ready for occupancy. Very soon, in the early part of next year, the lifestyle sector which shall take up the entire ground floor will be buzzing with what will be the new 'eating precinct' in the area. An outdoor piazza with sidewalk pavement style restaurants, bistro's, deli's and coffee bars to name but a few that will make up the cosmopilitan ambiance will be added and due for completion around June 2008.
The Waterfront and Convention Centre are within strolling distance.
*Kindly note that housekeeping is available at an extra cost.
Please make an enquiry below for more information, rates & availability.