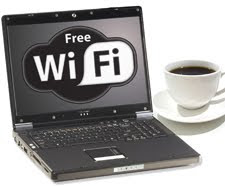 Over the past few years, a number of restaurants, coffee shops and other eateries have begun offering free WiFi in Cape Town. While internet speeds are not always as fast in South Africa as they may be in other developed countries, having access to free wireless is always appreciated – especially when you can enjoy a decent cup of coffee and a bite to eat at the same time.
Both locals and visitors can find the perfect spot to get online quickly, simply and at no cost whatsoever, with a surprising number of excellent WiFi hotspots to be found across the city.
If you're working out of office, preparing for a meeting, keen to update your social profiles or even waste away a few hours browsing with a hot cup of coffee on hand, check out our favourite WiFi hotspots in the Mother City.
Where to Find Free WiFi in Cape Town
From the City Centre to the trendy Atlantic Seaboard, relaxed southern suburbs and many other areas in between, finding places that offer free wireless is not as hard a task as you may think. Here are some suggestions that will get you online in no time at all…
Blues Restaurant – 83 Victoria Road, Camps Bay
Situated in the heart of Camps Bay, Blues offers 20MB free daily. The vibe is laid-back yet stylish, the location is ideal for catching a view of the Atlantic Ocean and the food is pretty amazing too. As the final cherry on top, you can take a stroll to the beach when you are ready to get offline again.
Café Neo – South Seas Building, 129 Beach Road, Mouille Point
If you order a meal, you get free wireless. With its relaxed vibe and decent menu, you can easily browse away a few hours over breakfast or lunch, with a few cups of tea or coffee to keep you going. The Waterfront and other attractions are also in easy reach from here, making it easy to get to if you're on the Atlantic Seaboard.
Truth Coffee Cult – Prestwich Memorial, 1 Somerset Road, Green Point
A popular spot for local freelancers, office dwellers and those seeking relaxation, Truth offers up to three hours of uncapped wireless. As an added perk, you will also be able to enjoy fine coffee, chic industrial décor and a great atmosphere.
Loading Bay – 30 Hudson Street, De Waterkant
Meeting spot, trendy hangout and stylish venue all in one, Loading Bay is open throughout the week and on Saturdays. There are a few plug-points for laptops or for charging your smartphone/tablet, while the menu offers treats such as burgers and other goodies.
Long Street Café – 259 Long Street, City Centre
This café, bar and restaurant has been a part of Long Street for as long as anyone can remember. While it may not be the most peaceful of spots, it is without a doubt one of the most interesting. Once you have done what you need to do online, be sure to take a walk down Long for some shopping too.
Well Café @ Wellness Warehouse – Lifestyles on Kloof, Kloof Street, Gardens
Aside from free wireless, Well Café also boasts a healthy, delicious menu with a canteen-style café. Order fresh sandwiches made with wholesome ingredients, smoothies, teas, coffees and other treats, or see what the lunch of the day specials are for self-service meals.
Da Vinci's – 70 Kloof Street, Gardens
Situated on Kloof Street, Da Vinci's is a homely restaurant with a lively atmosphere, where the staff always greet you with a warm welcome. Every one of their burgers and pizzas is an artistic creation and they have some of the most extraordinary toppings. Da Vinci's has free Wi-Fi, which you can enjoy while sipping some coffee or enjoying a meal.
Have you found any cool WiFi hotspots in Cape Town? Share your thoughts on the ComeToCapeTown Facebook page!