Featuring a huge range of interactive travel and outdoor exhibits, activities, displays and specials, Cape Getaway Show 2014 is set to deliver even more fun, entertainment and adventure than ever before. ComeToCapeTown.com is giving away tickets to this awesome event – giving you a chance to experience this one of a kind show first hand!
Check out the details below to see how you can enter our special travel show giveaway…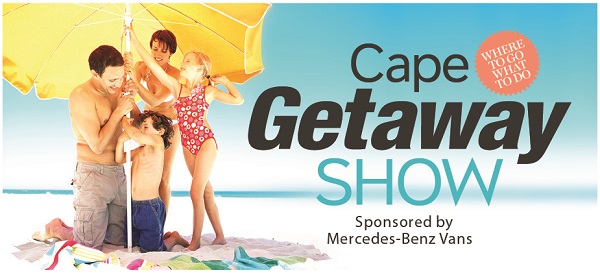 Cape Getaway Show 2014 Event Details
> Venue: Lourensford Wine Estate in Somerset West
> Dates: 14 – 16 March 2014
> Times:  Fri 14 March 10h00 – 18h00 | Sat 15 March 09h00 – 18h00 | Sun 16 March 09h00 – 17h00
> Cost: Adults – R60 | Students/Pensioners –  R35 | Kids under 12 – free (tickets available at the gate or online)
> Website: www.getaway.co.za/cape-getaway-show/
There will be over 200 interactive exhibits at the show, showcasing everything from travel destinations to accommodation, camping products, motor homes, adventure operators, outdoor equipment, 4×4 products, caravans and plenty of other products and services within the travel and leisure field too. Better still, there will be loads of specials as well as competitions running over the weekend, so you could win even more fantastic goodies! The event also offers free parking, and there is an on-site ATM should you feel the urge to take advantage of show specials.
Getaway Show Activities & Events
Some of the fun activities taking plan during the Getaway Show 2014 weekend include the following:
One Day Basic Photography Course
Saturday 16 March or Sunday 17 March | Time: 09h00 – 15h00
Cost R850 (includes course notes,lunch and free entry to the Getaway Show, worth R60)
Scenic Guided Hike on Lourensford Estate
Date: Saturday 15 March 2014 | Time: 08h30
Cost: R60
Wine Tasting Under R80
Date: all weekend
Cost: R20 (includes glass, Best Value Wine Guide and tastings)
How to Win Free Tickets to Cape Getaway Show 2014
Now for the fun part… all that you need to do to stand a chance of winning tickets to the Getaway Show 2014 in Cape Town is answer one simple question in the comments below. Ready to get started? Here is the question:

Where is the Cape Getaway Show 2014 taking place? 

See? Told you it would be easy! Only one entry per person, and final winners will be chosen randomly. On your marks, get set and… GO!