Garden Route

Western Cape boasts an extraordinarily beautiful region, know as The Garden Route.The Garden Route is known for Tsitsikamma Forest, and its lush greenery, and includes the coastal areas between Mossel Bay and Nature's Valley, near Plettenberg Bay.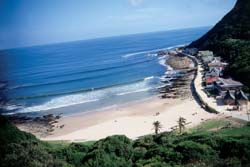 The Garden Routes offer many activities, fun for every age group, and enough variety for all. Enjoy hiking, walking, swimming, relaxing, scenic viewing or romantic outings. Try some fresh seafood and oysters, take a boat trip or just soak up the sun at one of the long stretches of sandy white beaches. Come in July and enjoy the annual Kynsna Oyster Festival, or travel a bit further to Jeffery's Bay, and catch the Billabong Pro Surfing competition.
An easy drive from Cape Town; you will travel through the farming regions of Overberg, or take Route 62 through the Breede River Valley and on to Oudtshoorn before meeting up with George Route at N2.
The Garden Routes include Mossel Bay, George Wilderness, Sedgefield, Knysna, Plettenberg Bay, and Nature's Valley. Each location offers its own activities, attractions and charm, making them all ideal travel destinations. See highlights of each of these popular routes below.
Mossel Bay – This route is located along the mild Indian Ocean and is popular with families, tourists and locals alike. Mossel Bay is home to a Maritime Museum and the Shell Museum and Aquarium.For the more adventurous, try whale watching, surfing, hiking or golf.
For accommodation in Mossel Bay, visit the accommodation page.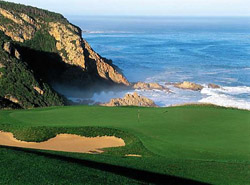 Another popular town, and also the main business center of the Garden Route is George, with beautiful scenic views and year-round mild weather. George is a popular travel destination for locals & tourists alike.
Two of South Africa's most popular golf courses are located in George, as well as plenty of cultural activities.
Click here for various accomodation options
The Wilderness area includes the Wilderness National Park, five rivers, five lakes, long beaches, and warm waters.Surfing, swimming, hiking, mountain biking, and canoeing are among the many activities available here. This seaside resort is ideal for a relaxing outdoor vacation or holiday travel.
Click here for various accomodation options.
Sedgefield offers lagoons, rivers, and expanses of ocean sure to please all. A water lover's paradise, Sedgefield accommodates wind surfing, fishing, diving, and canoeing.
This small village sets along the Swartvlie Estuary, bordering Goukamma Nature reserve. Perfect for the bird lover it includes a rich array of bird life, flora and fynbos.
Choose from a number of guesthouses, B&Bs, guest lodges and other accomodations for one day or overnight trips.
Click here for various accomodation options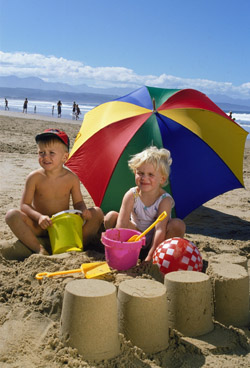 Along the shores of Knysna Lagoon you will find picturesque Knysna. This area is a protected home to over 200 species of fish, including the Knysna seahorse.
Informative guided cruises will quickly familiarize you with all the spectacular sites the area has to offer, including Kynsna Heads, leading to the Indian Ocean. For outdoor activities try hiking, canoeing, horseback riding or long beach walks. Dine at many of the numerous restaurants offering fresh Knysna oysters and other seafood.
Click here for various accomodation options
Plettenberg Bay offers long white beaches of clear, warm waters, perfect for a holiday paradise! The area is a popular local destination, so book early!
Plett is the ideal location for mountain biking, surfing, swimming,  and boat-based whale and dolphin watching.
Plettenberg Bay also offers a number of lodging options, from the luxurious to the rustic and everything in between.
A number of game reserves are another popular destination in Plettenberg, including Monkeyland. Also within close proximity are a number of golf courses.
Visit our accommodation page for a list of spectacular Garden Route accommodation