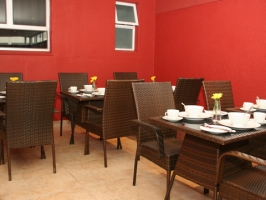 Hotel 303
Hotel-303 is a new centrally located 28 bedroom hotel in the suburb of Sea Point, Cape Town. Easily accessible by all means of public transport. We pride ourselves on being affordable, with friendly staff, cosy atmosphere and comfortable surroundings, meaning you definitely get more enjoyment for your stay.
We serve a continental breakfast. WiFi is provided throughout the hotel and a laundry service is available. Conveniently positioned just 300m from the beach, and a short distance from  the V&A Stadium. Each room is finished with a personal touch, with wall to wall carpeting and Flat screen plasma television.
Photo
Gallery
Property
Features
28 room, budget hotel, plasma screens, WIFI, laundry, breakfast
Property
Pricing
P.O.A.
Booking
Enquiry Form